Marseille missed Champions League last year, but Ligue 1's runners-up made the five previous tournaments. Twice they got out of group stage; no matter, though. They're no longer one of Europe's elites – the teams that you expected to make the Champions League's second round year in, year out. So when a team like Arsenal (part of that in crowd) visits Stade Velodrome, we tend to understate the risk.
OM, however, are a more than capable side, something they showed throughout most of today's match. At least, half their team showed it, the half that features Dimitri Payet, André Pierre-Gignac, André Ayew and Mathieu Valbuena. The attack, despite failing to score from open play, showed they're capable of competing against the high-powered Gunners. They put seven shots on goal to their guest's five.
But in the second half, defensive breakdowns cost them. Jérémy Morel's inability to clear a Kieran Gibbs cross led to Theo Walcott's 64th minute opener. Olivier Giroud's 84th minute run through the defense drew both central defenders, allowing Aaron Ramsey a clear path to goal. Though they held Arsenal in check for one half, they wear worn down in the second.
It's funny that what undid them was their defense – the facet of their game so reliable since Élie Baup took over last year. While challenging Paris Saint-Germain in France, l'OM conceded only 36 times in 38 games. This season, they've allowed four goals in five match. Perhaps the absence of veteran central defender Souleymane Diawara was a bigger loss than anticipated. He would have been occupying the spot Ramsey dribbled through.
Those goals came from the types of mistakes you see from teams who, unaccustomed to maintaining such high defensive intensity for 90 minutes, are pressured into breaking. A look at the passing numbers hints that may have been the case. Arsenal was the first team to eclipse 500 passes against Marseille this year (538). The next highest was Toulouse's 468 on Saturday, another game Diawara missed. One other team broke 400 against Baup's team (Evian, Aug. 17), while l'OM's remaining three opponents were held under 400. The possession battle may have been 49-51 (Arsenal), but without the ball, l'OM's defense was being worked.
In that sense, Arsenal certainly deserves a large amount of credit for today's result, even if some will see the 2-1 win as obligatory. At times outplayed, at others ineffective, the Gunners still maintained enough of a presence to force a normally stalwart defense side into two game-defining mistakes. As a result, a team that's still integrating its best player (Mesut Özil) and trying to get healthy won three valuable road points in Champions League.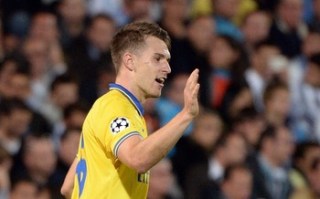 The holdovers deserve much of the credit. Walcott's finish quelled doubts. Jack Wilshere played his second good game in a row. Kieran Gibbs put in another strong performance, while Giroud and Wojciech Szczesny made integral contributions. For as much publicity as Özil's received, it's the holdovers that are still driving the side.
Aaron Ramsey remains the biggest part. In the 93rd minute, he conceded a penalty, possibly the first mistake he's made all year. Before that, his 84th minute romp through Marseille's open defense culminated with the type of calm, confident finish you'd expect from an established star. Perhaps that's what Ramsey's become. With six goals this season, the Wales international's been one of the best midfielders in England. If he maintains this level of play, it will be like Arsenal added two stars to the midfield this summer.
"Honestly, I didn't expect him to score so many goals," the Arsenal manager said (as reported by The Guardian). "He's especially improved in his passing, his technical quality … For me the most important thing is the quality of his game. Aaron is playing well and that is most important, that he continues to improve."
Even anecdotally, today's game was telling. Where Arsenal at their best? Not particularly. At least, we can envision times when Arsenal will certainly have a better eye for goal. Through midfield, they could have been stronger, not allowing Mathieu Valbuena to see as much of the ball. And l'OM did finish with seven shots on target, a number that's higher than Arsene Wenger would have wanted.
But Arsenal got three points. And for a team that lost in at Olympiacos and drew at Schalke in group stage last season, that's encouraging. That's progress. Getting three points where they could otherwise get one could end up the difference between another second place finish and being drawn out of the same pot as the other seeded teams.
And just like all their games in this six-match winning streak, that's a step forward. That's a sign Arsenal may be ready to move on from the last couple years' doldrums. That's another sign Arsenal may be ready to be Arsenal once more.