UEFA Champions League's group stage continues on Wednesday, Groups E through H completing the competition's first match day. With special focus on the day's marque match in Naples, here's a preview of the week's final eight games:
WHAT THE HIPSTERS LEFT BEHIND
Napoli (Italy) vs. Borussia Dortmund (Germany)
Kickoff: 2:45 p.m. Eastern, Naples (Stadio San Paolo), Italy
Imagine Brooklyn before it became its proto-hipster utopia/refugee camp for disaffected suburban youth. In other words, pretend it's Portland, just like everybody in Brooklyn wishes it was. Don't do this as a social experiment or an exercise in pop culture irony. Soccer is our business here, so in the spirit of the UEFA Champions League, do it as a way to understand the dynamic between Napoli and Borussia Dortmund. Borussia Dortmund is Brooklyn – newly, almost paradoxically popular – while Napoli's the cool protos are trying to emulate.
At least, Napoli used to be that cool. When it was Walter Mazzarri playing wing backs with Edinson Cavani, Ezequiel Lavazzi, and Marek Hamsik tearing teams apart on the counter, Napoli was the thing – a combination of retro (three center backs) and rebellion (counter attacking's inherently subversive). People'd forgotten how to defend quality wingbacks. They weren't used to the zealotry Napoli brought to their transitions. Soccer hipsters denying possession for possession's sake loved the partenopei.
By the time soccer hipsterism had a label (by definition making it less hip) people had moved on to Borussia Dortmund. They were from the next big league, the German Bundesliga, which has this cool ownership model so … word. They drew the biggest crowds in Europe, providing authenticity through community. They cultivated most of their own talent, had a black-rimmed glasses-wearing coach spouting ethereal philosophies. And oh yeah: They just happened to be really young, really exciting, and really good at soccer.
Funny then, now that the  teams are meeting, the matchup isn't so much a battle of cultures as merely a meeting between two of Europe's best. Bundesliga leaders Borussia Dortmund, finalists in last year's Champions League, spent heavily in the summer transfer market (Henrikh Mkhitaryan, Pierre-Emerick Aubameyang), putting a minor dent in the "from our own organic garden" philosophies that'd been trust upon them. Napoli have also spent heavily, bringing in Gonzalo Higuaín, Jose Callejon, Raul Albiol, and Pepe Reina to complement a new head coach, Rafa Benítez ditching Mazzarri's scheme for the 4-2-3-1. Together, despite Dortmund and Napoli losing their best players this summer (Mario Götze to Bayern, Edinson Cavani to PSG), the teams are a combined 8-0-0 in league play, sitting on top of their circuits.
Trite analogies aside, Borussia Dortmund may be the best team in Europe. Opening Champions League at a team of Napoli's caliber, we couldn't hope for a better group stage match. Whether that's hip or not, I don't know., but it should be an amazing soccer game. Wrap it in bacon, if you need to.
Major miss: Benítez's big guns will all be ready come kickoff on Wednesday, which means Hamsik and Callejon, despite starting this weekend's game on the bench, will be in Napoli's starting lineup. Klopp, however, will be without two of his best XI, with midfielder Ilkay Gündogen and right back Lukasz Piszczek injured.
[MORE: Champions League Roundup, Tuesday: Upsets make way for goals.]
[MORE: Bayern dominant as they begin title defense.]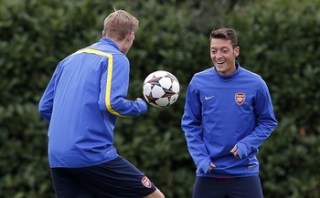 NEW GUNS, NEW TARGETS
Olympique Marseille (France) vs. Arsenal (England)
Kickoff: 2:45 p.m. Eastern, Marseille (Stade Velodrome), France
Mesüt Ozil was ill, Olivier Giroud picked up a knee injury, while Santi Cazorla, Lukas Podolski, Mikel Arteta, and Per Mertesacker weren't available. Regardless, Arsenal posted a 3-1 victory on Özil's debut, boosting Gooner hopes their new star can hit the ground running.
There is one caveat, however. Their opponent, Sunderland, has been terrible. Last in the Premier League, conceding two goals per game and taking only one point from 12, the Black Cats are off to an unexpectedly poor start. Given Crystal Palace and Fulham have also taken full points from Sunderland, Saturday's win may not say much about Arsenal.
Marseille will be a major step up, and although Élie Baup is trying to portray his side as a young, improving group, they' represent a new challenge for the Gunners. Runners up in France last season and playing at the newly roofed Velodrome, l'OM have enough firepower and support to break through any team. If Mertesacker isn't fully healthy or the returning Thomas Vermaelen hasn't left his rust on the training ground, André Pierre Gignac, Mathieu Valbuena, Andre Ayew and the recently purchased Florian Thauvin can snatch three points.
If, however, Özil is closer to full strength, Arsenal may have enough. If Giroud's knee has recovered, Arsenal's threats will surely outweigh Marseille's. And if Aaron Ramsey continues playing like one of the best midfielders in the Premier League, Arsenal can take a valuable road win from Stade Velodrome.
[MORE: Where they stand: Implications of Tuesday's results.]
[MORE: European titans find form in Champions League.]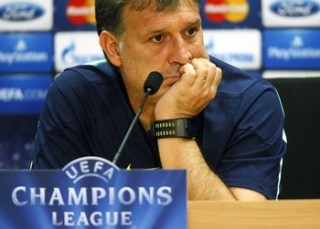 A DEBUT AND A RETURN
Barcelona (Spain) vs. Ajax (Netherlands)
Kickoff: 2:45 p.m. Eastern, Barcelona (Camp Nou), Spain
Chelsea (England) vs. Basel (Switzerland)
Kickoff: 2:45 p.m. Eastern, London (Stamford Bridge), England
"When I took the job, I knew that if we didn't win a title this season it would be a failure," Gerardo Martino says of his new post, head coach of FC Barcelona. It's a ridiculously high and probably unfair standard, though in fairness to Martino (and Barcelona), that may not actually be the case. If Barcelona went deep in Champions League while retaining Spain's title, few would judge Martino harshly.
Meanwhile at Stamford Bridge, another coach will be making a debut of sorts, but for José Mourinho, Wednesday's match against Basel is more of a return that debut. But for a man who's won Champions League twice, returning with Chelsea carries a special significance. In three seasons at Stamford Bridge from 2004 to 2007, Mourinho never took the Blues beyond the semifinals:
"If you win [the UEFA Champions League] once you dream to win it twice. It's the same with me: I won it twice – I dream to win it for a third time. But I have to focus not in the past but in the future. I want to win for the third time – I want Chelsea to win for the second time.
[MORE: Rooney's double gives Moyes first Champions League win.]
[MORE: Ronaldo hat trick finish Real route in Istanbul.]
Others
Atlético Madrid (Spain) vs. Zenit St. Petersburg (Russia), Vicente Calderon, Madrid – Atlético will be without their leading scorer, the suspended Diego Costa, but will be emboldened by a perfect start to their La Liga campaign. Their counterattack will stress a Zenit team that doesn't always play with a typically midfield destroyer. Luciano Spalletti may start Ukrainian veteran Anatoily Tymoshchuk to try to disrupt Atlético's attack.
Milan (Italy) vs. Celtic (Scotland), San Siro, Milan – Milan's slow start to last year's competition nearly cost them a spot in the knockout round. This year, injury issues that limit Max Allegri to 13 healthy players present a new challenge, with a Celtic side that qualified for last year's Round of 16 hoping to become the first Scottish team to beat Milan at the San Siro.
Schalke 04 (Germany) vs. Steaua Bucharest (Romania), Veltins-Arena, Gelsenkirchen – After four loses to start their season (following an early win in the German Cup), Schalke have rebounded from potential disaster to win three in a row, a streak that includes sealing Champions League (at PAOK), handing Bayer Leverkusen their first loss, and earning a valuable three points at Mainz. Like Schalke, Steaua recovered from disappointment in their opening playoff leg to qualify for group stage. They're also unbeaten in their last 13 competitive matches.
Austria Wien (Austria) vs. Porto (Portugal), Ernst-Happel-Stadium, Vienna – Austria Wien will be outgunned by the two-time champions on their Champions League debut, a talent gap coach Nenad Bjelica has downplayed leading up to the match. Paulo Fonseca's team, however, comes into the match unblemished, the Dragons' new coach hoping to maintain that perfection through his own Champions League bow.