Chivas USA fired its president, the club announced late Wednesday night, naming Arturo Gálvez as José David's successor. David was appointed president in October 2012.
The announcement marks another change in the merry-go-round that has been the "other" club at StubHub Center. Eight coaches in nine seasons, including two this year, and a handful of front-office hirings and firings seemingly every season don't make for a steady ship.
Despite multiple calls for new ownership, franchise relocation or any combination of changes that basically amount to kicking owner Jorge Vergara out of the league, he remains at the helm of all the chaos. Amid allegations of discrimination that were documented in an incredibly one-sided HBO Sports story — borne of the fact that HBO projects little knowledge about soccer and Chivas did itself no favors by refraining from comment until after its release — Major League Soccer commissioner Don Garber has remained defiant of the idea.
Sports Illustrated's Brian Straus wrote an excellent overview after Gálvez's appointment last night discussing Vergara's oversights and carelessness in charge. From his blind adherence to the Chivas brand, which only personifies his failure to transcend the Mexican-American audience gap, to his tactless communication in most situations, Vergara harks back to MLS's desperation for new ownership and expansion in the mid-2000s.
Now that he's in, he can't be kicked out, no matter how far the rest of the league surpasses him and his club. Garber can't say anything negative about Vergara because the two are intertwined in a multi-pronged partnership with no easy way out.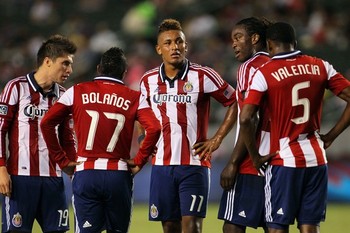 "People who operate teams in [American] pro sports leagues are business partners. We decided to formalize that in a structure, commonly referred to as 'single entity,' " MLS president and deputy commissioner Mark Abbott told Straus. "As a partner, you're subject to all of the league rules and that's true for everybody, from an operating investor to a particular team."
As long as Vergara conforms to obligations the league sets out, he will retain his stake.
No league in the world can kick owners out without justification, but even finishing in last place doesn't offer much incentive for improvement in MLS. Owners in the league share in every team's revenue, meaning Chivas' paltry average attendance of well under than 10,000 fans and Seattle Sounders FC's over-40,000 mark don't carry as much meaning as they would in other leagues.
Under the single-entity structure, Chivas will continue to be a stumbling block to MLS progress — as will its closest facsimile in the Eastern Conference, Toronto FC. For its drawbacks in the incumbent North American sports climate, a system of promotion and relegation could put floundering clubs such as them in position to improve quickly or die out.
With MLS's desired expansion in the coming years, this reality becomes more relevant. It's hard to imagine Vergara would stick around with his pocketbook hemorrhaging and his team playing in an inferior league.
But until his hand is forced, he will stay — as would any other businessman. If the league makes money, in spite of his club's situation, he makes money.
MLS's single-entity system is a great deal for Vergara, even though it's a terrible deal for on-field progress in the United States and Canada.