There is never a dull moment when Jose Mourinho is around… but right now, there are a few too many defeats.
Following their second loss in a week, the Portuguese manager blamed Chelsea's recent poor form on their bad style of play that has been developed over the previous years,
Mourinho claims he is trying to change the way they play, to a more attractive and aesthetically pleasing manner.
"I don't like the way Chelsea were playing in the last couple of years," Mourinho said. "The club doesn't like it and we want to change. When you want to build something different and the players are adapted and comfortable – it's more difficult."
Tomorrow's West London Derby against Fulham, (12:30pm ET, watch live on NBCSN or online via NBC Sports Live Extra) presents the perfect opportunity for Chelsea to get back to winning ways after a rough seven days. But will the 'Special One' play it safe against the Blues' neighbors?
Of course not.
"If someone expects me to play against Fulham tomorrow with nine players behind the ball and wait for them to make a mistake and win 1-0, then I will not go home happy," Mourinho said. "We have a lot to do. The work I have to do does not sell papers – big defeats and big victories do – but the only thing I can do is to have belief in my players and wait for the results to come."
(MORE: Preview – Chelsea vs. Fulham)
But despite being under heavy criticism from some portions of the press, the man Chelsea fans adore knows only too well just how fickle the game can be.
"Tomorrow maybe we win 3-0 against Fulham and everything is perfect," Mourinho said. "Or maybe I will lose for the first time at home at Chelsea in four years and 200 league matches, and it is a big story. Football is not mathematic. I don't know."
Yet, it seems like Mourinho believes that previous managers have only been worried about grinding out wins with the West London club, instead of developing and nurturing free-flowing attacking soccer that will please the masses. True. There's no denying that under the last few managers a defensive and rather dull style of play has emanated from the boys in blue.
(MORE: Basel pull of first Champions League upset, beat Chelsea)
However, can you blame Messrs Andre Villas-Boas, Roberto Di Matteo and Rafael Benitez? All three were under huge amounts of pressure to succeed straight away. AVB had no success after less than six months on the job, but his predecessor Di Matteo somehow won the UEFA Champions League through a spirited mishmash of veteran determination, staunch defensive displays and lady luck. And then, following Di Matteo's crazy dismissal, Rafael Benitez was yet another interim boss given the reigns. He had no time to work on a new style of play at Chelsea, and instead carried on with the status quo.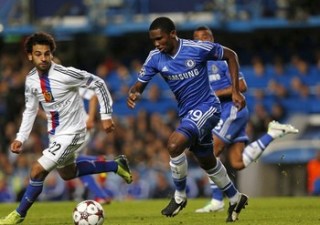 After all those short-term appointments and the various different players brought in, Mourinho is now left to pick up the pieces. I'm not saying he hasn't inherited a squad that doesn't possess world class players, because he has. But they are players who have been pulled one way, then the other, in terms of their tactical approach to play the game, after having so many coaches and ideas thrown at them over the past two seasons.
Now, Mourinho has a long-term project, a mantra to get Chelsea back to playing attacking soccer that will excite and delight the fans and make them one of Europe's greatest teams. And despite Roman Abramovich's ruthless style of ownership that has seen Mourinho himself fired in the past and many others after him, the Russian billionaire should give the 'Special One' time to develop a special brand of soccer at Chelsea.
This won't be easy. There will be speed bumps along the way — just like Everton last weekend and Basel midweek — but if Mourinho is given time to work with these top players on the training ground over an extended period of time, there's no doubt that one of the greatest coaches European soccer has ever seen will get it right.
It takes time to create a thing of beauty. Get off Mourinho's back and let his 'young eggs' flourish.