Rafa Benítez's hot start to his Serie A return had failed to draw huge trumpets through three rounds, mostly because an easy slate of opening fixtures gave the new Napoli boss little chance to impress. This week, however, that changed drastically, with a Champions League visit from Borussia Dortmund and a trip to AC Milan guaranteed to test one of Italy's last two perfect sides. If Napoli won both those games, there'd be no denying their place amongst the best clubs in Europe, right?
As it turns out, not all wins are created equal, and while the Neopolitans deserve credit for posting successive 2-1 wins, each require some more context. On Wednesday, a first half red card left visiting Dortmund with 10 for the second half, and while Napoli were already up by the time Roman Weidenfeller handled outside his area, the sending off amounted to a huge what if. What if last year's Champions League finalists had got to halftime at full strength? Would some of the push we saw at match's end have been better-rewarded?
Sunday's caveats were different, but there were still caveats. Napoli went up early on a set piece through Miguel Britos, controlled much of the first half, and saw a Gonzalo Higuaín blast through Christian Abbiati give them a two-goal lead early in the second half. But somewhere along the way, Milan had gained control, with Mario Balotelli becoming game's focal point. Stressing a defense that was thought to be Napoli's weak spot before the season, the Milan attacker slowly made the game into a question of whether (and how often) he'd break through.
But a penalty stop by Pepe Reina, the first miss in 22 career tries by Balotelli, hinted there'd be no breakthrough. Another blast off the woodwork midway through the second provided confirmation, as did a penalty appeal denied by Luca Banti. Despite 12 shots on goal and a late consolation tally (a nice finish by the Italian international), Balotelli was unable to dent Napoli's perfect start, eventually earning a second yellow card for a post-whistle altercation with Valon Behrami.
Milan would end up with big advantages in all the main indicators — shots (22-9), shots on goal (8-3), and possession (56-44) — but most of that was due to Napoli's early lead. On the road against one of Italy's most talented (if injury-riddled) sides, the partenopei's win was a strong one, even if Batoletti seemed determined to take it from them. On another day — if the penalty goes in, if Balotelli's a little more precise earlier in the match, if Abbiati doesn't concede a soft one to Higuaín — Napoli's willingness to give Milan so many cracks many have bitten them. On Sunday, it served as confirmation their defense could hold out.
In that sense, it wasn't the most resounding of victories, but it was still a good one. And with Rafa Benítez on the sidelines, Napoli fans are going to have to get used to this type of game management. But given the team's won five in a row and sit near the top of the league, it's hard to nit-pick too much. If Rafa's style continues to produce these results, we'll soon hear those trumpets
Highlights:
[youtube http://www.youtube.com/watch?v=ovErYfcPVsY]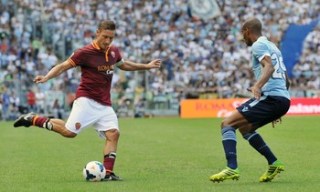 ROMA KEEP PACE AT TOP
If you do want to nit-pick, Napoli's not actually at the top of the league. At best they're joint top, but if one team were to be singled out, that honor would belong to Roma, whose 2-0 victory over rival Lazio moves them first on goal difference. Along with Napoli, Barcelona, and Atlético Madrid, they are one of four perfect teams remaining in Europe's top five leagues.
Like Napoli, part of their climb has been fueled by a kind fixture list, one that should have become decidedly more difficult with today's Rome Derby. Yet to a Roma defense that had only allowed one goal all year, the Aquile offense never presented a problem. Morgan De Sanctis went untested in the Giallorossi goal, leaving the match to be decided by Rudi Garcia's attack.
For one half, Roma were no more effective than their rivals, but when Francisco Totti set up Federico Balzaretti's left-footed volley just past the hour, the game was all but decided.
Highlights:
[youtube http://www.youtube.com/watch?v=av7ZiHFdeKU]
Between their decisive round two loss to Juventus and today's underwhelming derby performance, Lazio looks like they've taken a step back from the team that won last year's Coppa Italia. It may be too early to write them off, but it's not too early to note something's wrong. Through four rounds they've collected six points, but they were a combined -5 against Juve and Roma.
The Giallorossi, on the other hand, have claimed 12 and are part of a quintet that look poised to pull away from the league. In a season they were expected to compete for Europe and little more, Rudi Garcia may be slotting his team along side Inter as surprise competition for the league's three favorites. A controlling win over their fiercest rivals hints Roma may be destined for greater things.
THE REST OF "THE FIVE"
After this weekend's action, that quintet of Roma, Napoli, Inter Milan, Fiorentina and Juventus have pulled a full game clear of Livorno and Torino (sixth, seventh place). Inter did so with a 7-1 demolition of newly promoted Sassulo, giving them 13 goals through four games (with only one allowed). Fiorentina got another goal from Giuseppe Rossi in their 2-0 win at Atalanta, while Juventus had to come back from one down to take full points from Verona in Turin. Each team is 3-0-1, two points behind Roma and Napoli.
ELSEWHERE IN ITALY
Manolo Gabbiadini scored twice late at Calgiari, both equalizers sandwiched around Daniele Conti's goal, as Sampdoria got a 2-2 result on the road … Serio Pellissier and Luca Rigoni had turned around a first-minute deficit by halftime as Chievo defeated visiting Udinese, 2-1 … Catania and Parma played to a 0-0 … A late first half red card to Bologna's Cesare Natali proved decisive as Alessio Cerci's penalty gave Torino the 2-1 lead they'd keep through full-time.