MANCHESTER — In his first-taste of the world famous Manchester Derby, Manuel Pellegrini proved a resounding success.
Midway through the second half, as his Manchester City side stroked the ball about confidently, aiming to add to their 4-0 lead, Man City's fans stood up as one to sing Pellegrini's name in unison.
The shaggy haired 60-year-old looked on sheepishly as he stood on the touchline, while over 40,000 home fans serenaded his success.
That said, the importance of his side's swashbuckling 4-1 win over their United wasn't lost on the new manager, who was taking charge of just his fifth league game for the Citizens.
"Yes it was a very important result," Pellegrini said. "You don't expect to win 4-1 versus Manchester United. But the most important thing, after winning, is the way that we played. I am very happy with the team."
(MORE: Manchester City's star attackers steal the show in Derby win)
Yet, surely nobody could expect this City side to click so well in such a tense atmosphere, after flattering to deceive in recent weeks following a defeat to Cardiff and lackluster draw with Stoke. Post-game, even Pellegrini admitted his surprised with the big win, but believed his side stopped Manchester United from playing their game.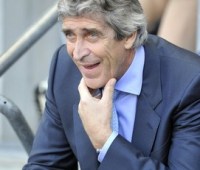 "Well normally Derby's are normally quite equal," Pellegrini said. "Today we had a very good day, and that allowed our superiority against Manchester United. Maybe they [United] couldn't play better, because we played very well."
In truth the 4-1 win could've been even greater, after City squandered several chances, Edin Dzeko twice going close and Alvaro Negredo also testing David De Gea, as they battered United for large periods of the game. city scored just before half time, and twice more in the three minutes after the break to put the result beyond doubt.
Never satisified, Pellegrini believes his side could have played better in the second half.
(MORE: Robin Van Persie's injury highlights Manchester United's lack of depth)
"I'm not disappointed," Pellegrini laughed, "because we scored four goals. But I think we played a little bit quickly in the second half. We tried to play the game box-to-box, and it was not the way to play because we were 4-0 up. We had so much space, and we always try and tell the players to play independent of the score."
And despite many of his players playing down the importance of the commanding win early in the season, Manchester City's Chilean boss does believes the Derby win will breed confidence around the club.
"For the fans, it is important," Pellegrini said. "Because we don't have to play Manchester United for another three months, so for three months they will enjoy this victory. For the team, of course winning the way we won today will give us a lot of trust, a lot of confidence, we are just starting our work and winning such an important game, like the derby, the way we won today, of course will give us lots of confidence."