MANCHESTER — Following his sides demoralizing 4-1 defeat to Manchester City in the fiercely contested Manchester derby, new United manager David Moyes wasn't looking to make any excuses.
But he did have a moan about having to play against so many of the league's top teams, so early on in the season.
"Yeah, we want to win more of those games, we have to do that," Moyes said. "But maybe, you know, if those games are later on in the season and not in the early part of it, then I might have a better understanding of all the players and the situation at the club. I think any manager who had been given that run of fixtures when they took over at this club would have found it difficult."
(MORE: Manchester City 4-1 Manchester United; Manchester is blue, after derby day domination)
When the computer randomly assigned Manchester United games against Chelsea, Liverpool and Manchester City in their first five games of the campaign, many thought this would be the perfect test to see how smooth the transition was from Sir Alex Ferguson to Moyes.
It's been a bumpy ride so far.
With wins against Crystal Palace and Swansea small positives, after losing to rivals Liverpool and Manchester City and being held at home by Chelsea, United sit eighth in the Premier League table after five games. They've collected just seven points from a possible 15, and despite Moyes blaming tought opponents, it simply isn't good enough.
And with Liverpool coming up in the League Cup on Wednesday, more turbulent times lie ahead for the Red Devils.
(MORE: Robin Van Persie's injury highlights Manchester United's lack of depth)
Moyes' side looked devoid of attacking ideas in the first half of the 166th edition of the Manchester derby. Missing Robin Van Persie with a groin injury certainly hampered his sides attacking panache, as he's so often been the cataylst for United. RVP has scored three of his five goals this campaign before half time, and his aggressive, attacking manner, early in games usually puts United on the front foot.
That was missing on Sunday, despite Wayne Rooney's best efforts, and Moyes lambasted United's poor start.
"We certainly didn't start the game well," Moyes said. "Manchester City were the better team and stronger. They got control of the game in the early parts and we found it difficult to contain them. I thought as the first half edged on we started to get a little more back into the game. But unfortunately we lost the second goal right on half time."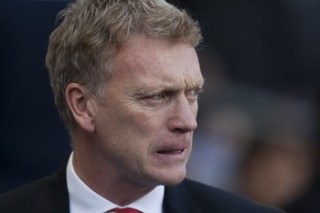 But even before that sucker punch from Yaya Toure to put Man City 2-0 on the stroke of the interval, Moyes wasn't happy.
I was sitting just behind the United bench at the Etihad on Sunday, and Moyes spent the entire first half on the edge of his technical area, trying to cajole his players into life, as they gave away the ball needlessly, time and time again.
(MORE: Vincent Kompany vs. Wayne Rooney: Both players excel in heavyweight clash)
At one point Moyes looked to the ground in disbelief as Ashley Young gave the ball straight back to City. It was a poor display from United, as City's fans celebrated by doing the 'Poznan' all around him.
"I am disappointed that we didn't perform," Moyes said. "We played very well in midweek [the Champions League win over Bayer Leverkusen], there was no reason for us not to perform today. But it's one game, there's plenty more to come and there's plenty of time for us to fix it. But today I think we were second to things, in the first half especially. We always seemed to be a yard behind it. And we just never got to the pitch of the game, right from the off, which is disappointing as we set out to do that. We never really quite got to grips with it."
(MORE: Manchester City's star attackers steal the show in rampant derby win)
When asked post-game about what he expects, in terms of a reaction, from his players following the humiliating derby defeat, Moyes has let his players know they must find their top form. Quickly.
"I've made them aware of that," Moyes said. "If there was ever a group of players that I would expect that from, it would be from Manchester United players. I think the way they've been brought up that way, the way they've sort of been inbred by the manager previous, I think they react, that's what they do. And I think that's what we will do here. We make sure we react."
(MORE: Manuel Pellegrini hails Manchester City, after resounding victory against old foes United)
Moyes also spoke about the magnitude of the defeat, and called on his players to pick themselves, dust themselves off, and ultimately demanded more from them.
The Scotsman had no qualms about giving them a rollicking at half time.
"No, I think it's just what I would have done," Moyes said. "I've been here with Everton many times and don't think I've ever suffered a defeat like this when I've been here in my time. So I told the players, the way I would have told any other club or any other players, if I don't think they're doing it."
"They are good players, good pro's here," Moyes added. "They know when they're bang at it, and when they're not."
Needless to say, they weren't at the races on Sunday. And that's been the case for most of the season so far, as tough fixtures or not, Moyes' men are struggling to cope with the transition from the Ferguson era.
One thing worth contemplating is how Moyes' spell in charge at Everton often saw the Toffees start very poorly, then play incredibly well in the second half of the season. His coaching methods and training regimen may be constructed in such a way that his team improves and strengthens over the season. But United will have to improve a lot after this poor start, if they're going to get anything positive from Moyes' first campaign at the helm.
Whatever way you look at it, there's work to do at Old Trafford.