Details are emerging that Sunderland's decision to sack Paolo Di Canio came after a player revolt on the training ground.
The Guardian reports that Di Canio called a meeting at the Sunderland practice facilities on Sunday morning to discuss the prior day's 3-0 loss at West Bromwich Albion.
At the meeting Di Canio is said to have launched into one of his infamous criticisms of players when he was forcefully brought to a halt by the words of Lee Cattermole. The midfielder, who Di Canio stripped of his captaincy as well as his No. 6 shirt this past summer, told the manager that he was the one to blame and that the players had lost faith in his controversial methods.
Details of the ensuing row have yet to come to light but one can imagine it was not a pretty sight. One way or another, details of the bust up were relayed on to Sunderland owner Ellis Short and upon hearing the news, the American decided pull the plug on Di Canio.
Di Canio's dubious methods have been well publicized.
In addition to a complete overhaul of the squad that brought in 14 new faces, Di Canio attempted to revolutionize the culture at Wearside by dramatically intervening in his players' training ground routine.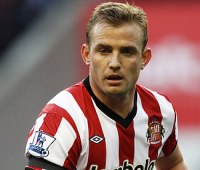 Di Canio wanted his club to be the fittest in the league and was known to put his players through grueling fitness sessions during which the Italian manager had been known to do just about anything – bark, scream, play himself as the striker, referee and play practical jokes.
Lifestyle and unique dietary restrictions were also implemented as Di Canio banned cell phones, ketchup, mayonnaise, ice in coca-cola and singing."This is a complete revolution," Di Canio said in an interview with the Daily Telegraph this past August. "It's not just in the way we play, but in how we approach everything. "
Di Canio was under the impression that his methods were being heeded. "Maybe one or two will never understand," he admitted, "[but] in general, the players are getting the message."
And so, five matches into the season and stuck at the bottom of the Premier League table on a single point, it seems the Sunderland players have, indeed, gotten the message.
It just wasn't the one Di Canio was preaching.