Four games into the Premier League season, there are many storylines, questions, concerns, surprises and talking points surrounding each team.
With new managers, we see them taking a squad they have been handed and mold it to the best of their ability into a squad that is theirs, something they can call their own.  Managers love to make their mark on a team, so that they can not only exploit their own strengths, but take as much credit for any subsequent success as possible.
However, some go too far in trying to make a squad their own.  Certain decisions go beyond the realm of "bettering the squad" and cross into the void of obvious squad tinkering for the sole purpose of making a statement.
To me, there are no managerial decisions more shocking thus far than David Moyes and Jose Mourinho banishing Shinji Kagawa and Juan Mata to the depths of their respective squads.
What Moyes and Mourinho have done is take arguably their most creative players and break them.
Juan Mata:
"I think Jose is searching for his team. After their defeat to Basel in the Champions League on Wednesday, I questioned whether Mourinho knew his best starting XI; If you look at the players they've got and the opportunities he's got to change it, I can't understand – and neither can anyone in football – why Juan Mata isn't starting." -Jamie Redknapp, Sky Sports and Daily Mail pundit
Jose Mourinho has decisively – and publicly – excluded the Spaniard from his squad this entire season. He hasn't been totally absent, starting two matches against Aston Villa and Everton.  However, a closer examination of those matches show he was clearly utilized incorrectly, thrown to the wolves so Mourinho could justify his decision to bench the 25-year-old.
Last season Mata was selected as Chelsea's Player of the Season by both the fans and the players. He was nominated for Young Player of the Year. And he was selected to the PFA Team of the Season.
Now? Let's revisit the Aston Villa match from back on August 21st.  With fellow attacking midfielder Oscar also in the lineup, Mata was shoved over onto the wing…at least, that's what the teamsheets said. In actuality, Mata was a lost man on the pitch.  Have a peek at Oscar's passing dashboard.  There is a clear, direct purpose to his play, and an attacking mindset.  25 of his 63 passes were in the attacking third, and 26 of his passes went forward.
Now look at Mata's dashboard. Certainly doesn't look like a right winger to me. Not only is he spread out all over the pitch, but there's no purpose to his play. He went 47-of-49 passing, nice. But a closer look shows only 8 of his passes were in the attacking third (and both his misses), and just 9 went forward.  Where's the creativity? Needless to say, he created no chances to Oscar's 2. Mata was substituted off in the 65th minute.
Not only is Mata being used sparingly, but when he's on the pitch he's being completely misused. Mourinho said he wants Mata to "adapt" to the way "we (Mourinho) want to play." Adapt? Yes, let's remold a Team of the Season member to something he isn't.  That seems logical.
But don't worry everyone. Mourinho's going to be playing Mata against Swindon Town midweek in the Capital One Cup, so that should make up for it. Clearly.
Shinji Kagawa:
"Shinji Kagawa is one of the best players in the world and he now plays 20 minutes at Manchester United — on the left wing. My heart breaks. Really, I have tears in my eyes." -Jurgen Klopp, manager of Borussia Dortmund back in May.
Someone call Harry Potter – Shinji Kagawa's stolen his invisibility cloak.
A player who was not so long ago a prized possession of a Borussia Dortmund squad reaching new heights at a meteoric pace, Kagawa has since vanished.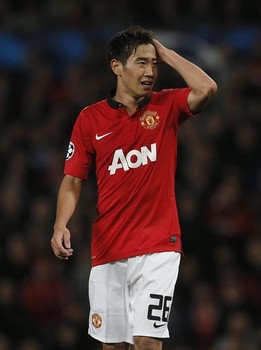 It has been a disappearance of much less publicity than in Mata's case, making it all the more baffling.  We saw Sunday at the Etihad a Manchester United squad not only with an aging defense prone to speed, but a monstrous black hole in the middle of their attack.
United's midfield of Michael Carrick, Marouane Fellaini, and Wayne Rooney certainly have their strengths, but with Vincent Kompany latched onto the hip of Rooney the entire match – like white on rice, as they say – it was void of any creativity. Rooney was isolated, stranded on an island, and Kompany pounced on the opportunity to lock his man down.
Against Manchester City, do you know how many times Danny Welbeck received the ball in the penalty area? It happened three times. Do you know how many times Wayne Rooney received the ball in the penalty area? Twice.
Kagawa can pass just as well as Carrick. He can score goals – he bagged 28 in 65 matches with Broussia Dortmund. What Manchester United are missing is Kagawa's dribbling abilities.
They couldn't break down Manchester City's defense partly because they didn't have anybody on the pitch with the right key to the vault.  They couldn't pass their way through that defense, with the central midfield trio going 63-of-84 (75%) in the attacking third.  They sure as heck could have used someone to slice the back four open with a good run or two on the ball.  Kagawa.
Here's a suggestion: Ashley Young was an atrocity on the wing to finish last season, and has been more of the same this year.  Why not replace him on the left side with Danny Welbeck, pair Rooney and Kagawa in the middle, and keep Fellaini to hold behind them? Sure, it's an attacking lineup, and you lose Carrick's passing and defense, but the 32-year-old only made two tackles and one interception against City, is that really a major loss? Rooney and Kagawa feeding Robin van Persie is a salivating prospect.
At the very least rotate Kagawa and Rooney. With the mercurial English playmaker out due to injury, Moyes instead turned to the most overrated player in the Premier League in Tom Cleverley. United proceeded to lose 1-0 at Anfield.
If the 4-1 loss to their bitter rivals wasn't enough of a wake-up call for Moyes, I'm not exactly sure what will change his mind.
Ultimately, it's the manager's decisions.  The sad part is, the longer this continues, the more broken Mata and Kagawa, and watching the talent these two possess rot on the bench is more than sad – it's outrageous.
So whose absence do you think is the more egregious error by their manager? Or do you think Moyes and Mourinho are actually making the right decision?