Last season, Christian Benteke scored 40 percent of the goals for a team that finished only five points clear of relegation. In that sense, he may have been the most important player in the Premier League. Without him, one of the storied clubs of English football would have been in the second division, losing all the lush revenue streams that come with life in the Premier League. With him, Aston Villa survived another dalliance with relegation.
Given their current financial state, it would be very difficult for a team like Aston Villa to lure another player capable of finishing fourth in the league in goals, Such was the boon of his unexpected goal explosion after his arrival from Genk. When, after it appeared he'd move this summer, the club convinced him to forgo a transfer and stay, there was an understandable sigh of relief from fans of the Birmingham club.
Today, however, after the club announced the 22-year-old will miss up to six weeks with a hip injury, Villans will have to face a similar reality. Without an established backup for their sole goal scorer, Aston Villa will be forced to find a new source of goals.
From Villa's website:
Paul Lambert has confirmed that Christian Benteke will be out for four-six weeks with his hip injury …

Lambert also revealed Benteke would not need an operation, with time the great healer in this situation.

He said: "It's not as bad as we feared it was going to be.

"It's maybe four, five, six weeks or so.

"You have that international break which certainly helps us …

Asked whether an operation was needed, he continued: "It's just a muscle injury. It's nothing like that. It's not too severe.
Six weeks would bring Benteke back for Nov. 9's visit from Cardiff City. In between, Villa will face Manchester City, Hull, Tottenham, Everton, and West Ham. Hull and West Ham will be on the road (the rest are at home).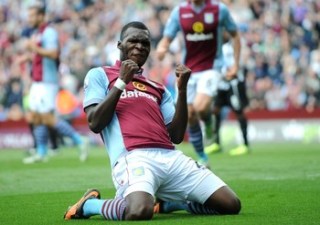 Though Villa's opening day win at Arsenal showed they're capable of beating anybody, they were always going to be underdogs to Manchester City and Spurs. Everton at home, however, as well as their two road games were winnable. Villa may not have been prohibitive favorites in any of them, but among their October fixtures, Lambert would have felt best about getting points from those.
Now? Villa may be underdogs in every game, and without Benteke, draws against Everton and West Ham would be good results. A trip to Hull looked like a good spot to pick up points on the road, but unless they find a reliable source of goals in the next 10 days, one point will be a good once at KC Stadium.
Both Gabriel Agbonlahor and Andreas Weimann have played well at times this season, but they have not been able to augment Benteke's four-goal haul. Each winger sits on zero goals. The only other attacker to get on the scoresheet this season, the recently acquired Libor Kozák, is also unlikely to replace Benteke's production.
Finding a reliable scorer among that lot will be hard. Given the individual performances we saw in Lambert's first year and the track records of Kozák and Nicklas Helenius, it's likely Villa will be scrounging for points over the next six weeks.
Or less. Benteke could always come back sooner. Regardless, if the 13th place club can merely survive until Nov. 9 without falling into the drop zone, they can consider their Benteke injury storm weathered.