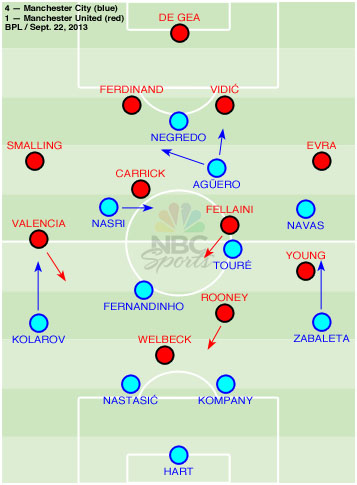 While Sergio Agüero scored twice in Manchester City's 4-1 win over Manchester United on Sunday, the key tactical move of the game came from the final goalscorer. Samir Nasri's movement, and the counter-movements that it created, were the key to City's attack.
Both teams played hybrid 4-2-3-1/4-4-2 formations, with one holding midfielder advancing higher than the other and one attacking player underneath the other. With the pressure it put on United, City was able to allow both outside backs to overlap, sometimes at the same time.
This pinned United wingers Antonio Valencia and Ashley Young deeper into their defensive half than United is used to, meaning they could not get forward to provide width in attack.
Danny Welbeck often looked like a lonely island, as Wayne Rooney dropped deep to find the ball and defend City's attacks. On the other end, Álvaro Negredo and Agüero linked up more often, and their partnership proved to be a handful for United's back line, combined with Nasri tucking in and the outside backs advancing.
Kolarov overlapping, Nasri pulling central
Multiple times in the early going, Nasri drifted way inside to find the ball. Taking the cue, left back Aleksandar Kolarov provided the team's width on the left. Pablo Zabaleta also got around Jesús Navas on the right, and he varied his runs to the inside and outside to keep from being too predictable.
The result was an overload of City attackers against a United defense that often got pinned into its own end, especially in the first half. Patrice Evra and Chris Smalling could not advance very often, and their wingers had to collapse to mark the extra numbers City threw forward.
This approach offers a high reward for the risk it takes. Leaving just two center backs to defend is a dangerous proposition against a two-forward set, but with how deep Rooney dropped, it still left a two-on-one advantage most of the time.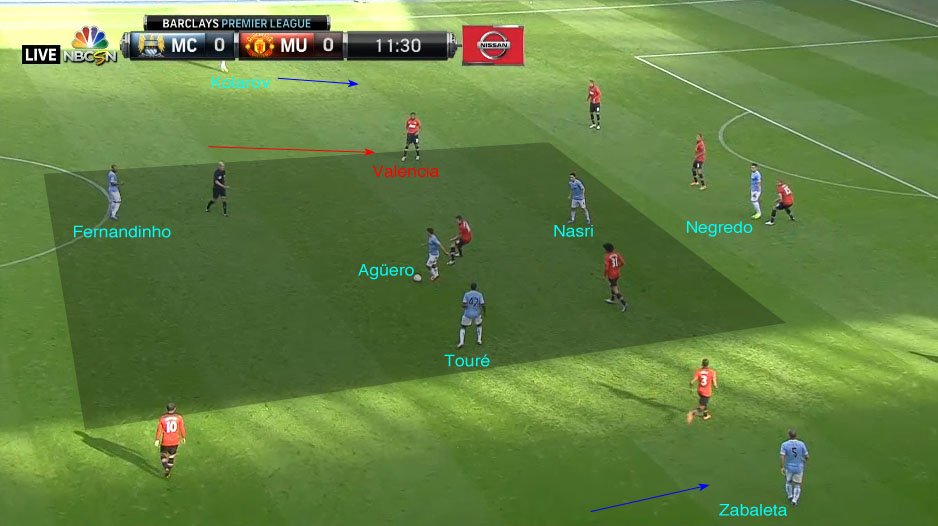 With Nasri cutting in and holding midfielders Fernandinho and Yaya Touré both pressing into supportive attacking positions, City had numerical superiority in the middle of the field. Agüero dropped back at times, or Navas would also tuck in, often giving the home side four attackers to three United defenders (a winger and central midfielders Marouane Fellaini and Michael Carrick).
The first goal came from this type of movement, with Kolarov serving the cross that Agüero volleyed home. Nasri also created the third goal with an incisive central dribble, and he finished off the fourth goal.
In the play above, Valencia and Young (just a shadow on the very right of the screen) are pinned deep again because of Zabaleta and Kolarov's advancement, giving United just Rooney to look for as an outlet.
United can't get in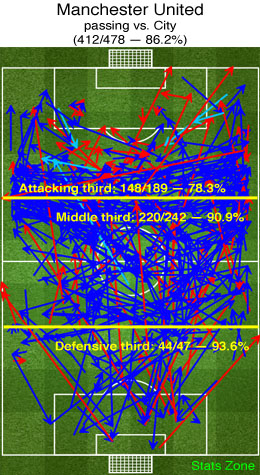 When United did get forward, its attack was often delayed and stifled by how many numbers City threw forward. United wasted little time in getting the ball into midfield, attempting less than 50 passes in its defensive third.
However, after advancing quickly to the border between midfield and attack, the passes became stagnant. Side-to-side ball movement was the norm, and rarely did the ball get behind the City defenders. This lack of penetration resulted in frustrated strikers, and Rooney dropped deeper and deeper into midfield to find the ball at his feet.
United attempted 25 total crosses in the game, but it completed only five. Nine of those service opportunities came from outside the penalty area extended to the touchlines, and only one of those was successful.
The four wide players — Evra, Smalling, Young and Valencia — only completed four crosses of their 17 total attempts. The area on top of the City penalty area offered little more than a series of missed connections and lack of attacking creativity (see the red lines in that area on the chalkboard at right).
Wayne Rooney's work rate
Rooney found more success in passing the deeper he dropped. As a shadow striker, his range is wide, as he ended up defending 20 yards from his own goal at times and in the channels.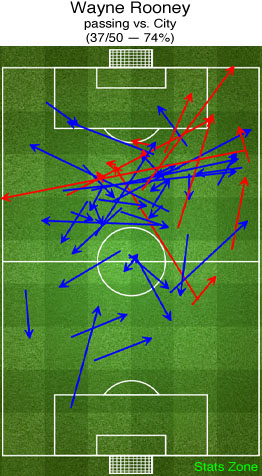 This is nothing new: Rooney has always been a rangy attacker who likes to be in the thick of the action. He was one of United's only threats on Sunday, but his frustration was readily apparent.
In the second half, manager David Moyes moved him to the target role, dropping Welbeck to the wing in a 4-3-3. However, the shadow role is Rooney's best, as his immense work rate and desire to have the ball at his feet drive the United attack.
Fellaini is a similar type of player, although it didn't show against City. In his brief time as an Everton player this season, he ranged from box to box and touchline to touchline, acting as the Toffees' attacking metronome.
If he can share that role with Rooney going forward, it will take the strain off both players and make it more difficult for opponents to key in on just one of them.
Newfound deficiencies at Old Trafford
On a couple occasions under Moyes, United has come across situations and opponents that made them look less than comfortable. After a shaky first 20 minutes at Swansea City, for example, Robin van Persie saved his team some embarrassment and put away two goals. From that point on, the team cruised.
Rooney and van Persie have proven to be a formidable partnership, and adding Fellaini into the equation should only make that more dangerous. But with van Persie out, United looked listless in attack against City. Fellaini won't take over a game by himself; he needs players around him who can be dangerous.
The questions only got louder for Moyes after this defeat, but the warning signs have been there all along in this young season. Things might be tough for a while as United goes through its managerial revolution, but if the Red Devils have proven anything, it's that patience is never lacking at Old Trafford — at least among those in charge.