For the second time this season, Liverpool and Manchester United rekindled their North West Derby, and for the second time this season, the first goal decided it. But whereas the teams' Sept. 1 meeting at Anfield saw Daniel Sturridge's fourth minute goal hold up, the Carling Cup's switch of venue also saw a switch of victors. Thanks to Javier Hernández's second half volley, Manchester United was able to get a measure of revenge, defeating Liverpool, 1-0.
The Mexican international's goal came after a half in which Liverpool, who started with a three-man defense, came out the stronger team only to fade by halftime, their hosts having slowly adapted to Brendan Rodgers' surprise deployment. Though the Reds held an edge in possession at half, both teams had only managed one shot on goal, with United's increased pressure toward the end of the period hinting they'd adjusted to the Liverpool boss's gambit.
Whether that was actually the case, we may never know, as Chicharito's 46th minute goal put United ahead before the half could play out. From service via another talented reserve, Shingi Kagawa, Hernández headed home the early second half corner, rendering Liverpool's extra central defender useless as he finished the game's only goal.
[MORE: When they met in league – Liverpool 1, Manchester United 0]
[MORE: Absent without leave: Where in the world are Shingi Kagawa, Juan Mata?] 
In the 67th minute, Rodgers pulled Lucas Leiva for right back Martin Kelly, switching back to a four-man defense. But as was the case before the switch, the visitors couldn't make a meaningful impact at the other end. Despite a formation that allowed the returning Luis Suárez to be coupled with Daniel Sturridge up top, Liverpool only generated three shots on goal, their team unable to navigate through a central midfield of Ryan Giggs and Phil Jones, a central defense of Jonny Evans and Chris Smalling.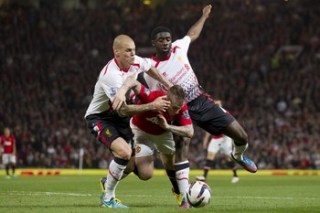 Against that United team, Rodgers' change at the back may have cost Liverpool, a criticism you could have also made this weekend after the Reds' 1-0 loss to Southampton. Then Rodgers elected to start four central defenders along the back and was rebuked as Mauricio Pochettino's compact team was never tempted out of their spots. Today, Liverpool's three-man back may have caused United to reconsider their approach, but once the adjustments were made, they started to look like the better side (a common narrative when a team makes a surprise switch to a three-man back). Had Liverpool deployed their normal setup, they may have taken advantage of a United team that featured only three regular starters (Wayne Rooney, Rafael, David De Gea).
To Rodgers' benefit, he's learned some valuable information from these two games. Had he not tried these tweaks, he'd still be curious as to whether they'd work. Thanks to his experimentation, he's been able to see what value the tactics have going forward.
At the same time, Liverpool's out of the League Cup, Chicharito's second half game winner sending their rivals through.
Goals:
Manchester United – 46′ Hernández
Lineups:
Manchester United: De Gea; Rafael, Smalling, Evans, Büttner; Nani (90′ Welbeck), Jones, Giggs, Kagawa (73′ Januzaj); Rooney, Hernández (74′ Carrick). Unused Subs: Amos, Anderson, Fabio, Zaha
Liverpool: Mignolet; Touré, Skrtel, Sahko; Henderson, Gerrard, Moses (82′ Sterling), Leiva (67′ Kelly), Enrieua; Sturridge, Suárez. Unused Subs: Alberto, Jones, Aspas, Ibe, Wisdom.