Thierry Henry isn't going to play this weekend against Seattle. Jamison Olave's hamstrings are likely to take a pass, too, but that's no big surprise. While it's easy to say this weekend's is a huge game and Henry should suck it up, he's never played in Seattle. And ultimately, this is just a regular season game. You can't both have a playoff system and claim the regular season matches are huge. If Henry and his doctors are concerned certain chronic issues are more likely to flare up at CenturyLink, then he shouldn't risk his health for a regular season match. It's just one of 34.
Where this issue becomes particularly interesting is when you compare Seattle's FieldTurf surface to that of their rivals. Portland brags about their turf, perhaps rightly so, as there's an obvious difference between it and CenturyLink's. Timbers owner Merritt Paulson enjoys telling the anecdote about how notorious turf critic David Beckham eventually conceded JELD-WEN's surface is not bad; both he and Henry choose (chose) to play in Portland.
[MORE: Thierry Henry likely to miss New York's big clash at Seattle.]
Contrast that with Vancouver, which may compete with New England as the league's worst. But whereas the Revolution's is FieldTurf struggles with issues distinct from other FieldTurf instances, BC Place uses LigaTurf, a product of the German company PolyTan. In previous posts, I've equated it to felt on a pool table, a distortion intended to convey how slick the surface is (and how hard the slab is underneath). No field in Major League Soccer sees balls roll or bounce as much as Vancouver's, a potentially huge advantage based on familiarity alone.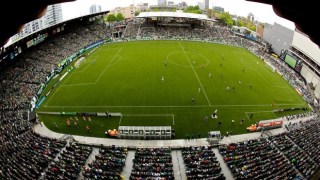 If you were to put them on a spectrum of worst to best (or, to use the Arena range, "disasters" to 'whatever, I guess'), Vancouver would lie at the far left. You don't have to go very far to hear complaints. Seattle's is less criticized but still draws Henry-esque caution, while Portland's main criticism's along the lines of "well, it's still turf."
[MORE: Bruce Arena calls artificial turf "disasters"]
Across all venues, recovery time's going to be an issue, a reason why you'll see any number of veterans skip Cascadia calls (even in Portland). Late in the season, when players are worn down, it's not worth the risk.
And the games obviously play different, as Mikael Silvestre found out when a high bounce on JELD-WEN's surface saw him caught out in his MLS debut. And as anybody who even rolls a ball at B.C. Place finds out, games are going play much faster in Vancouver.
But not all turf is the same. Across Cascadia even, there are drastic, important differences – distinctions so pronounced, the blanket term "turf" has almost no value.