Reports from Madrid on Friday suggest that Gareth Bale will return from a thigh strain to play in his first Madrid derby against Real's noisy neighbors Atletico on Saturday night.
And Los Galacticos certainly need their most expensive signing to shine on the big stage, on his home debut at the Santiago Bernabeu.
On Wednesday night, Real narrowly beat newly promoted Elche 2-1, after a hugely contentious penalty kick in the 94th minute of play was converted by Cristiano Ronaldo. But throughout that contest they lacked a cutting edge and change of pace that Bale will deliver, if fully fit and raring to go.
However, it will be hard to not be fired up for this game, as many Madristas will have already told him all about the history and ferocity of this rivalry.
The intensity of these derby games is burgeoning, as Atletico have turned into a real European superpower in recent seasons. Yes, they've lost star striker Radamel Falcao to money bags Monaco, but they've got a new star emerging in attack as Brazil's Diego Costa is banging in the goals (scoring seven in six games already this season) and proving his worth in La Liga.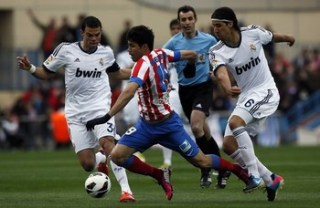 What makes Saturday night's clash even better, is that Atletico are slightly ahead of Real after winning all six of their opening games to sit joint-top with Barcelona on 18 points, while Real have 16 points so far. With managerial changes and new philosophies coming into play at both Real Madrid and Barcelona this campaign, many believe Atletico Madrid are ready to challenge the two perennial giants of Spanish soccer for the the La Liga title.
There's not two ways about it, if Real play like they did at Elche in midweek they will get heavily beaten by their city rivals at the Bernabeu. Diego Simeone has assembled an aggressive squad that isn't afraid to attack and will penetrate Madrid's weaknesses. One of which, could be Bale.
For all his talent, which is undisputed, it will be the 24-year-old Welshman's first taste of a frenetic and rambunctious Madrid derby. And that may take some getting used to. No doubt Simeone will instruct his players to harass and tackle Bale forcefully in the opening stages, and then it's all about how Bale reacts to the inevitable provocations.
Of course, Real also have the likes of Ronaldo, Karem Benzema, Angel Di Maria and many other to lean on for attacking creativity, but in Bale they hold the key to not only winning this Madrid derby… but putting their capital city rivals firmly in their place in the league pecking order.
Bale needs to be fit, fired up and ready to deliver a spectacular display on Saturday night. Real Madrid's fans will be watching on keenly, to see if he's up for the battle.
You can watch the game live on BeIN Sport in the USA, at 4pm ET.