It has been a relationship that has spanned three different clubs, in three different countries for almost 10 years.
But now, it's all but over.
"I don't lose any sleep," Tottenham manager Andre Villas-Boas said. "We had a great personal and professional relationship before. We don't have that now."
As for Jose Mourinho, the Chelsea boss shrugged of questions about his relationship with AVB ahead of Saturday's crunch clash (7:45am ET, live on NBCSN and online via NBC Sports Live Extra) but insinuated that Spurs' manager had been childish.
"I don't discuss this with the media. It's a personal thing. I don't care what he says. I'm not here to do that. I'm not interested," Mourinho said. "I am not a kid – if I have a problem with someone I go upstairs, we speak and we have lunch."
(MORE: Preview – Tottenham Hotspur vs. Chelsea)
So, just how did two coaches, who many believe are so alike in terms of style, tactics, personality and upbringing, drift so far apart after working together for many years?
It's certainly a head scratcher. But somewhere along the line there came an impasse, where Mourinho went one way and AVB went the other.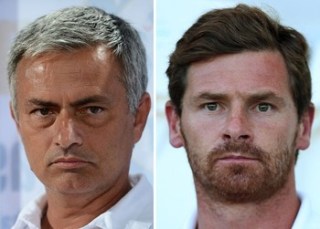 The latter believed his expertise was enough to be Mourinho's assistant manger instead of a scout and coach, which was the role he worked in for the 'Special One' at FC Porto, Chelsea and Inter Milan. But it was after Inter's Champions League win of 2010, that AVB decided enough was enough and went out into the managerial wilderness on his own.
In his first season as a manager Villas-Boas went unbeaten with Porto, winning the Portuguese League, Cup and Europa League, before getting the Chelsea job. That didn't go too well, as we know, but over the last 18-months at Tottenham, the 35-year-old Portuguese manager has rekindled the promise many thought had disappeared.
But AVB still refers to his split with Mourinho, from a professional standpoint, as a monumental moment in his own career.
"Our break-up point was because I was full of ambition to give him something extra and I wanted further involvement from the job I was doing at that time," AVB said. "I felt I could give him much more. But he didn't feel the need for somebody near to him or in another position as an assistant, and because of that it was decided that it was time, after Inter Milan, to continue our careers apart."
Mourinho spent the last three seasons at Real Madrid, winning La Liga once and failing in the Champions League, and his path and that of Villas-Boas' never crossed… until now. The two fiery Portuguese coaches, who were once so close, are now enemies as both Tottenham and Chelsea aim to challenge for the Premier League title this season.
Everything is set up for a tremendous battle on the pitch at White Hart Lane on Saturday. But plenty of people will be keeping an eye on two old friends in the technical area, as the master and his apprentice do battle for the very first time.