LONDON — It has been a rough start to the season for Chelsea's Spanish midfielder Juan Mata.
But the diminutive attacker from Northern Spain showed all his mettle on Saturday, as he climbed off the bench at half time to turn the London Derby on its head.
Mata, 25, was playing in just his third league game of the season and made a massive difference to Chelsea's offensive offerings at White Hart Lane.
Chelsea manager Jose Mourinho has publicly criticized Mata's recent displays, but chose to bring on the playmaker to change Chelsea's fortunes in the crucial Derby against Tottenham. And it worked.
"I think this is the way players have to say 'I want to play'", Mourinho said. "Conversations with you [the press] is not good, the agents blah, blah, blah, behind is not good. Good is this, the effort that he made against Swindon [in midweek] and the way he changed the team in the second half. And because of that I am a very happy manager."
(MORE: All-square between the master and his apprentice, as Chelsea fight back for draw at Tottenham)
As for Mata himself, he was delighted to help the team produce a rousing second half comeback, after Spurs dominated Chelsea for vast swathes of a fiery first half.
"Well I just tried to do my best for the team," Mata said. "From when I came on and that's what I'm going to try and do until the end. Obviously everyone wants to play. As I said last week, I'm a professional and I enjoy all my teammates and what I want to do is enjoy on the pitch and today I did it."
Mata played a part in the pivotal moment in Chelsea's comeback, as his 40-yard left-footed free kick found John Terry at the back post, who headed home the equalizer in the 65th minute. Mata wheeled away in delight and punched the air, he deserved that moment after battling it out with Tottenham's giants in midfield and forcing his way between the lines of defense and midfield.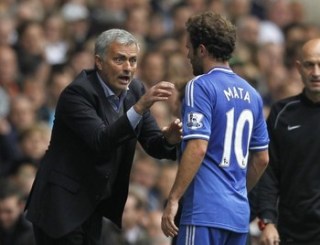 He certainly caused Spurs plenty of problems, and Andre Villas-Boas agreed that Mata's arrival changed the game.
"Mata played very well, I think he changed the game. He is an extremely creative player, I think he had the impact on the game that Chelsea and Jose wanted. And made another assist for JT to score."
(MORE: Tottenham 1-1 Chelsea: Lively derby ends in a draw)
Mata's teammate, Petr Cech, could see things from both the managers and players perspectives, but is over the moon to see the Spanish magician back to his best and pulling the strings for Chelsea.
"If you aren't doing exactly what he asked you to, then you can't argue with him, because he is the boss," Cech said. "It's a simple as that. But it's really nice to see Juan play very well the last couple of games and that he looks happy and fit."
The Spanish international wasn't even in the squad for Chelsea's last Premier League game against Fulham, but he proved just how essential he is to their attacking rhythm, as those around picked up their game after half time. Oscar looked much more comfortable cutting in from the left, while Frank Lampard and Ramires also looked at ease dovetailing to support Mata's roaming runs towards Tottenham's defense. Last season Mata was the creative hub of Chelsea, scoring 21 goals and adding 29 assists to lead the way.
(MORE: Jose Mourinho fuming at Jan Vertonghen, as Fernando Torres sees red)
On Saturday, Mata made Chelsea a better team with his second half arrival and as Mourinho alluded to in his post-match press conference, Chelsea really should have won the game had Fernando Torres not been controversially sent off.
"In the second half we played very, very well," Mourinho said. "We played tactically well, we played with a very good spirit and strong mentality. It leaves us in a situation where people are getting their confidence and I think this second half is probably the best we've played. Also the first half against Hull City but I think this is our best performance."
And ahead of their Champions League game in Romania against Steaua Bucharest on Tuesday, Mourinho revealed that Mata will start, after starring in Chelsea's determined second half comeback.
"I can say this 72 hours in advance, that he plays against Steaua Bucharest. He won that by himself."
Mata is back in the picture at Chelsea, he's done it the hard way. But he's shown the 'Special One" just how special he can be, with a terrific cameo display.