A cracking second half saw Manchester United saddled with their second-straight loss in the Premier League and left David Moyes shaking his head at their inability to deal with an opponent they quite frankly shouldn't have an issue with at home.
Early on Scott Sinclair went down injured and was replaced by Sado Berahino.  More on that later. A major chance came in the 24th minute for the home side, as Nani sent in a slicing free kick from long range, and Wayne Rooney caught a head on it with power but it was right at Boaz Myhill.
Jonas Olsson, in a somewhat harmless header challenge, got a big cut over his eye which covered his shirt in blood and sent him off the pitch for a bit, but he returned with a massive wrap over his forehead.
In the 34th minute, United produced a dangerous counter, and Kagawa found Anderson who thundered the crossbar with his header.  It didn't matter because the flag went up for some reason, even though replays showed Anderson was clearly onside.
United continued to absorb and play on the counter, and Kagawa himself got a few good looks at goal as the first half went on.
The second half brought fans what they were searching for, as the game was brought to life.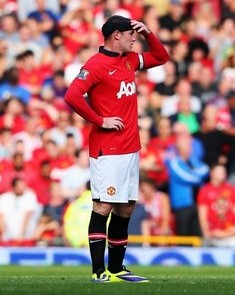 It was Amalfitano first who gave West Brom the lead in the 54th minute. He received the ball in his own half and a wonderful run saw him embarrass Rio Ferdinand and deke De Gea, leaving the keeper in a heap on the ground and letting the Frenchman touch the ball home.
Rooney was there for United though.  His free kick from a tight angle came rocketing into the box. Two Red Devils whiffed at a redirect touch, but it wasn't needed as the ball found the corner pocket anyways to level.
West Brom continued searching for another lead, and it was a young substitute who gave it to them in the 67th minute.  Stephane Sessegnon sliced a wonderful ball into the box for Amalfitano, who cut back to 20-year-old Sado Berahino for a thundering low finish past De Gea and a 2-1 lead.
The game settled down from there, until United believed they had another equalizer by substitute Marouane Fellaini until they saw the linesman's flag was up.
It was all she wrote for Manchester United, as they went relatively meekly the rest of the match and sent David Moyes home with their first-ever loss to West Brom in the league, and more importantly Manchester United's worst start in the top-flight in 24 years.
Goals:
Manchester United – Rooney 57′
West Brom – Amalfitano 54′, Berahino, 67′
Lineups:
Manchester United – De Gea; Jones, Ferdinand, Evans, Buttner; Anderson (Fellaini 68′), Carrick; Kagawa (Januzaj, 45′), Rooney, Nani; Hernandez (van Persie, 58′).
West Bromwich Albion – Myhill; Olsson, Ridgewell, McAuley, Jones; Yacob, Mulumbu, Sinclair (Berahino, 13′), Amalfitano, Sessegnon (Rosenberg, 90′); Anichebe (Lugano, 85′).