Roma's 5-0-0 start to the Serie A  season had included one brow-furrowing curiosity: They'd failed to score a goal in the first half of any of their games. After intermission, they were scoring at a rate of 4.8 goals per game (12 goals in 225 minutes), but theoretically, it was taking a half of wearing down before Rudi Garcia's attack could make their way through tiring opponents.
That theory proved more a hypothesis on Sunday, with the Giallorossi exploding in the first half of Bologna's visit to the Stadio Olimpico. Alessandro Florenzi opened the scoring in the eighth minute (his third of the year), putting home the rebound of a Miralem Pjanic restart. Francesco Totti set-up Gervinho to double Roma's lead nine minutes later, while on 25 minutes, Totti got a second assist on another spectacular goal from Mehdi Benatia (the defender second in two games).
Telling of their early success, this wasn't even Roma's quickest three goals of the season. Hosting Verona in round two, Roma scored three times in 11 minutes, though one came via a Fabrizio Cacciatore own goal. Today's outburst — 18 minutes; three goals — had the virtue of all coming off Roma feet.
Garcia's side went on to win the game 5-0, their most decisive win of the season, one which finally saw their dominance pay off before a mid-match regroup. Perhaps that's a sign of Bologna's struggles (now 0-3-3 on the season). Perhaps it's just random. Or perhaps it's just Roma gaining confidence from their 6-0-0 start – executing before their opponents fold. With the win, Garcia's team stays two points clear of Napoli and Juventus.
[MORE: Serie A Sunday roundup: Juventus labor to win Turin derby.]
But the result leaves the same question we've been asking for two weeks: Are Roma for real? Perhaps Saturday, when they travel to Milan to face Inter, we'll get a better idea, but across all the small indicators we've seen from their soft opening schedule, the answer has been Yes. Their 17 goals scored lead the league, while their single goal allowed make them the stingiest team in Serie A. The lopsided result not only shows their continued improvement but hints they may be less susceptible to the slips we've recently seen from Napoli and Inter. Firepower's difficult for less-talented teams to match.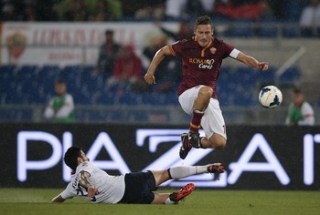 And that Roma firepower includes convincingly strong starts from both their core and their new acquisitions. The 37-year-old Totti shows no signs of slowing, Daniele De Rossi's off to one of his strongest starts in recent seasons, while Miralem Pjanic continues his understated stardom. Among the new signings, Benatia's acquisition form Udinese has offset the loss of Marquinhos to Paris Saint-Germain, Kevin Strootman's already provided three assists in midfield, while Gervinho and Adem Ljajic have combined for six goals. Maicon has proven surprisingly decent since returning to Italy, while Morgan De Sanctis has only conceded once since moving from Napoli.
Roma may yet prove a fluke, but talent won't be an excuse, particularly with the likes of Ljajic, Michael Bradley, Marco Borriello and Nicolas Burdisso in reserve. And with no European commitments to distract them, Roma may be set to replicate what Juventus did two years ago.
Perhaps they won't go on to win the title (as that regrouping Juve team did), but with a offseason's regroup and a streamlined set of commitments, Roma may be set for bigger and better things. This start may turn out to be step one.