Less than a month remains in the regular season, and the playoff races remain tight as rush hour traffic on the 405. Here's what you need to know about Round 31, which finished with an usually busy Sunday foursome of matches.
The big results
So many, really, considering playoff races in each conference that simply refuse to yield all that fascinating congestion.
But the big-big result was surely Portland's 1-0 win over the two-time defending champion LA Galaxy helps establish Caleb Porter's team as a real contender. The Timbers are learning now to grind out results, with two 1-0 wins at home over Western foes lately.
Tim Cahill's second half equalizer gave the Red Bulls a useful 1-1 draw in Seattle, where the Sounders fumbled away numerous chances to put away a side missing its its top attacker (Thierry Henry) and top defender (Jamison Olave). Seattle retains the inside track on Supporters Shield (based on the number of games remaining), but it was a result the Red Bulls can take pride in.
Columbus' surprising 4-2 win in Dallas, the Crew's second consecutive road win, was massive in the playoff jostle. The Crew looked so close to dead a few weeks ago, but a string of impressive results has kept interim coach Brian Bliss and his troops among the post-season hopefuls. Oh, and it was also was probably a knockout punch for FC Dallas, now five points out of the race.
The "controversial" decision – that wasn't a bit controversial
LA Galaxy players and coaches, reinforcing that sense of entitlement that has become so familiar through the Bruce Arena years in Southern California, were absolutely apoplectic about a late Robbie Keane goal that was waved off, judged offside, in Portland. And it was a swell strike, a crisp near-post header off Landon Donovan's precision free kick service.
But replays demonstrated that Keane was offside, just as the referee's assistant correctly ruled.
We get on the men in the middle a lot on this site, so it's only fair to point out when they get a very close, and quite important decision absolutely correct. Job well done, guys. Here's that one:
.
The most surprising result
Philadelphia was perhaps one more big punch from being knocked plum out of this fight, having fallen from second all the way to seventh. So going into Sporting Kansas City and coming away with a 1-0 win (over a team still thinking "Supporters Shield") was easily the big upset of Round 31.
The most impressive result
It's not like Real Salt Lake had much of a choice, surely needing to trust the reserves Saturday night in Vancouver. With the U.S. Open Cup final coming up Tuesday at Rio Tinto Stadium, RSL manager Jason Kreis filled his lineup at BC Place with young talent and backups – and what a night it was for his club when the reserves came through with a 1-0 win.
So the starters are rested for Tuesday's huge match, the team remained up near the top of the West and Vancouver … well, Martin Rennie's team is left to rue the squandered opportunity.
The top tactical change
A goal down, Houston got aggressive on the road, subtracting a defender in favor of an extra attacker in a 3-5-2 look. It paid off quickly as Will Bruin found goal for the equalizer in a 1-1 draw at New England. By splitting the points, not only did Houston keep the inside track on a playoff spot (the Dynamo schedule ahead is favorable compared to other Eastern Conference playoff chasers), but Dominic Kinnear's team simultaneously prevented one of its pursuers from picking up two additional points.
Oh, the Dynamo has done something quite similar before, and somewhat famously so.
The Golden Boot chase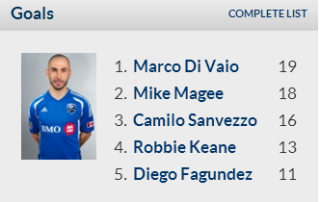 Saturday's match at Toyota Park outside Chicago didn't just have playoff implications (like so many of Week 31 contests did), it also featured the league's top two scorers. Montreal's Marco Di Vaio scored once, but top pursuer Mike Magee from Chicago slotted home a pair. So Magee cut the gap to one. The update list of MLS top scorers is on the right.
Caleb Porters great choice
Ryan Johnson has been the Portland Timbers first-choice striker for most of the season. So the decision by manager Caleb Porter to give young Argentine Maximiliano Urruti the start in such a meaningful match Sunday afternoon at rainy, wind-swept Jeld-Wen Field was a bit of a gamble. Urruti, 22, made his manager look good, scoring the game's only goal in the 1-0 result mentioned above.
The weekend's huge boo-boo
Montreal's attackers eventually bailed out their goalkeeper, but it looked for a while like Troy Perkins embarrassing mistake in the back was going to be the difference in an important Eastern Conference clash.
Perkins, Montreal's veteran goalkeeper, tried to get a little cute and evade Magee inside his own penalty area. Big. Mistake.
Yes, Magee fouled the Impact goalkeeper, but that hardly excuses such a blunder, a "howler" in the vernacular. Montreal's subsequent equalizer made the final 2-2 at Toyota Park. Here's the play:
.