It's a little early to wonder if Jurgen Klinsmann has recently built a home on ancient burial ground and has been cursed for it – but you have to admit, the national team's run of misfortune lately is a bit strange, eh?
Klinsmann was quite clear, and immediately so upon qualifying officially for the 2014 World Cup: he wanted his best players for those last two qualifiers. He seemed downright confused by any suggestion of doing anything else.
You may see them as meaningless, and it's true that next week's match against Jamaica in Kansas City and the final round closer four nights later in Panama won't mean a thing for the United States in the official picture. (The U.S. schedule is here.) They are going to Brazil, and finishing atop the six-team group probably will not impact the United States' ability to get a more favorable tournament draw in December.
But Klinsmann (pictured along with Clint Dempsey) will tell you that opportunities to fine tune and tweak between now and next summer are precious and few, and squandering these chances to reinforce all good tenets and to further fuse the combinations is wasteful.
Either way, he's not going to have that chance over the next couple of weeks; his plan to use these upcoming qualifiers for further World Cup prep is unraveling, and quickly so.
Let's look at the first-choice players who will not be available, or who will be limited in their fitness and abilities due to recent injuries:
Michael Bradley could return to the training field for Roma this week, but his ongoing ankle injury makes a trip to the United States seem less and less likely. Everybody should know by now that Bradley is the one absolutely indispensable piece to this U.S. puzzle, so any efforts at a top performance begins with their midfield glue.
Clint Dempsey's hamstring issue (Where did he get this thing? No one seems to know.) has kept the U.S. attacker out of Seattle's last two matches. Even if Dempsey's condition improves, Seattle is likely to lobby for keeping him, for playoff positioning and Supporters Shield pursuits next week. Considering Dempsey is Major League Soccer's top wage earner, it seems like a reasonable request.
(MORE: U.S. Soccer and Jones refute reports of injury)
Jermaine Jones' status may be up in the air; reports out of Germany say surgery will have Jones on the shelf for a few weeks. But Jones and U.S. Soccer are refuting those reports, so stay tuned on this one. Either way, if Jones has a knee issue, it's fair to wonder if Schalke will be excited about extra travel and matches that are, officially speaking, meaningless.
U.S. center back Clarence Goodson was a scratch from Sunday's match at Chivas USA after suffering a bone bruise on the knee in the Earthquakes' previous contest. Goodson, recall, was the starter alongside Omar Gonzalez as the United States clinched its spot earlier this month with the win over Mexico. Goodson may have slipped lately on the depth chart (blame young up-and-comer Anthony Brooks for that), but his steady night against El Tri reminded everyone that a tested, reliable veteran is great to have around.
Word came Monday that Fabian Johnson has an ankle injury and may not be available for Hoffenheim's match Saturday at Mainz 05. If Johnson does not play there, expect some reluctance from Hoffenheim to release their left-sided defender-midfielder for international duty.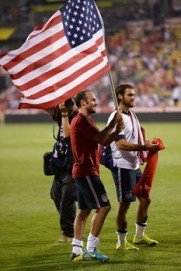 Landon Donovan (pictured below) was back on the field for the Galaxy on Sunday in Seattle, so he is likely to be on Klinsmann's list when the team gathers next week in Kansas City. But whether the Galaxy man will be at full-fitness (and therefor full effectiveness) is another matter.
There is one other element potentially destructive to Klinsmann's plan: how will MLS teams feel about losing players for "meaningless" contests with significant implications in their one, league contests on the line? Think about Graham Zusi, Matt Besler, Landon Donovan, Eddie Johnson and Clint Dempsey, all locks to make the final 23-man roster for Brazil. If there isn't some push back from Sporting Kansas City, the LA Galaxy and Seattle, I'll be surprised.
(Goodson, too, for that matter, as San Jose's playoff chances remain in the balance, and the Earthquakes are sure to want their best bunch whenever possible.)
There will still be plenty to work with in the U.S. camp. Jozy Altidore will likely relish some time away from the pit of despair that Sunderland has become. There will be mutual benefit of having Aron Johannsson, so fabulously in form at Alkmaar, in another U.S. camp, especially as the Icelandic American has been in so few sessions under Klinsmann so far. That's just to name a couple.
And, of course, every absence is an opportunity for someone else to climb the food chain. For instance, if Johnson cannot play at right back, Geoff Cameron may get another look there – and wouldn't it be nice to see what the Stoke City man can do at the position when the opposition isn't high-flying Belgium?