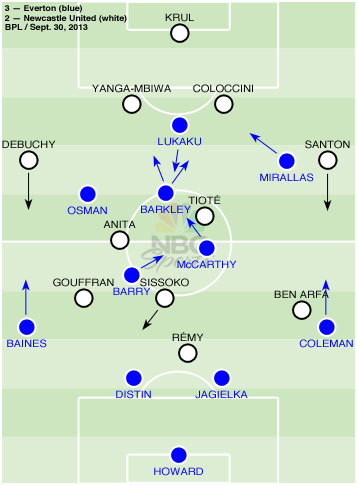 In the first half of its 3-2 win over Newcastle United on Monday, Everton picked the visitors apart. Those 45 minutes, combined with other recent performances, showed the potential the Toffees have with new manager Roberto Martínez's system.
It's a similar possession-based game that he tried to instill at Wigan Athletic, but with Everton's superior players, the results should be more impressive. Indeed, early in the Premier League season, Martínez's men have proven to be among the most entertaining and positive sides in the league. Only Arsenal and Manchester City have scored more goals.
Everton has built its system on a simple passing to unlock spaces on the field for one-on-one isolation, usually on the wings. Outside backs Leighton Baines and Seamus Coleman provide two of the more dangerous attacking options on the squad, and 19-year-old Ross Barkley has been a revelation in central midfield.
Leon Osman and Kevin Mirallas run the wings, never afraid to take defenders on with the ball at their feet, and Romelu Lukaku seems to have taken over the target role from Nikica Jelavić, who had a hard time getting involved in his early starts.
Building blocks of possession
The most obvious aspect of Everton's system is the patience it displays in building up attacks. Short passes keep the ball moving and keep opponents constantly adjusting their positioning, aiming to open up gaps to exploit in midfield when defenders get stretched.
Of the 512 passes Everton attempted against Newcastle, 458 were short, as defined by Opta. Only 92 total passes came in the defensive third of the field, though, with most of the impetus put on the midfielders to initiate play. The Toffees completed 232 of 273 passes (85 percent) in the middle third, including 161 of 181 among the three central midfielders: Barkley, Gareth Barry and James McCarthy.
In his 500th Premier League game, Barry ran the show with his attempts to unlock the Magpies' defense. His 75 attempted passes were the most on his team, and he completed 86.7 percent of them.
Looking at their passing charts, the three center midfielders played mostly short, fairly square passes. Every ball movement, no matter how small, causes adjustments from opponents. The more adjustments they are forced to make, the more likely they are to unknowingly open up spaces.
It's soccer by chess, not checkers, predicated on one- and two-touch passing and a high tempo.
Short, short, long
Series upon series of short passes against Newcastle opened up options for the long ball that turned what usually becomes a 50-50 ball into sustainable possession. Atrocious defending from the visiting team helped the cause, particularly on Tim Howard's assist to Romelu Lukaku in the 36th minute.
For an example of short-range possession turning into a plausible long-ball opportunity and one-on-one isolation, let's pick up the end of a nearly 30-pass sequence by Everton. (It may have been more than 30 passes, but it began off-camera, so it's difficult to be certain.)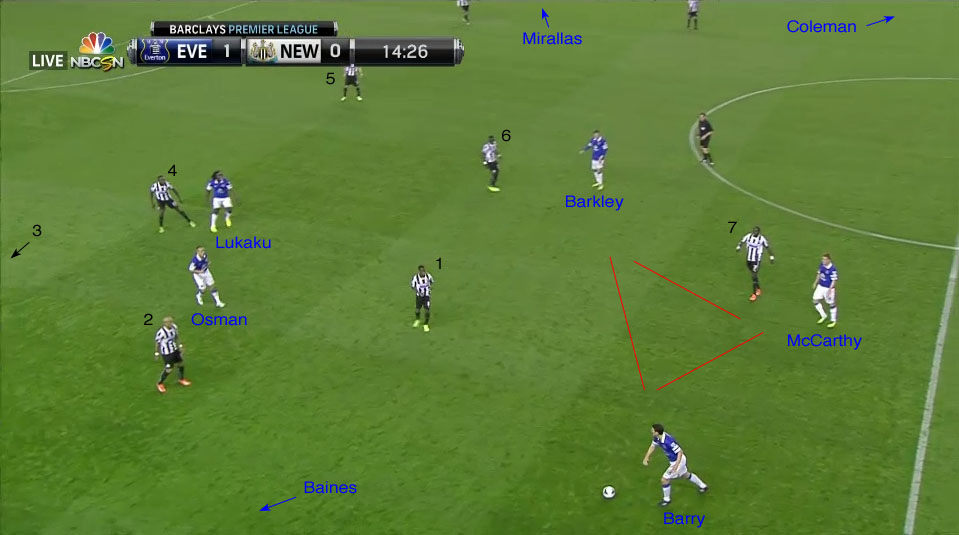 As usual, all three central midfielders are involved in the build-up. Osman tucks in on the left side, allowing Baines to get around him and provide another option. On the opposite flank, Coleman and Mirallas stay out of the play, waiting and expecting their teammates to realize the space they are in.
The short exchanges draw seven Newcastle defenders onto the near side of the field, as six Everton attackers work the ball around.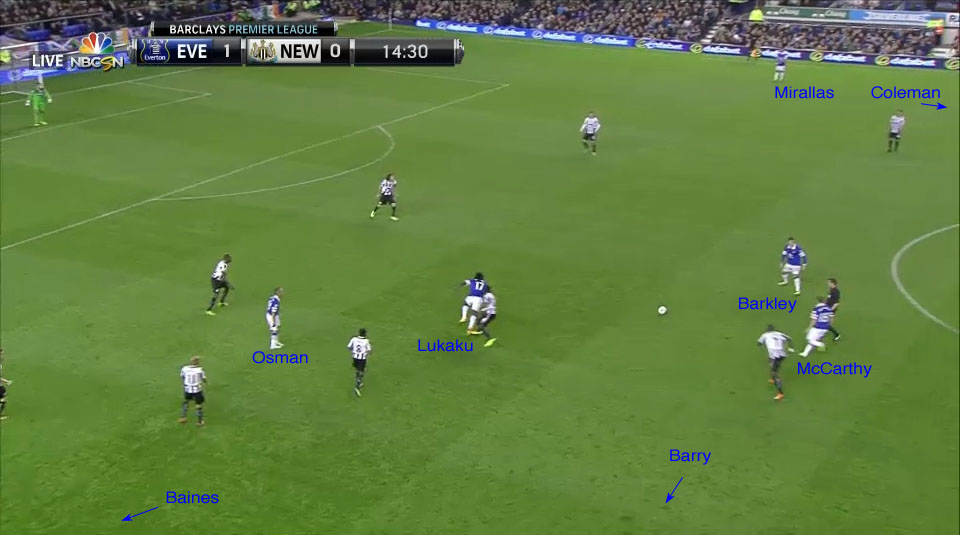 A passing lane opens up for Lukaku to check in and play the ball back toward McCarthy, who recognizes the space Mirallas and Coleman have on the far side.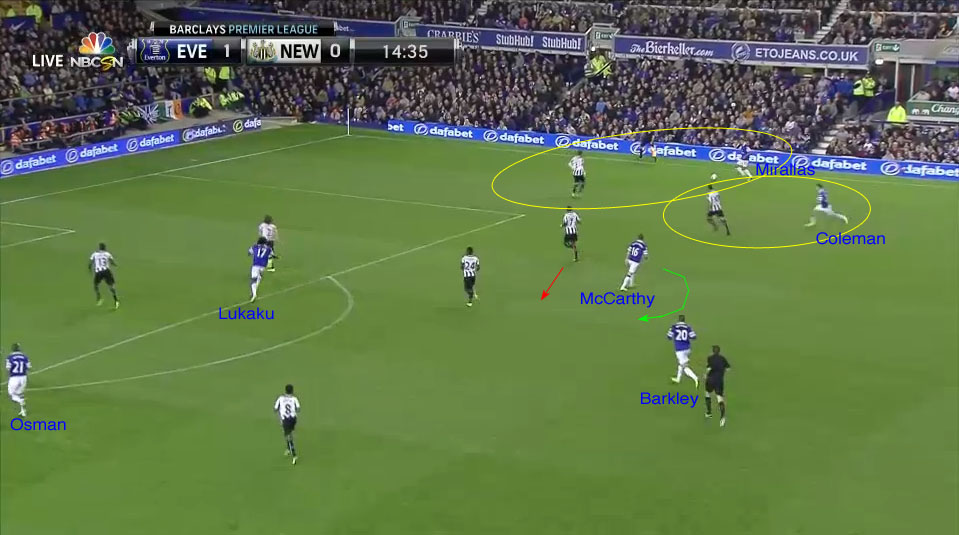 A longer pass to Mirallas' feet leaves him isolated against Newcastle left back Davide Santon, whom Mirallas already beat once on the dribble to assist Lukaku's opening goal in the fifth minute.
Coleman advances to the inside (an underlapping run, as opposed to an overlapping run around Mirallas to the outside), dragging his defender away and giving Mirallas more space. Ideally, McCarthy should spin away and drag another defender with him.
Getting to goal
That's the idea in Everton's attack: overload the middle to isolate wide players, allowing for individual brilliance or a centering pass (or sometimes both) to get the ball into dangerous areas. The Toffees struggled to get on the end of crosses — Mirallas and Coleman completed one each, and nobody else had any — but the opportunities were created.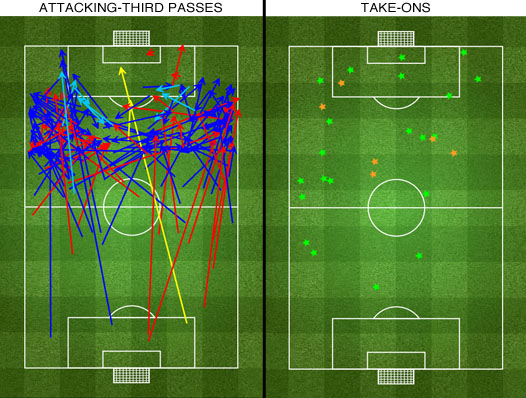 The majority of Everton's passes in the attacking third went wide, although Baines and Osman on the left were more willing to take players on than Mirallas and Coleman on the right. Most crosses came from the right side.
Overall, Everton completed 21 of 27 one-on-one dribbles and 110 of 147 passes in the final third.
Developing dominance
Martínez recognizes that it takes much longer to build and sustain his vision than a smash-and-grab style, telling television cameras after the game, when his team had secured fourth place:
We were disappointed with the first three games. I thought we were really dominant, really good, and we should have got more points. It's a great target, to get into the top four. Now, it's only six games, but it's something that gives you a good start, and that's all it is: a good start. You could see the potential today. Some of the signs were terrific as a team, and then all the other aspects that we need to work and develop, and we're looking forward to that.
Three key words in that quote show where Martínez is trying to go: "develop," "potential" and "dominant."
Everton has only scratched the surface in the first six games of the season, still fine-tuning many aspects of its game. However, the flashes it showed against Newcastle and in previous matches paints a picture of a team that can, has and will dominate games and opponents.
Good soccer is a living creature; it needs to be nurtured and grown. By the time spring rolls around, Everton should be much closer to adulthood.