Saturday's win at the Santiago Bernabéu may have been the biggest in Atlético Madrid's recent history, but seeing Colchonero boss Diego Simeone leap into his assistant's arms just before full-time on Tuesday, you'd have a hard deciding which result was bigger: This weekend's 1-0 Derbi win over Real Madrid, or today's 2-1 victory at Porto? While it's hard to imagine a more symbolic result than this weekend's win at the Bernabéu, an airborne Simeone, legs dangling behind his assistant as he was carried down the Dragão's sideline, cast a compelling visage. Who would have thought a win in Portugal would evoke that kind of emotion?
[MORE: Derbi loss was so much more for Real Madrid.]
The drama certainly helped, Atlético having fought back from a one-goal deficit to claim full points just before time. Jackson Martínez's 16th minute goal and the confidence it instilled in Porto built that tension, but after halftime, the resiliency Simeone has slowly worked into his team won out.
Off of Gabi's restart along the right flank, Diego Godiín headed into an empty net in the 58th minute, Helton having misjudged a ball that swung away from him nine yards from goal. Then in the 86th minute, after Atlético had turned Porto's fortress defense into a salvage operation, a clever restart allowed Ardan Turan to finish high into Helton's goal, a game-winning score that sent Simeone airborne.
It was the first time in 19 months Porto had lost at home. No Champions League team had won at the Dragão since Chelsea in four years. In league, Porto has gone 75 games without a loss. Yet on Tuesday, Portgual's champions fell to a team that's playing as well as any team in Europe.
Whether Atlético stay at this level is a conversation for another place, but coming off back-to-back road wins against Real Madrid and Porto, there's no team in Europe that's accumulated a better résumé through the season's first six weeks. They're perfect in league, played Barcelona to two draws in the Spanish Supercopa, and after taking full points in Portugal, the Rojiblancos sit alone atop Group G, having won the most-difficult game of their group stage schedule.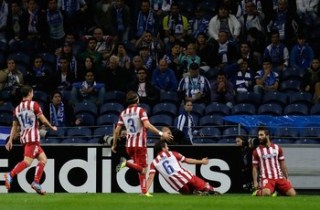 Paris Saint-Germain went to Porto last year and fell. The year before, it was Shakhtar, and the year before that it was Arsenal. Not since Manchester United then Chelsea won at the Dragão four years ago have Porto been beaten at home in Champions League, but today, Atlético joined that group.
For Porto, worn down over the course of 90 minutes, left more tired than distraught as Turan's goal was pulled from their net, the result will eventually find perspective. If Atlético maintains something close to this form, they'll go on an win this group easily, leaving the matches between the Dragons and Zenit to decide second place. In that scenario, today's result won't matter, much.
But for Atlético, Simeone's reaction told the tale. It wasn't just that they beat Porto or have now won two key matches in a row. It's how it happened, with Martinéz's early goal providing a heightened test of all the qualities the Argentine boss values most.
Ultimately, all the organization, work, determination, and opportunism paid off. All of the qualities that have allowed Atlético to transcend the pack in Spain and join Barça at the top have translated onto Champions League. On Tuesday, Atletico conquered the Dragão.