UEFA Champions League's group stage is back Tuesday, Groups E through H kicking off the tournament's second round of action. With special focus on games at the Emirates Stadium and the Dragão in Portugal, here's a preview of the week's first eight matches:
FOR NAPOLI, OVERLOOKED SIGNING COULD PROVE VITAL
Arsenal (3 pts., England) vs. Napoli (3 pts., Italy)
Kickoff: 2:45 p.m. Eastern, London (Emirates Stadium), England
Raúl Albiol was overlooked, perhaps because his move to Real Madrid had been so disappointing. By the time he left the Bernabéu, the center back was practically a forgotten man. Former Blancos Gonzalo Higuáin and José Callejon made more publicized moves to Naples, as did Pepe Reina from Liverpool. But the former Valencia man whose ability to replace Hugo Campagnaro would be so crucial? His move to Napoli was overlooked.
Though five Serie A appearances, Albiol's contributions have been mostly quiet ones; but then again, most central defenders' contributions are. But in that quiet — that murmur that's come of the restrained, preseason fear Napoli hadn't replaced their best defender — you can feel a building confidence. Maybe this 28-year-old who hadn't been a regular starter since 2010 could replace their Argentine linchpin? In Albiol's six games (one in Champions League), Napoli's only allowed four goals.

Part of the reason it's difficult to get too excited about Albiol is his skillset, where no single facet of his game stands out. He's tall, but he's no giant (6'3″). While he can handle himself physically, he's not spectacularly strong or aggressive. He's above average in the air and surprisingly good with the ball at his feet, albeit in a benign kind of way (he's never scored more than three goals in a season). He reads the game well and has a knack for being in the right place when his team needs a crucial clearance, but against elite strikers, he's capable of being beaten by speed or brute force. He is, almost across the board, and above-average but not elite talent.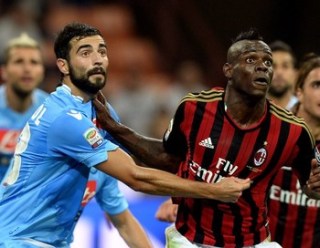 Tuesday may underscore his importance. The Spanish international is a game-time decision for Napoli's visit to Arsenal, a thigh injury that cost him the second half of Saturday's game at Genoa leaving his status in doubt. ("We will see," is all Napoli manager Rafa Benítez would say on Monday about his defender's status). If he can't go, Napoli will be left in the same position Marseille was in two weeks ago, when the absence of Souleymane Diawara from l'OM's central defense was exploited in the Gunners' 2-1 win at Stade Velodrome.
[MORE: Another step forward as Arsenal pass through Marseille.]
[MORE: Napoli hold serve, knock of visiting Borussia Dortmund.]
Beyond Albiol's situation, there's another reason that Arsenal's Marseille win should be particularly alarming to Benítez. As they also showed this weekend against Swansea, Arsenal has become adept at winning matches multiple ways. Whereas before victories while being deprived the ball were exceptions, now they're on the verge of becoming rules. There's a patience, resourcefulness, and resiliency to this team which, if it persists, will make them more dangerous in this tournament's knockout rounds than they've been over the last three years.
So what does Rafa Benítez do, tactically? Does he set up his team to be content with a point, as he's done so often in Champions League? Does he try to control play, as his talent's capable of doing, in hopes he can do what Marseille and Swansea did not? Or does try to bulldoze through an Arsenal team that may yet prove a fluke?
If Benítez's choice works, or if Napoli otherwise stumble into a result, it will be a severe blow to the Gunners' hopes of advancing. In one of the toughest groups in recent memory, dropping home points could be debilitating. Particularly given Marseille's relative weakness, double-digit points may not be enough (Arsène Wenger pointed out 10.2 is the average that gets you through). With away games in Dortmund and Naples still on their schedule, Arsenal can't afford to drop points at home.
If they do, they'll be counting on their rivals to make similar mistakes when between now and December. That, or they be left hoping Marseille's more challenging to the rest of the group than they were in round one.
Bumps and bruises: Álbiol isn't Napoli's only doubt. Higuaín is also dealing with a thigh problem. If he can't go, expect Duván Zapata, who started in his place Saturday, to get the call. Right back Christian Maggio, having undergone surgery on his right knee last week, is out for a month. For Arsenal, the team should look very similar to the one that started this weekend. Theo Walcott, Santi Cazorla, Alex Oxlade-Chamberlain, and Lukas Podolski are all out.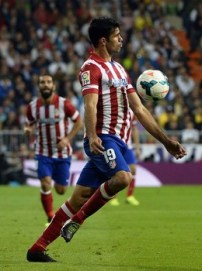 LAYING SEIGE AT THE DRAGON'S LAIR
FC Porto (3 pts., Portugal) vs. Atlético Madrid (3 pts., Spain)
Kickoff: 2:45 p.m. Eastern, Porto (Estadio do Dragão), Portugal
It's been 19 months since Porto lost at home. You have to go back to 2009 to find the last time they lost at home in Champions League. Unbeaten in 75 league games at the Dragão, the 2003-04 champions have made their home into a fortress.
Contrast that with Atlético's form – the irresistible force to the Dragão's immovable object. Diego Simeone's team is unbeaten in nine games: six in league (6-0-0); a convincing Champions League opener against Zenit (1-0-0); and two persuasive draws with Barcelona in the Spanish Supercopa. To use our now-reoccurring ploy, if we did European Power Rankings, Atlético would be in the top five.
How, exactly, they've managed this beguiling ascent remains a mystery, though we addressed it briefly when discussing the implications of this weekend's Derbi – once of the most meaningful victories in recent Colchonero history. If Atlético is capable of going into the Santiago Bernabéu, overturning 14 years of gloom and defeatism, and winning a 1-0 result despite their large talent deficit, they may be the perfect team to ignore history at the Dragão.
[MORE: Spain: Derbi loss was so much more for Real Madrid.]
Under Simeone, Atlético has become used to defying expectations. It's what's gotten them to the top of La Liga. They've claimed a Europa League, UEFA Super Cup, and Copa del Rey since Simeone's Dec. 2011 arrival, using discipline, intelligence, and ingenuity to augment financial restraints that have cost them Sergio Agüero and Radamel Falcao.
While all teams want to be disciplined and intelligent, Simeone's convinced his team belief in those principles allows them to compete with anybody. It's why Atlético are often described as more Italian than Spanish. It's also why they're the new favorites in Group G.
Porto is in the unfortunate situation where a draw isn't enough, with points dropped at home leaving them susceptible to losing out on a knockout round spot to Atlético and Zenit. In an ideal situation, they'd get an early goal from Jackson Martínez, Josue, or Juan Quintero – a score that would allow Paulo Fonseca to pull back midfielders Lucho Gonzalez and Licá to help Fernando protect defenders Nicolas Otamendi and Eliaquim Mangala from Atlético strikers Diego Costa and David Villa.
But against an Atleti team that's given up seven goals in 10 competitive matches — a team that's held Barcelona and Real Madrid to a single score over a combined 270 minutes — Porto shouldn't count on it. The Portuguese champions may need the magic of the Dragão if they're going to defend their fortress.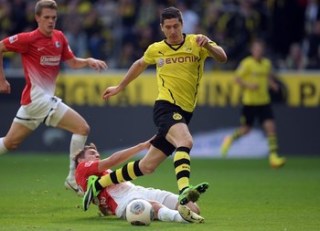 FAVORITES LOOK TO BOUNCE BACK
Steaua Bucharest (0 pts., Romania) vs. Chelsea (0 pts., England)
Kickoff: 2:45 p.m. Eastern, Bucharest (National Arena), Romania
Borussia Dortmund (0 pts., Germany) vs. Marseille (0 pts., France)
Kickoff: 2:45 p.m. Eastern, Dortmund (Westfalenstadion), Germany
It's two early for must-win-talk, but for Borussia Dortmund and (especially) Chelsea, points dropped on Tuesday would inspire some panic. Chelsea, coming off a home loss to Basel two weeks ago, need to reclaim lost points against their group's weakest team, while Dortmund, though they're coming off an acceptable (if not expected) loss at Napoli, can't afford to drop home points in a historically strong group.
[MORE: Basel pull off Champions League's first big upset, beat Chelsea at Stamford Bridge.]
Steaua aren't exactly pushovers, their 6-0-1 record in Romania a testament to their quality, but as was evident two weeks ago in Gelsenkirchen, they're slightly out of their depth at this level. A Schalke team that's more inconsistent than dangerous were able to wear them down over the match's first hour, eventually posting a seemingly obligatory 3-0 win.
Even with a change of venue, moving to Romania's National Arena, they will be susceptible to the same result against Chelsea. If the Blues take them seriously and avoid the ease with which they tried to close out Basel, they should claim their first win of the tournament, even if they failed to do so when visiting Steaua in last season's Europa League.
Borussia Dortmund's task is slightly more difficult, even if they'll have the benefit of playing at home. Marseille, having moved Jordan Ayew into the starting lineup at striker André Pierre-Gignac's expense (toe injury), are starting to produce more goals, scoring twice in each of their last two games. The team that couldn't convert their quality into goal against Arsenal may have worked out a way to convert. Despite playing on the road (where they won in 2011-12's group stage), Élie Baup's team may be ready for the challenge.
That challenge will come against a team that's missing their head coach, Jürgen Klopp suspended for Tuesday's game. Dortmund will also be without their starting goalkeeper (Roman Weidenfeller, suspended), left back (Marcel Schmelzer, thigh), right back (Lukasz Piszczek, hip), best midfielder (Ilkay Gudongen, back), and captain (Sebastian Kehl, ankle). While BVB aren't quite depleted, they are vulnerable.
Unfortunately for Marseille, Dortmund's prodigious attacking four will be ready to go. Robert Lewandowski, Pierre-Emerick Aubameyang, Marco Reus and Henrik Mkhitaryan have already accounted for 18 goals in Bundesliga play, and while Marseille's defensive record in France has been impressive since Baup took over last year, no attack in France (not even Paris Saint-Germain's) matches the fury that can unleashed by Dortmund.
Others
All matches kickoff at 2:45 p.m. Eastern with the exception of Zenit-Austria, which starts at noon.
Zenit St. Petersburg (0 pts., Russia) vs. Austria Wien (0 pts., Austria), Petrovski Stadium, St. Petersburg – Zenit will be confident and motivated, having won five-in-a-row in Russia ahead of a game they need to win. This is the easiest fixture on their Champions League schedule. If they drop points after losing at the Vicente Calderon, their get-out-of-group scenarios all of a sudden involve winning at Porto or relying on full points at home against Atlético. Beating Austria Wien at home means they wouldn't be dependent on either. Struggling in league and potentially missing four starters with injury, Austria will be hard-pressed to slow a team that's scored 12 goals in their last three games.
Ajax (0 pts., Netherlands) vs. AC Milan (3 pts., Italy), Amsterdam ArenA – Milan makes their second trip to the Netherlands this year for a meeting of two of the most accomplished teams in European soccer. The Rossoneri saw Ajax rivals PSV out of the competition in the playoff stage and will welcome Mario Balotelli back to the field, the Italian international currently suspended in Serie A. Max Allegri will also have Riccardo Montolivo available but will be without Stephan El Shaarawy, Kaká, Giampaolo Pazzini, Mattia De Siglio, and Daniele Bonera, among others. Though Ajax is coming off a 6-0 win in league, Milan will expect to overcome their injuries and knock off the Dutch champions, who haven't qualified for a knockout round since 2005-06.
Celtic (0 pts., Scotland) vs. Barcelona (3 pts., Spain), Celtic Park, Glasgow – Lionel Messi's thigh injury will prevent him from taking part in a game that should test Gerardo Martino's attempt to instill a more direct option at Barcelona. Celtic had success against Barça in last year's Champions League, countering their way to a 2-1, group stage win in Glasgow, but if Martino's want to play more direct has a benefit, it will be in preventing Celtic from setting up their bunker after losing the ball. With three key defenders out (Carles Puyol, Jordi Alba, Javier Mascherano), Barcelona will still be tested at the other end, particularly if Giorgios Samaras, coming off a weekend hat trick, can create set piece opportunities to tax Martino's second choice defenders.
Basel (3 pts., Switzerland) vs. Schalke (3 pts., Germany), St. Jakob Park, Basel – Schalke boss Jens Keller concedes that his team are probably underdogs, a rarity when a German team faces a Swiss one. But as Basel showed in round one, they're not a typical Swiss team, their 2-1 win at Stamford Bridge holding up as the round's big upset. Schalke were also impressive in round one but will be without midfield linchpin Jermaine Jones, who joins an injury list that includes Klaas-Jan Huntelaar, Christian Fuchs, Kyriakos Papadopoulos, and Chinedu Obasi. German starlet Julian Draxler, however, is expected to return, though it will be the Schalke defense that will be stressed against the likes of Valentin Stocker, Mohamed Salah, and Marco Streller.