One the most incredible things about Lionel Messi – and yes, the list is quite long – is how healthy he has kept himself throughout his career.
Never a major injury, only little knocks and annoyances that have kept him sidelined for no longer than a few weeks.
Which is the unique position he finds himself in right now, sidelined for two to three weeks with a thigh muscle issue suffered in last weekend's 2-0 victory over Almeria.
So with Barcelona in Glasgow today for their Champions League match at Celtic – who will step up for the Blaugrana in Messi's absence?
According to Cesc Fabregas, it is a shared burden.
"Messi is the best player in the world, he makes the difference in games, but he is not here and we cannot do anything about that," Fabregas said. "Without Messi we must take responsibility as he is the player who scores more goals, makes more assists. When he is not there, everyone else must take a step forward, above all in attack."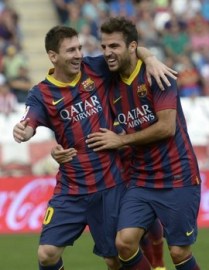 In reality, it's Fabregas who bears the biggest responsibility as he's most likely to step into the false-nine role typically occupied by Messi.
Fabregas has enjoyed a solid opening to the season, starting all but one of Barcelona's six league games as well as their 4-0 Champions League victory over Ajax.
From his role in the midfield three, Fabregas has scored only once in La Liga but has managed an impressive six assists. Typically deployed behind a front three of Messi, Neymar and Pedro, Fabregas has shined in the deep playmaker role.
But today Fabregas must play higher up the pitch, in a role that requires him to act as a more goal-oriented player. It's a position he's not unaccustomed to playing, having featured there in the past for both Spain and Barcelona.
The difference this time around is that Fabregas has the support of one of a goalscoring new-boy to the UEFA Champions League scene, Neymar.
"Ney is a very talented player, very quick in small spaces, who can easily get away from defenders," Fabregas said. "He is a star in the making, he already is a star, but he will have a big say in the future of football.
"In the future we will speak of him as one of the greats. I do not see him worried by the pressure, which is very important for a young player. [Celtic] will sit back, with lots of players behind the ball, so he will be an important player for us."
Fabregas is well aware of Celtic's staunch defensive and counter-attacking approach as the Scottish champions defeated Barcelona 2-1 in the same fixture last season. Goals by Victor Wanyama and Tony Watt set Celtic Park rocking and the improbable victory carried Neil Lennon's side through to the Round of 16.
It was a night that Fabregas & Co. haven't forgotten. "We know that playing at Celtic Park is always a difficult game, it does matter who is playing, they always make it very tough for us," he said.
Celtic and Barcelona kick-off today at 2:45pm ET on Fox Sports 1.