The first in a two-part series on Opta, a company that collects, packages, analyzes and distributes live data for the Premier League.
Hanging in the sky high above Central London in the afternoon sun, Opta's headquarters offer a glorious panoramic view over England's capital city.
It's fitting that the company working to transform England's national sport is overlooking the sprawling heart of the UK around the clock, above the bustling chaos below to crunch the numbers that are making people view the world's game in a completely different manner.
This season, for the first-time ever, Opta are the Premier League's official data provider. Over time, the English company has helped transform the way in which people analyze, objectify and discuss the beautiful game and other sports. But their work in soccer is only just beginning. According to some of their top analysts, they've merely scratched the surface.
As we delve into the world of soccer stats, and how they are remodeling the game many thought couldn't be 'Americanized,' you'll realize Opta is leading the charge. First in the UK, and in Part II we will see how they've had a huge impact on US Soccer in MLS.
A new beginning is on the horizon this season for Opta, after both their acquisition by Perform in July and new Premier League deal (which sees them provide live stats for NBC Sports), the only way is up.
HUMBLE BEGINNINGS
Given their vast popularity around the globe today, it's hard to believe Opta has only been in operation for 17 years. When they began in 1996, they focused on one league: the Premier League. Providing basic 'manager reports', they helped clubs begin to think about the power of analytics.
But none of their analysis was completed live. PL games from the weekend used to arrive early Monday morning: cue the pain staking labor-intensive analysis of six hours per game. Now, with their new high-tech computer systems it can be collected live, with up to five analysts working on each game. For fans more familiar with US sport, think of Opta as Stats Inc's British equivalent.
The work of both companies is pretty nifty.
Rob Bateman, Opta's Content Director, known around the office as the 'Opta Don,' explains how it all began at Opta and evolved back in the mid-90s.
"I joined in 1998," Bateman said, looking towards the ceiling nostalgically as he recalled Opta's early beginnings. "There was a cricket rating system used in the 70s and 80s and a few of the directors broke away from that company and formed Opta consultants and they were all big Rugby fans, so they thought it would be good to use it in Rugby Union. But the Premier League had just been formed and football was booming."
And so, from a group of accountants who wanted to spread a concept used in cricket to rugby union, the leading soccer data company in the globe was born. Weird, huh?
RISE OF ACCEPTANCE
Despite their current status at the top of soccer statistics, Opta has had to overcome plenty of dismissive evaluations from soccer's older-generation.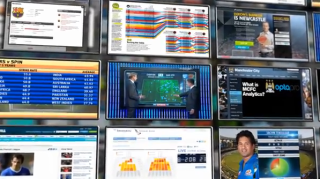 Slowly but surely, they've turned the screw.
Now, they pump out plenty of editorial content to massive media outlets. But when they began, editors on Fleet Street didn't want to know. Opta were laughed out of meetings with newspapers after suggesting people wanted more stats in soccer.
The answer they always received… 'stop Americanizing the game.'
Undeterred, Bateman and Opta kept burrowing on and realized that small bite-sized stats were the way to go.
"We changed the tact a little bit," Bateman said. "We condensed them into what we now call Opta facts, which sum things up for normal football fans. For Opta to succeed we need to go beyond pumping out data. It has changed quite a bit in the last 17 years."
When Opta arrived on the scene they developed the Opta Index, a rating system that ranked players across 70 categories to determine who the best in each position was. People began to ask… 'How did you work that out?' It got the average soccer fan in England thinking about stats and numbers soccer.
Now they were on to something.
Today the Premier League, Bundesliga and La Liga all have centralized contracts with Opta. That's three of the world's biggest leagues relying on Opta's live data. The OptaJoe Twitter handle, which Bateman, Matt Furniss and their UK editorial team are the brains behind, has over 444,000 followers on Twitter and feeds out live stats in tiny chunks, causing great debate amongst the Twitterati. And Opta's live stats have even made it into NBC Sports' soccer studio, as analysts Robbie Earle and Robbie Mustoe use the fancy info to help break things down for viewers of NBC's Premier League coverage. Between you and me, the Opta guys are very impressed with NBC's use of their stats. Lovely stuff.
Currently, the company has 16 different Twitter handles in multiple languages and the growth of media has kept Opta busier than ever. As of 2013, Opta have nine offices across the globe in London, Sydney, Bassano, Milan, Madrid, Paris, Munich, New York and now Montevideo.
MATCHDAY ANALYSIS
My focus was on the HQ in London, and in every organization there are unsung heroes who keep the cogs churning while multimillion dollar deals are signed. Hats off to you, Opta Analysts.
Without the live data collection happening, Opta wouldn't be around. Known as 'Ops,' these guys are young soccer 'nerds' that analyze copious amounts of games, have impeccable hand-eye co-ordination and come from the 'gamer' generation.
I met a former Op, Andrew Barafutti, who showed me how a typical game is collected by Opta. My word, I've never seen a mouse used so ferociously in such a short space time, as Barafutti carried out his duties whilst chatting. This seems like a long way from the six or seven hours of hand-written analysis in Opta's early days.
"On average you can get to 800 or 900 events, per team," Barrafutti said nonchalantly. "It's intense for the whole game, especially if you're covering teams like Barcelona… you're always putting in passes."
I was worried about the general welfare of these Ops after a busy day of soccer. Barrafutti laid down the usual demands.
"They only have two or three games in one day, because it fries your brain," he laughed. "We need people with a combination of football knowledge and that are quick enough to actually put all the events in. So normally, anyone over the age of 30 can't pick it up. Gamers are good."
At this point in my trip to Opta's HQ, I'm sitting in the hub of live collection. Computers screens are packed into four rows of desks, and after seeing this operation carried out in Opta's offices in New York, it's quite a sight to see the Ops in full flow.
"There are three analysts per game, one acts as a checker to make sure the other two are inputting the correct information," Barrafutti explains. "And they can shout to him if they want something double checked. I did a game a few years ago, with Lars and Sven Bender, twins, both playing central midfield together… checker was doing a lot of work that game."
Opta's live matchday analysis really sets them apart from competitors, and every season clubs get together to requests new categories that Ops can enter, hence why the 'pull back' and 'defending corners' categories are now included.
Furniss, Senior UK football editor, brought me in a cup of tea (in an Opta mug with stats from OptaJoe emblazoned on the mug) during my Opta Ops lesson, and chimed in about how the process is carried out to pick the Ops.
"Every summer, we get a couple of hundred applicants for Opta Opts, maybe two or three get through," Furniss said. "It's that hard to do, I couldn't do it. The same person will do the same team throughout the season to pick up on player traits and become familiar with each player."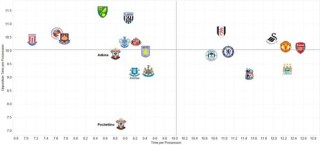 SECRETIVE CLUBS GETTING THE HANG OF IT, FAST
Speaking of clubs, so far, we've seen how Opta collects raw data and works with media outlets… but here is the biggest, and perhaps most interesting area of growth in their client base; the professional clubs wanted in.
Hence the birth of OptaPro.
John Coulson, Opta's head of professional football services, is a quiet and reserved type of character who has overseen the creation of OptaPro in the last 18-months. He spent his formative years working as an analyst for both Middlesbrough and Norwich City and currently liaises with 14 Premier League teams, six Championship sides and over 100 clubs worldwide.
Coulson explains that the 'Performance Analyst' began in the early 2000s, as Premier League clubs realized the potential gains of having a fully-fledged analytics team.
"If you go back to the late 90s only three of four clubs were using data to analyze," Coulson said, raising his eyebrows as we both know that's not the case today. "And software companies would send stuff [pointing to OptaPro's expensive software] to football coaches who don't know how to use a mouse. At most Premier League clubs now you probably have a team of 10-12 analysts. It has exploded very quickly."
But what do clubs look for when using this data? Numerical values for each position. E.g. a holding midfielder must make x number of forward passes, interceptions per game. Stats are now replacing traditional positions.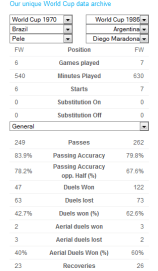 However, the information Opta provides is often frowned upon by many of the older generation of coaches and scouts.
"Scouts are terrified that we're trying to replace them," Coulson said. "We're not. We have got all this data on a player in the last five or six years and we can compare him against any other player in any league. So it helps with scouting across the globe."
Yet the secretive nature in which many Premier League clubs are operating is intriguing. For this piece, PL teams didn't want to be interviewed or reveal the way they use data analysis, I get that.
But I wonder… does that suggest something is working pretty well in their analytical approach?
"The problem we have is that every club wants to remain anonymous," Coulson said. "They want to retain an edge, and most of them would rather us not know what they're doing. There are lots of clubs that are doing things badly, and the clubs that do things well, they have an edge. Every year there are two or three more PL teams taking a more active approach to this."
Rumor has it that Liverpool and Manchester United are building huge stores of data in special labs. Given Liverpool's attempt at recreating 'Moneyball' with Damien Comolli at the helm and signing the likes of Stewart Downing and Andy Carroll… they're obviously trying new things all the time.
FUTURE DEVELOPMENTS
After almost having my brain fried with information — I still worry about those young Ops — I posed a wide-ranging and slightly intrusive question to finish with.
'What next for Opta? What's the next big thing in soccer analytics?'
"I think one of the plans is to see people's careers," Bateman said, with Furniss nodding in agreement. "You can get Steven Gerrard and Frank Lampard and see where they were at the age of 19, 23 and 30, and map out other players with similar careers and say 'these two players are very similar to Gerrard'… but they're playing for Cardiff and Scunthorpe. So let's pick them out. They're cheap."
It seems as though the way in which Premier League teams, hell, any team under Opta's umbrella, can use this data best, is to tie it in with player recruitment and reduce the numbers of risks they're taking when signing a player. Opta provides the due diligence for clubs to spend money wisely, does that mean the 'Moneyball moment' will arrive in soccer?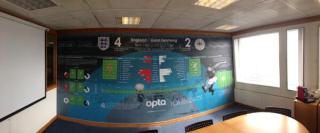 Certain clubs seems to have reached that point already. What will happen over the next five or six years excites me, just look at how far Opta have come in the last 17 years. There's now a need for stats in soccer, they proved all the doubters wrong. Now, more than ever, stats can be the key to help stabilize soccer's future development across the board.
Remember, Part II of my exclusive inside look at how Opta operates is coming out on Thursday, where we look at how Opta is playing a key role in Major League Soccer's development.