[youtube=http://www.youtube.com/watch?v=pyxUybU6IH0&w=590&h=360]
Following D.C. United's shock 1-0 Lamar Hunt U.S. Open Cup final win over Real Salt Lake at Rio Tinto Stadium on Tuesday, soccer fans across America are scratching their heads as to exactly how that happen.
D.C. are by far the worst team in MLS this season, after winning just three of their 30 league games so far they sit rock bottom of the standings and are on course to break many MLS records, not the good kind.
But on Tuesday night in Utah, they rolled their sleeves up and put all that to one side and stunned home team Real Salt Lake to snatch the silverware.
(MORE: D.C. United stuns Real Salt Lake in 2013 U.S. Open Cup final)
United were the deserved winners, but RSL's failure, once again, in front of their home fans on the big occasion is worrying.
Many thought they were one of the favorites to hoist MLS Cup in 2013, but they couldn't even lift the Open Cup at home against MLS' worst side.
They must regroup, fast. Here's all the reaction from a jubilant D.C. United and a downbeat RSL.
D.C. UNITED – LAMAR HUNT U.S. OPEN CUP CHAMPIONS 2013
"It's been a strange season," head coach Ben Olsen said on the pitch after the game. "To have the smiles on those guys faces right now is unbelievable, they've forgotten about the negativity of the year. We managed to find focus in this Open Cup and come way with something, even in a season of turmoil with a trophy. I credit hose guys, I credit the organization, everybody, I credit out fans. Our whole organization, we didn't let the wheel fall off."
And United's manager knew that if his squad kept plugging away, their fortunes would turn around sooner rather than later. The Open Cup has been a welcome distraction all season long, as their league play has been nothing short of abysmal.
"We did a great job sticking together," Olsen said. "The wheels never fell off and there were a lot of times they could have. "We took the Open Cup extremely seriously from the first game. Each game, our belief in the Open Cup grew. The size of the game helped us focus. Some of the guys who have a tough time focusing when it doesn't matter really did what they needed to do."
"If we [had lost] this one, it's back to the drawing board," Olsen said. "Now we have a new energy about us to finish the season in the right way and look forward."
Lewis Neal was D.C.'s game-winner, as his left-footed strike just before half time proved the difference between D.C. and RSL. The Englishman hailed their Open Cup performances and the positives it's brought in a dismal regular season in MLS.
"It's a huge confidence boost," Neal said. "We're under no illusions that the season has been terrible from top to bottom. But for some reason in this cup, we've played really well."
REAL SALT LAKE – LAMAR HUNT U.S. OPEN CUP RUNNERS UP 2013
Real Salt Lake have been here before, damaging defeats in front of their home crowd as they look destined to win a trophy.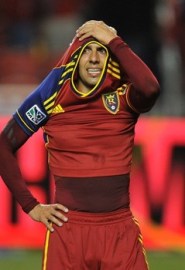 But past failures still don't make it any easier to accept, as defender Chris Wingert explains.
"It is extremely tough," Wingert said. "It feels a little bit surreal, like a bad dream right now. I can't believe it. I'm shocked. I thought for sure we were going to win.
"I can't believe we had to sit there on the field after the game and realize we came up short — again. I don't know if I have the words to describe how tough this is."
Head coach Jason Kreis was also stunned by RSL's poor showing when it really mattered. The Utah outfit have been riding high in the Western Conference for most of the regular season but when it really mattered — in 2011 falling 1-0 to Monterrey in the CCL final second leg, unable to overturn a first-leg deficit against FC Dallas in the 2010 MLS playoffs and many other occasions — his side put in a pretty dire performance.
"It is something I can't really put my finger on," Kreis said. "How we can get so close and how we can have so much momentum through the majority of the season and we get to get to a game like this and we can't seem to put things together. We can't seem to get over that last hurdle."
Salt Lake just didn't get out of the blocks and several of their big name players like Alvaro Saborio and Javier Morales just didn't perform.
They still have an MLS Cup and a Supporters' Shield to challenge for, but if they're not careful, before too long RSL will be known as MLS' nearly men.
Or maybe that's already the case.