UEFA Champions League's group stage continues on Wednesday, Groups A through D completing the competition's second round of action. With special focus in Manchester, Donetsk, and Turin, here's a preview of the week's final eight matches:
GUARDIOLA'S COLD NIGHT IN MANCHESTER
Manchester City (3 pts., England) vs. Bayern Munich (3 pts., Germany)
Kickoff: 2:45 p.m. Eastern, Manchester (Etihad Stadium), England
Before the Messi-versus-Ronaldo debate died, old-timey British punditry developed an imaginative way to back their guy (Cristiano Ronaldo). I'd like to see him do it on a rainy night in Stoke is what became of then-Sky Sports commentator Andy Gray's 2011 assertion Lionel Messi would "struggle in a cold night at the Britannia Stadium." Given Gray would later claim women "don't know the offside rule," the former Scotland international's Messi critique proved to be one of his more prescient, if still terribly misguided.
But while the observation was about a player, it was also an implicit critique of the approach instilled by then-coach Pep Guardiola. For much of the world, Barcelona's combination of style, technique, movement and vision helped correct the course of a game that'd become more power than skill. For a small sliver of English fandom (represented by Gray), Messi and his cohorts thrived because the continent were unwilling to get physical and take the game to them. They were unwilling to be Stoke.
Two years later, we have a test of sorts, albeit with important differences on each side. Wednesday's marque match will take place an hour north of Stoke-on-Trent, with Manuel Pellegrini taking his home Champions League bow for Manchester City. On a night that's supposed to draw showers, the Sky Blues will welcome one of Pellegrini's former rivals: Guardiola, the new manager of Bayern Munich.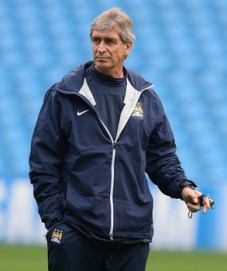 That's where the similarities end, though there are facets of City's team that will offer the physical challenge Stoke Truthers sought. Yaya Touré not only presents a persistent threat to any midfielder who hopes to retain the ball but can also leverage the experience of playing for three years at Barcelona. Vincent Kompany, one of the few rearguards with a claim to being the world's best defender, won't hesitate to stand his ground against the in-cutting Arjen Robben and Franck Ribéry, while the general style of a team used to playing in whistle-swallowing England could show down Bayern.
The extent to which Pellegrini leverages those qualities is the question. While facing Guardiola teams with Villarreal, Real Madrid, and Málaga, Pellegrini typically stuck to variants of the preferred 4-4-2 (4-2-2-2) base he's instilled at Manchester City (never finding a way to beat Guardiola). While one variant could include a 4-4-1-1 that would see a withdrawn striker tasked with coming back to mark Philipp Lahm in defensive midfield (how strange is it to read that?), Pellegrini's unlikely to pack his formation with a true five-man midfield.
One other small detail bares mentioning: Bayern Munich aren't Barcelona. Barça don't have a forward with the tenacity of Mario Mandzukic. They don't have an attacker with the versatility of Thomas Müller. Though they now have Neymar, they didn't have the wide play of a Robben or Ribery when Guardiola was in charge. And if he players, Bastian Schweisteiger will provide a midfield option distinct from anything the Blaugrana utilized under Guardiola.
Not that any of that would matter. Pellegrini never meaningfully changed his approach while facing Guardiola in Spain, and he's highly unlikely to make major changes on Wednesday. Instead of a Chelsea-esque bunker or a team of central defender archetypes Tony Pulis's Stoke would have throw at the problem, we're more likely to see two teams that reflect their manager's core beliefs. Guardiola's adapted his to Bayern's personnel, his 4-1-4-1 threatening like a 4-3-3, while Pellegrini already has his City team employing his very recognizable approach.
"It's always a game between the players": Those were Pellegrini's words at Tuesday's press conference, speaking about another meeting between him and his former Clasico rival. But if the players truly are the key, Pellegrini will be happy to get David Silva and Sergio Agüero back from injury. Both players are expected to be available Wednesday. For Bayern, neither Mario Götze nor Bastian Schweinsteiger are 100 percent, but coming back from prolonged absences, both should be available for selection.
[MORE: UEFA Champions League Roundup: Atlético, Arsenal shine; Chelsea rebound.]
[MORE: Where They Stand: Groups E through H after two rounds of Champions League.]
UNFAIR EXPECTATIONS FOR MOYES, MANCHESTER UNITED
Shakhtar Donetsk (3 pts., Ukraine) vs. Manchester United (3 pts., England)
Kickoff: 2:45 p.m. Eastern, Donetsk (Donbass Arena), Ukraine
David Moyes had been Mr. Most-Likely long before Alex Ferguson made way in May. For years, the former Everton boss was thought to be the Manchester United legend's likely successor.
Imagine what that must have been like, from his point of view: the frustrating of hearing you're likely next-in-line; the temptation to look toward one of the world's most-prostigious jobs; the irritation of never knowing for sure. Years go buy, you're fighting the good fight at Goodison Park, but you can't help but wonder when Ferguson will bow out. And when he does, are you really the man United wants?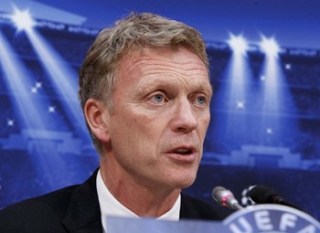 Everton is one of the best jobs in English football, but compared to Manchester United, it's the single-family home you buy while planning for your dream house. And every day, when you drive by those bigger, nicer houses you wish were yours, you have to go home to the perfectly adequate place you know you'll eventually leave.
But now that Moyes has moved into his dream house, he's discovering it's not all it's cracked up to be. His dreams didn't include squeaking floors, leaky roofs, or the constant reminders from neighbors about how nice the place looked under the former owner.
Right now, Moyes doesn't know how to fix the problems, and unfortunately for him, Wednesday's game is unlikely to help. Under the best of circumstances, Manchester United would be stressed to get three points out of the Donbass Arena, but coming off a loss to West Brom that illuminated their continued vulnerability, even a sputtering Shakhtar Donetsk will be favored.
Unfortunately, because the Ukrainian champions don't carry the name recognition of Europe's elites, many fans won't be forgiving if United can't claim full points in Donetsk. So if United lose, regardless of the quality of their effort, the result will be tossed on the same pile as their Liverpool, Manchester City, and West Brom losses.
And if United happened to spring an upset? The accomplishment could be overlooked. We're still not at the point where Shakhtar Donetsk's talents are fully respected.
For Moyes, this type of match couldn't come at a worse time. Recoiling from derby losses and an upset at home, this is not the time for a no-win scenario.
Although a victory would certainly quell some doubts snowballing after this weekend's loss, it's unlikely to alleviate much scrutiny.
[MORE: UEFA Champions League Tuesday, full-time snapshot.]
[MORE: Atlético Madrid conquer Dragão, take 2-1 win from Porto.]
FAMILIAR FACE RETURNS TO TURIN
Juventus (1 pt., Italy) vs. Galatasaray (0 pts., Turkey)
Kickoff: 2:45 p.m. Eastern, Turin (Juventus Stadium), Italy
Roberto Mancini, who claims Juventus as his boyhood club, may have been the biggest single beneficiary from the punishment of Calciopoli. The 2006 match-fixing scandal that five Italian clubs punished, Juventus stripped of two titles, and Inter Milan awarded Juve's 2005-06 scudetto. As Juventus fought back from their forced relegation to Serie B, Mancini's Inter claimed two more titles, the coach's reputation built on the three scudetti he won before being replaced by José Mourinho.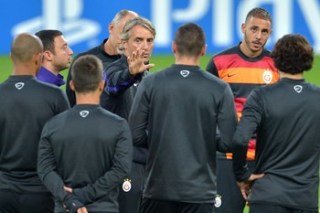 Now, for the fist time since leaving Internazionale, Mancini's back in Turin, recently named Fatih Terim's successor at Galatasaray. For many, he remains a symbol of Juve's hardship, this teams' success coming at a time when the Old Lady was at its weakest.
On Wednesday, Galatasaray will be in a position of weakness, particularly relative to a team that's yet to lose a competitive match this season. Gala lost their Champions League opener 6-1 to Real Madrid and have won only one of their five Super Lïg games. Despite a squad that's retained the likes of Didier Drogba, Burak Yilmaz, and Wesley Sneijder (doubtful for Wednesday's match), Gala have been unable to recapture the form that claimed last year's Turkish title and a spot in Champions League's quarterfinals.
Getting a result on Wednesday may be asking too much. In the short-term, mere improvement will be considering progress. Long-term, however, Mancini will be expected to get Gala back in title contention. Improving on their Real Madrid performance will be the first step.
[MORE: Dominance then control see Arsenal cruise past Napoli.]
[MORE: Mesut Özil signing keeps getting sweeter for Arsenal.]
Others
All matches kickoff at 2:45 p.m. Eastern with the exception of CSKA-Viktoria, which starts at noon.
CSKA Moscow (0 pts., Russia) vs. Viktoria Plzen (0 pts., Czech Republic), Petrovski Stadium, St. Petersburg – Poor field conditions in Moscow forcee this game to St. Petersburg, where CSKA will play at the home of Premier League leaders Zenit. His team having lost three of four, head coach Leonid Slutski called on playmaker Keisuke Honda to show more leadership while helping CSKA navigate their slump. Plzen coach Pavel Vrba identified the Japanese international when discussing the Russians' key players.
Bayer Leverkusen (0 pts., Germany) vs. Real Sociedad (0 pts., Spain), BayArena, Leverkusen – Bayer disappointed in round one, losing by two at Old Trafford, yet their Bundesliga form (off to their best start in 30 years) hints they will contend to get out of this group. With Shakhtar having already claimed three points in Spain, Bayer need to defeat Real Sociedad lest they lose ground on the Ukrainian champions. La Real will be without captain Xabi Prieto and midfielder Esteban Granero as they attempt to slow down Stefan Kießling, Sidney Sam, and Son Heung-Min.
Real Madrid (3 pts., Spain) vs. FC Copenhagen (1 pt., Denmark), Santiago Bernabéu, Madrid – Coming off their Derbi loss to Atlético, Real Madrid head coach Carlo Ancelotti has identified Wednesday's came as crucial to changing the club's "attitude and spirit." They will be without Gareth Bale (hamstring), Xabi Alonso (foot), and Marcelo (thigh). Copenhagen reach the Bernabéu emboldened by a round one draw with Juventus while still lodged in Denmark's relegation zone. They may be without defender Olof Melberg, who left this weekend's loss to Brondby with a concussion.
Paris Saint-Germain (3 pts., France) vs. Benfica (3 pts., Portugal), Parc de Princes, France – Benfica have been struggling in Portugal's Liga but are still likely to present a stiffer challenge for PSG than Olympiacos did in round one. At the same time, PSG were outplayed for 45 minutes in Greece before exploding in the second half, finishing with four goals. As he's sought to do all season, PSG head coach Laurent Blanc will set up with hope of controlling possession. The approach could limit the exposure of a defense that will be missing Thiago Silva and Alex.
Anderlecht (0 pts., Belgium) vs. Olympiacos (0 pts., Greece), Constant Vanden Stock Stadium, Brussels – With both teams coming off round one losses, this match will the "vital for setting the tone for the rest of [their] European campaigns," according to Anderlecht boss John van den Brom. The Belgians hope a patient, possession-based approach will help control Olympiacos's counter attackers, while the visitors will be wary of starting a second-straight group stage with consecutive losses.