Who doesn't love a huge upset in tournament play? (Well, who outside of Utah this morning, in this case.)
D.C. United holding out heroically against heavily favored Real Salt Lake on Tuesday at Rio Tinto was brilliant theater, a real memory maker and a fitting end for the 100th edition of a storied tournament built on the possibility of these very upsets.
The question on the day after Tuesday's soccer version of a D.C. Shutdown is this: If such a thing happens again next year, will more people be able to see it? Because for all the brilliance of last night's underdog triumph, the storybook finish was diminished by a lack of viewers and the attached lack of a big, national event feel.
(HT to the Salt Lake Tribune; I stole the "D.C. Shutdown" line from the paper's headline this morning.)
Worse, Tuesday's big moment was turned into a punch line, with the clevers of Twitter cracking on about how they were planning to watch: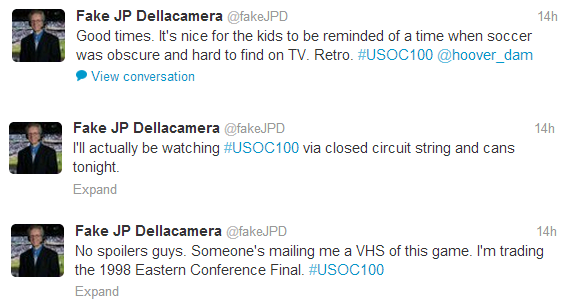 I know it's easy to blame U.S. Soccer here, but that's an overly simplified explanation.
The game was broadcast on GolTV, which is in the second year of its three-year agreement with U.S. Soccer to televise the Lamar Hunt U.S. Open Cup final. Two things to know:
All the other potential TV partners (larger ones, that is) said "pass" on the opportunity to show the final. Hardcore soccer supporters here love the U.S. Open Cup, and rightly so.  (I certainly do, by the way; it's an absolute gem.) But supporter regard and actual brand value are not attached in any meaningful way. In other words, the dollar value of the tournament is, let's just say, something less than staggering.
This ain't no NCAA Basketball Tournament.
Second, when U.S. Soccer signed the agreement with GolTV, no one in the industry knew that BeIN Sport, backed with stacks of cash through its attachment to Al Jazeera Media Networks, was going to absolutely cut the legs from beneath GolTV. When BeIN gobbled up GolTV's most valuable properties (U.S. television rights for La Liga, Serie A, Ligue 1, Copa del Rey and South American World Cup qualifiers, for instance), GolTV's market share and its very relevancy fell off the table.
Long story short, BeIN Sport has practically killed off GolTV, and the U.S. Open Cup final became collateral damage.
GolTV had no pre- or post-game show Tuesday – thanks, by the way, to MLSSoccer.com for providing one – and did not even have its broadcasters on site. Nothing says "mailing it in" like calling a final from a studio.
So … will it get better next year?
Short answer: possibly, but nothing is likely.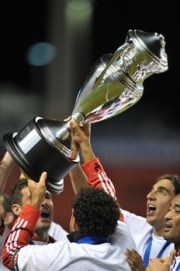 "We are always looking for ways to get  as many people as possible watching our matches," U.S. Soccer spokesman Neil Buethe told me this morning, "whether that is U.S. men's or women's national team matches or the Open Cup final or other matches in the national team program."
When I asked about streaming and why last night's match was not available via internet, Buethe could only say that it was discussed but was ultimately GolTV's choice.
Marketing U.S. Soccer's Open Cup is always tricky business. MLS clubs and U.S. Soccer could potentially enhance the brand by adding big marketing dollars, but there are no guarantees for a tournament that simply does not have a substantial, national footprint. In all honesty, it's a tournament where continued organic growth probably remains the best course; throwing money willy-nilly seems unwise, especially considering MLS and its clubs mostly remain awash in red ink.
The one possible escape hatch would be U.S. Soccer and Soccer United Marketing (Major League Soccer's marketing arm) bundling the tournament final along with other properties. That's how MLS has enhanced the value of its TV contracts, by bundling national team rights with MLS rights.
Until then, hope for better days for GolTV, I suppose.
(MORE: D.C. United revels in victory; celebration video)
(MORE: D.C. United stuns Real Salt Lake in U.S. Open Cup final)