Everton has unveiled it's new crest (pictured right) after an online poll started over the summer allowed fans to vote on a new design.
The Merseyside club drew the ire of supporters last May when they revealed a "modern" design (pictured below, left) that included the removal of several iconic Everton elements including the club motto 'Nil satis nisi optimum.'
That decision was made without consultation of the supporters, who immediately launched a campaign to have the design overturned.
The grass roots movement (they are, after all, 'The People's Club') worked and Everton spent the last six months working with supporters on developing yet another badge, one that included a number of historic elements Evertonians view as sacred.
The club launched an online campaign where supporters could choose one of three options for the new design. Fans voted overwhelmingly in favor of the winning crest, which incorporates the Latin motto, translated as 'nothing but the best is good enough.'
The new design also sees the incorporation of two laurel wreaths, which are a sign of winners in classical times, and the fence surrounding Prince Rupert's Tower, also known as 'The Beacon.'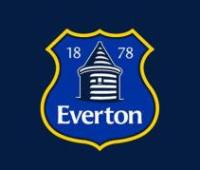 The new badge was welcomed by Everton manager Roberto Martinez, who reflected the supporters view that the new design must maintain the tradition and history of the club.
"I was impressed straightaway when I saw it but there has been a huge majority of fans (almost 80 per cent) have chosen this one," Martinez said. "It captures what we were looking for: to have a modern touch and to be a global badge without taking away all the key icons of the football club.
"Certain icons represent many years of history and that is important: fans made it clear they wanted to see the tower and our motto and I think it is important 'Nil satis' is back on the badge."
Despite the club's impressive efforts in listening to their supporters, re-incorporating historic elements into the badge and providing a process by which the fans could choose the new badge, some supporters were irked that there were only three badges to choose from.
Nevertheless, Everton have their new badge and most agree it's a step up from last spring's abomination.