In Part I we looked at how sports data company Opta functions, and their revolutionary work in global soccer. Now it's time to look Stateside.
Major League Soccer and soccer in the United States is always looking for an edge. It has always had to.
Competing with traditional American sports for fans, players and sponsorship deals, you could never accuse MLS and it's executives of not thinking outside the box.
And in 2011 when they realized what Opta had to offer and how it could help the league develop, they grabbed on tight and haven't let go since.
Matt Drew, Opta's head of Corporate Marketing, salutes MLS chiefs for becoming a leading light in soccer analytics across the globe.
"Credit to MLS, because they were quick to realize that what we had here was of value," Drew said.  "Across their media properties, and the performance teams, they've been speculative enough to ask us to do bits of research on different areas to find out how to develop and improve the league in a really proactive type of way. They were very much leaders in that."
(PART I: How Opta altered the Premier League, and soccer, forever)
The stats culture in the USA is more prevalent than in many other countries where soccer is traditionally the number one sport, which has allowed MLS to be an almost semi-experimental ground for how to use new systems and ways of measuring things.
Soccer fans in the U.S. embrace stats in ways fans in other nations wouldn't. And the league, teams, managers and players are also doing the same.
Opta's influence in MLS and U.S. soccer culture is growing.
A MATCH MADE IN HEAVEN
During my first visit to MLS Digital HQ a few years ago, I noticed a separate side of the office that was empty every day, but lined with computers screens and other expensive looking equipment.
"What the bloody hell goes on over there?" I asked one of my co-workers one Friday afternoon. "Just wait until Saturday night when the Opta guys come in, you're in for a treat."
And I was.
If you read Part I of this series, you'll know all about the 'Ops' and their job. These 'gamer' types methodically collect all of Opta's live data by watching games from across the globe. That happens in New York City, too. And as you elevate towards MLS' office on a Saturday night, you can hear loud shouting and whistles being blown. Cries of 'oh man, did you see that?' and almost zombie like quotes of 'red 23 chipped pass, blocked, by blue 14' are heard from the Ops. They're analyzing every single MLS game live, and having a lot of fun doing it.
The fact that Opta US operates from within the same confides of MLS' Digital arm tells its own story. The two entities are now inextricably linked, as both walk hand in hand towards progressing the world's game on U.S. soil.
James Dennis, who is head of Opta Sports US, has been with the company since 1999.
Dennis leads Opta's operations from NYC and hails Major League Soccer's proactive attitude towards becoming a better league.
"Certainly the way we interact with MLS, I believe is pretty unique. Obviously MLS is a different ownership structure," Dennis said. "The league are very open to involving us, not only at a digital level, but we are now involved on the player recruitment side, on the player relations side and the competitions department."
And perhaps one of biggest factors MLS wants to gain from being so closely linked with Opta is how they're performing, on the field, compared with other soccer leagues around the world.
"They are always very interested to see where they sit and compare with other global leagues," Dennis said. "They've been very open minded in allowing us in and allowing us to help in that. Obviously with the Premier League and other leagues, they're established, so it's a different mindset. But MLS are trying to develop their product. We get a pretty unique insight into the league."
We will find out more on that, very shortly.
ASSIST… WE HARDLY KNEW YE
If you ask any soccer fan in England over a certain age about an assist, they wouldn't know what you're talking about.
Now, go and ask any soccer fan in the world under the age of 25 about who's the leading assist man in European soccer now, and they'll probably spout out about 10 different names, with Mesut Ozil usually near the top.
The advent of recording the assist in English soccer, crazy as it seems, is just over 10 years old. I visited Opta's offices with NBC Sports' national columnist Joe Posnanski back in August, and my colleague was flabbergasted that assists had only just become relevant in the PL.
In part, you have Opta to thank for that.
"We've had them since 2001, but a couple of our guys got footage of every game and we now have assists, all-time, in the Premier League," Matt Furniss, Opta's Senior UK Football Editor said. "We have goal types as well, headers, set pieces, penalties. So we also have in-depth data about each goal. And we can see who has the most assists in Premier League history."
For American sports fans, the assist is a key component of recording a player's productivity. But in England and other soccer nations, a player was never historically categorized by the number of assists he made, he was just known as "the creative one."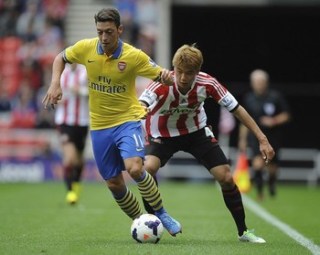 Rob Bateman, Opta's Director of Content, breaks down the assist category as it's evolved over the past few years.
"The assist is an interesting one," Bateman said. "We used to collect it and if someone had eight assists and somebody else has two, then immediately you'd make the assumption that the former is a more creative player. But we have got a little bit subjective with this thing we call 'big chances' where we class that as chances where the striker should score. So you can kind of look at players who are creating much better chances."
Big chances are becoming more widely used in soccer circles, and the players who created the most 'big chances,' the Mesut Ozil's and Xavi's of this world, are worth their weight in gold.
Opta's stats are helping to pick out not only the most creative players, but the players who are the best at being the most creative… have a think about that.
USA'S THRIVING STATS CULTURE

For me, one of the most telling moments of my investigation into how Opta works with Major League Soccer came when speaking with Dennis about exactly how they help MLS to improve the league.
"On the recruitment side we provide statistical reports to the league and the clubs to assist in the decision making process for potential transfers," Dennis said. "That's something that is obviously not really done in any other league. That's been good. The big challenge in the US is to get clubs to compete with other global leagues, while adhering to the strict financial limitations and improving the quality."
So, Opta's role in MLS is now so prominent that they're advising the league on which players to buy and which markets to look to. And with MLS' centralized model of player recruitment, a la Clint Dempsey in Seattle, Opta seems to be the main scouting resource behind many of the players heading to MLS.
That's huge.
Asking a stats company to help with transfers is something none of Opta's other league partners do, MLS trusts the stats, and in turn Opta want to try and help raise the level of Major League Soccer. It's a win, win.
"The sport is a different sport here," Dennis continues. "They're constrained by the cap, massively. So, the big challenge in the US is to try and improve the sport. You could argue it's the fourth sport, but really it's the fifth in the minds of most American sports fans."
And to try and help MLS thrive, Opta has looked at new markets within the global game where the league can buy cheaply from. Hence one of the reasons why an office was set up in Montevideo, Uruguay, last year.
"There's a recruitment reason for doing it," Dennis said. "Because leagues like the Premier League and MLS are interested in those players. So it opens up a brand new market. I think a lot of MLS teams look to that area, because the players are cheaper. That's a market they can go and do business in, whereas if you look at Europe, they can't shop there apart from a DP. Historically they've looked in Europe a bit, but there's certainly a push in the South American leagues."
With Latin America Opta's next big project, you can already see the fruits of their labor benefiting MLS, recently the league released info on where each of it's 549 players are from. The U.S. (304) and Canada (19) lead the way, but Colombia (19), Brazil (18) and Argentina (17) round out the top five. In the last 12 months Argentinians Diego Valeri, Matias Laba and Max Urruti have arrived, while 8.4 percent of MLS players are now from South America. Expect that number to grow.
To raise its' profile amongst American sports fans, many believe MLS has to keep improving it's product on the field, which it has clearly done over the past few years. Opta have been with them every step of the way.
"I think some of the work we do supports that," Dennis said. "I wouldn't say what we're doing it on our own. But we are supporting the MLS, and they're trying to put out a stronger product on the field. And they're using data and analysis to try and understand that. So we're a cog in the wheel really."
CLASHING CULTURES
But what about the other cultural differences or convergences between soccer in the U.S. and England, how does that play out in terms of the soccer stats industry?
"MLS followers, if you're talking in marketing speak, it's almost more of a middle class type of game," Drew said, tapping his finger on the table rhythmically. "Whereas over here [England], you have that layer, but there's also years and years of working class tradition, where people aren't interested in stats. Which is fine."
But as I sat in deep discussion with Drew and Opta's Advanced Data Analyst, Sam Green, we began to speak about the unique and close relationship MLS now has with Opta, and how that mirrors the U.S. public's affinity to stats in sports.
"We have a fairly close relationship with MLS at every level now" Green said. "The American fans are slightly more prepared and more ready to take in the numbers, and to think about it in this way. Because most of the national sports already have that kind of tendency. Compared to Europe, it has taken off a bit quicker in the States."
When RBI's, Quarterback ratings, rushing yards, PPG, WAR and many other measurable categories are thrown at you by U.S. sports franchises and media outlets every single day, how are you not going to know all about stats if you're a sports fan in America?
Naturally, U.S. soccer fans seem to be the savviest and most encompassing when it comes to seeking out statistical trends in soccer.
Many argue you can apply stats to any sport and get positive results. So, is there a general rule?
"The skill with all this stuff is finding the balance between what you see on film and what you see in the numbers," Drew said. "That's what I think you're beginning to see in some clubs, there are people who have an interaction between those different categories."
MESHING THE FUTURE
The next big thing is what many at Opta see as some kind of 'holy grail' and that is, combining their own data with physiological and tracking data.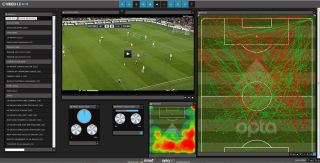 That would be a real game-changer, and clubs are hurriedly working behind the scenes to fuse these different types of analysis to create a system that can not only quantify a player's performance in terms of passes, shots and goal, but also their meaningful runs forward, average position on the pitch and how they rank physiologically against the opposition.
It will be hard to achieve, but the guys at Opta aren't ruling that out in the near future.
"I think the big breakthrough that the clubs wants to make is combining the event data and the physical data," Bateman said. "If you actually log the physical data, you can log where the ball has gone but you can't actually say what that event is. With a few of our clients this year, they're all starting to use tracking data. So we now have a partner we work with and in the next few years we hope to have more than just speed and distance appearing on the screen. Nobody is using that data to say, 'this is how many presses' or 'this is how many runs down the line.' We hope to do that."
That's something Green echoes, and believes if that next hurdle is achieved, Opta's level of analysis could be raised even higher.
"A lot of those clubs will take both [physiological and performance data], but I don't know how much they try and synchronize that data themselves," Green said with an inquisitive glance at Drew to his left. "There are obvious advantages to be gained from paying attention to the movement. If you can combine them, it allows you to say a hell of a lot more about what players are doing and potentially why, and look at the structures and styles of play in a different way, that's beyond what we can already do."
Another factor that we discussed in Part I that will also become more prominent, is being able to track players together throughout their careers to see how good they are. Look at the image on the right from OptaPro, as they compare the careers of Liverpool's Steven Gerrard and Barcelona's Sergio Busquets. You can do this comparison for any player in any league Opta work with.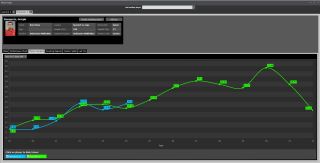 The numbers can help players at Scunthorpe be compared to Real Madrid. The ability to unearth raw talent across many different countries and leagues over time, at the click of a button, is astounding.
But there is one rather useless fact that you often see popping up during the game, is the stat 'distance covered.' But what does that mean?
"The one editorial question we always get is people asking about 'distance covered.' And if it's not meaningless… it's not far off it," Green said with an exasperated look on his face.
If you think about the likes of James Milner, who is hailed as one of the hardest working players for both Manchester City and England, he certainly looks like he's running around a lot and busting a gut for the badge. But is it meaningless work? Or is the tremendous shift he's putting in having the desired affect?
Meshing Opta's stats with a GPS and physiological database will help get an answer to that.
That's the next step.
MLS – A WORK IN PROGRESS
We've looked at the rise of certain stats and what Opta are planning for the future, but how is MLS using Opta's information?
The truth is that although MLS is enamored by Opta, only a few of MLS' clubs are really taking this stuff seriously. Is that because of rival companies or lack of funding for analytics departments? Perhaps.
But the aim now is to get as many MLS franchises as possible working with Opta's deeper analytics. If all of this fantastic information is there for them to use, why wouldn't they?
[youtube=http://www.youtube.com/watch?v=kLDZPykXmxc&w=350&h=175]
"It's different [in MLS]," Dennis said. "You get Man City and Chelsea, who are two of our clients who use a whole range of our products and we have over 100 club clients. But in MLS we sort of work with two or three of the clubs on a match analysis level, and that's still a level we want to get more involved in."
On an in-depth level where Opta really helps them drill down on every single game they play, only two to three MLS teams use that. Of course, others sides may already use Opta's stats that the league feeds them and be happy with that. From what I've seen and heard, stats, of any kind, are extremely prominent in U.S. sports. So it surprises me that MLS sides aren't delving into the deeper analytics.
Stats aside, NBC Sports is helping soccer rise in the States with its TV coverage. So Opta's work is now reaching new audiences.
"With NBC making all Premier League games available, there's obviously an argument that MLS could suffer as a result. I don't subscribe to that," Dennis said. "I think that anything that gets the game out there more is a good thing. I think NBC have done a really good job and obviously they're using our data which is great. They're going to start using the touch screen as well for on-air analysis."
With Premier League and MLS more accessible than ever in the U.S., Opta's window of opportunity to showcase their talents is vast. Just one of the reasons why they're keen to keep working hand in hand with North America's top domestic league, especially as soccer analytics is on the rise in the US.
MLS' website has their own 'Opta Spotlight' column and Devin Pleuler, who writes MLSsoccer.com's 'Central Winger' analytics column, is now employed by Opta US to help with their analysis of MLS. Add to that a vast multitude of blogs and writers looking at stats in U.S. soccer, and the market is booming.
"The community is getting a bit more savvy about it," Dennis said. "There are more and more clubs who are beginning to develop their analytics teams, and MLS is trying to encourage that. Everyone is trying to apply the Moneyball concept to soccer. Will we get there? I don't know."
But it sounds like Opta, MLS and soccer analysts across the globe are going to have a wonderful time trying to unravel the myths surrounding the beautiful game.
"We want to cut through football and make it a lot better… but we don't want to solve it," Drew said. "Because then, well, it would be quite boring."