Ever find yourself thinking, I need more Robbie Mustoe, Robbie Earle and Kyle Martino in my life?
Me too. Whether it's tactics, results or analysis, few men in football have a better beat on the pulse of the Premier League than these guys.
In the feature series "Premier League Breakdown," I chat with one of the NBC Sports' Premier League analysts each week to dig deep into the most entertaining and competitive league in world football.
This week I sat down with former U.S. Men's National Team midfielder, Kyle Martino, to talk about Wilshere's need to step up his game, Fulham's anemic attack and Sturridge's impressive form.
Let's get stuck in.
Q: While Santi Cazorla has been out injured Jack Wilshere has filled in at left wing, with Mathieu Flamini playing Wilshere's favored holding role. Does Wilshere have a battle on his hands once Cazorla returns?
A: I certainly think so, yes. I've been really impressed with Flamini coming into the Arsenal midfield and making an immediate impact. He gives the Gunners that bite in the center of the park that they've been missing over the last few seasons, so I'm sure Wenger is glad to have him back.
For years now Wilshere has been the heart and soul of the Arsenal midfield, and it's obvious that Wenger loves him, but for me he needs to prove that he can make it more than two or three matches without needing a break. If he's going to be their midfield talisman he needs to be in that holding role, digging in every match.
We know he's struggled with injuries in the past and that he's still making his way back to full fitness. But until he does, I think there's definitely argument that can be made in favor of Flamini, who has been so impressive since his return to North London.
Q: Everton has been a bit of a bogey club for Manchester City over the years, explain how a squad like the Toffees could give City problems this weekend.
A: Well, the Everton of old used to give clubs like Manchester City problems because they would sit in and absorb pressure from the back while looking to nick goals on the counter. In games like that City would press high up the pitch and eventually pile too many midfielders into the box where Everton would catch them.
But I don't think that's going to happen now that Martinez is at the helm. This is a different Everton team and they're going to try and match the play of teams like City. They're going to try and play soccer and take it right to them.
Do I think they'll beat City? Probably not. But if they do it will be by Martinez' style of play and not sitting back and being conservative.
Q: Six games in and Fulham have scored a league worst four goals, with Dimitar Berbatov yet to open his account. What's wrong with Fulham's attack?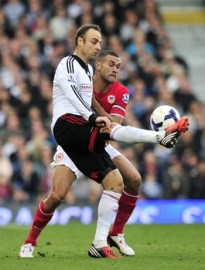 A: For my money, Berbatov is still the best pure finisher in the Barclays Premier League. The problem is he doesn't get the ball in the box enough. Fulham are relying on Adel Taraabt to provide Berba with service and it's just not working.
Jol has also brought in Bent, which has allowed Berbatov to drop deeper on the pitch to pick balls up but the lack of a midfield anchor prevents those two from getting into positions to score.
From a defensive standpoint, the players Jol is using presents problems as well. Berbatov is never going to defend, Bent does little defending himself, while Taraabt and Ruiz hate doing the dirty work. So that means that anytime Fulham lose possession they're essentially playing down 3-4 men, which is killing them.
As for the midfield anchor, they've brought in Scottie Parker, who we have yet to see make the role his own.
I thought Jol should've been looking for a guy like Gareth Barry but Parker should be able to do the job and if he can, it should release the attack.
Q: Villa did well to capitalize on their opportunities last weekend but realistically, how long can they produce without Christian Benteke and Gabby Agbonlahor?
A: Not long. Without Benteke and Agbonlahor, Villa are in trouble. Lambert has his side playing good soccer but it's a style that critically depends on the counter-attack and clinical finishing.
Agbonlahor is the key to their counter and you can't say enough about Benteke's finishing. Villa need those two back as soon as possible.
Q: Crystal Palace lack talent but they're still capable of playing some impressive football. Does this team have any shot at beating Liverpool on Saturday?
A: No, not with the way Suarez and Sturridge are playing. We saw Liverpool last weekend were just too strong up top with Suarez and Sturridge. Those two played 10 matches together last season and looked decent but now they look incredible.
It's interesting to note that Suarez is returning to Liverpool from suspension and not from injury. When a player returns from injury it means he hasn't been training with the squad and needs to gradually incorporate himself back into the side. When that happens, partnerships suffer. But with suspensions, a player keeps training with his team and it's obvious that Suarez and Sturridge have really been working on things during his ban.
They seem to be in perfect synch and have arguably formed the tight-bonded partnership that Manchester United fans would have hoped to have seen between Van Persie and Rooney. But it hasn't happened yet.
Q: There's an interesting tactics battle this weekend at Southampton with the Saints' high pressure style taking on Swansea's Welsh version of tiki-taka. How's this one going to shake out?
A: Well anytime you've got a squad that likes to high-pressure it's fun to watch because they're always trying to force errors. Pochettino has installed this system at Southampton and it's definitely working. The key component in a high-pressure system is not only a fast attack but quick, unrelenting defense once the ball is lost. You'll notice this with Barcelona – as soon as they lose the ball they go into overdrive to get it back.
The problem with the high-pressure approach is that if you don't defend well, you get punished. And this is what I worry about with Southampton. Is their defense strong enough to avoid conceding if they lose possession and have too many men forward?
Swansea are a clever team and they've got the ability to pick Southampton apart if they get over-eager. It's definitely going to be an interesting tactics battle but I think one that Swansea – with clever, speedy players like Routledge and Dyer – should be able to win if they play their cards right.
Q: Daniel Sturridge seems to have undergone a big change since his days at Manchester City and Chelsea. He's always had talent but now he has this unselfish look to his game where he seems happy to play the role of provider, in addition to finisher. Where does that come from?
A: It's all about Rodgers. We saw Sturridge's reaction when he scored the goal against Stoke City and he ran to the sideline to hug his manager. That spoke volumes. I think that Rodgers brought Sturridge in last January, gave him a chance and that Sturridge has really bought in to Rodgers' system.
Somehow Rodgers got through to Sturridge that he would be a better, more effective striker if he just took that additional look to get his teammates involved. He has and it's paid off. Sturridge is a much more mature player now than when he was at City and Chelsea.
Q: Manchester United (12th) and Sunderland (20th) meet this weekend at the Stadium of Light. Which side is the bigger underachiever this season?
A: United. I understand that the transition out of the Ferguson era is difficult but the fact is that United knew it needed to strengthen its squad this summer and failed to do so. Moyes even came out this past week and said that to compete in the Champions League a club needs five or six world class players. United currently has two, maybe three. So knowing that, why didn't he push harder to land a big summer signing? In the end he brought in Fellaini, who right now doesn't look like the answer to their midfield problems.
They will need to buy big in the January transfer window and it will come at a premium. Every club knows United will be desperate to land top players so they'll have to pay full price and then some. Gone are the days when players want to go to Manchester United simply because it's Manchester United. Now players will be looking at it as a club with history but one that may very well not be playing in the Champions League next year. So it will be tough to convince the best players to come. They're going to have pay big to do so.
QUICK-KICKS
Q: Who's the more in form player – Ramsey or Y. Toure?
A: Ramsey
Q: Which manager is more likely to be fired –  Jol or Pardew?
A: Pardew
Q: Better first Premier League goal – Osvaldo or Gnabry?
A: Gnabry
Q: Club more likely to drop points at home this weekend – Tottenham or Manchester City?
A: City
Q: More influential to his team –  Lambert (to Southampton) or Nolan (to West Ham)?
A: Lambert
Q: Better winning moment against City – Campbell's goals in Cardiff or Weimann's nick past Hart? 
A: Campbell's goals
Q: More impressive start to his first season in the Premier League – Eriksen or Ozil?
A: Eriksen
Q: Manager who deserves more credit for his club's performance this season – Hughes or Wenger?
A: Wenger