Manchester City have won just two of their last 12 Premier League meetings with Everton, losing nine
Everton have the same record (W3, D3) after six games as they did in 1986-87, their last title winning season 
Manchester City have scored eight goals from crosses in the Premier League this season; twice as many as the next best side
Everton makes its way to the Etihad Stadium to take on Manchester City this Saturday (7:45 am ET on NBCSN, watch live via NBC Sports Live Extra) with the Toffees aiming to extend their strong recent Premier League record against City and Manuel Pellegrini's side looking to stop a two match skid.
For Everton, they enter the match on the heels of an impressive 3-2 victory over Newcastle. The Monday night match saw the Blues jump out to a 3-0 lead at halftime behind a Romelu Lukaku brace and Ross Barkley's second goal of the season.
Roberto Martinez' men took their foot off the gas in the second half of play and were punished for their arrogance, as Newcastle made it a match by finding the net twice in the second half. It was the third league victory in a row for Everton, having also defeated West Ham United and Chelsea after beginning the season with three straight draws (Norwich City, West Bromwich Albion, Cardiff City).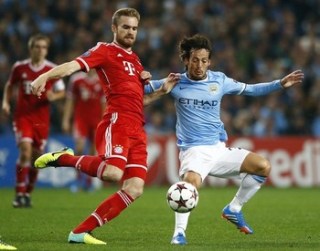 For Manchester City, Saturday's match represents the opportunity to change the tides after dropping all three points at Aston Villa last weekend and losing 3-1 to Bayern Munich in Tuesday night's Champions League action. Lapses in defense continue to plague the Citizens, with the center-back combination of Vincent Kompany and Matija Nastasic no longer looking as impressive as it did last year.
The Villa and Munich loses came on the heels of an impressive Manchester Derby victory, where Pellegrini's men had the look of champions. They pounded their rivals with four goals, bringing their league unbeaten streak to three games after drawing 0-0 with Stoke City and beating Hull City 2-0 . That streak followed a shock 3-2 defeat at Cardiff City after an impressive 4-0 victory over Newcastle in the season opener.
Coming into the season many Evertonians worried the club would suffer under the possession-based attacking style of play of Martinez. The general consensus was that the Toffees would need 6-12 months to adjust from the conservative, defensive style David Moyes implemented at the club during his 11 year tenure. But the recent unbeaten streak has removed the fear and made believers out of the Everton faithful, who are all too happy to see their side keep the lion's share of the ball.
The new recruits into Goodison Park are impressing as well. With James McCarthy and Gareth Barry in the holding role Everton are confident defensively and creative on the bounce. Bringing in Romelu Lukaku to lead the line was a stroke of genius and his connection with fellow countryman and winger Kevin Mirallas is one that opponents would do well to not take lightly. With Ross Barkley in the holding role and Leon Osman or Steven Pienaar on the wing, the Blues' attack is one with pace, creativity and bite.
Manchester City is undergoing a similar metamorphosis under Pellegrini. Some matches (against Newcastle and Manchester United) they've looked like world beaters and others (Cardiff City, Stoke City and Aston Villa) they've struggled. Having dropped points in all three road matches, it's easy to say that City struggle on the road but one can't discount the impact of a new manager trying to excel both domestically and in Europe.
For City, it's about shoring up a leaky defense. Kompany needs to continue asserting himself on the pitch and a second center-back, whether Nastasic or Joleon Lescott, needs to step up and prove himself. Improvements also have to be made between the sticks where the blunders of Joe Hart continue to plague the side, leading some to believe Costel Pantilimon deserves a shot.
City will welcome the league return of David Silva after being sidelined with injury while Martin Demichelis (knee) and former Everton man Jack Rodwell (muscle problem) remain out. The loan deal between Everton and City will prevent Barry from featuring and the Toffees will hope Darron Gibson (knee) can replace him. Everton will await to see whether Kevin Mirallas (ankle) can go while Pienaar (hamstring) is likely out.
The match, guaranteed to be an entertaining affair, kicks-off this Saturday, at 7:45 am ET live on NBCSN and online via NBC Sports Live Extra.
What They're Saying 
City manager Manuel Pellgrini on players over tactics: "It is important to have players with a high level of technical qualities if you want to win titles. But added to this high level of technical qualities you need to put together a tactical system, so everything functions well within the team on the pitch. You need to defend and attack as a team and not defend or attack with individual players."
Everton manager Roberto Martinez on City's loss to Bayern: "I don't think it was one of those games [versus Bayern Munich] which you can feel hurt by because the quality of the opposition was clear to see. That's why they are European champions. I don't think there is any shame to lose against a side like Bayern Munich. . . . You feel like they [Manchester City] will want to respond and get back to winning ways so that's why we will need to be perfect in many ways. We need to be prepared for a real reaction from Manchester City."
Everton midfielder Gareth Barry on strategy against his parent club: "The lads will know enough about the team [Manchester City] without my input but if anybody needs advice they can ask me…. They [Everton] have always been tough to beat when I was on the other end of it. If the manager [Martinez] sets the team up as hard to play against but try and create problems for them at the other end then I'm sure we are capable of getting a result there. The manager won't be too defensive – he will go there and want the lads to play their normal game and create problems [for Manchester City]."
Prediction
Beaten at home by Bayern Munich following a shocking loss to Aston Villa will have City revved to go. But the Toffees have long been City's bogey club and if Mirallas is healthy to play, his connection with Lukaku could give Pellegrini's side major headaches. City is heavily favored (20/33) but I think this one ends in a share of the points.
Follow @mprindi