When watching soccer on TV, have you ever sat there and wondered what the man behind the microphone really thinks?
Maybe this will go someway to helping with that.
In the latest edition of "View from the Booth" NBC Sports' lead soccer announcer Arlo White talks about the situations at Chelsea and Manchester United, lauds Arsenal's main man, assesses Jozy Altidore's situation and touches on plenty more Premier League news.
(MORE: View from the Booth Archive)
You can hear Arlo calling live games this weekend on NBC and NBC Sports Network, and watch every single game available live online via NBC Sports Live Extra,
Let's get to it.
Jose Mourinho seems to be back to his marauding best, on the training ground and with the media. Do you think he's now really starting to sink his teeth into the task second-time around at Chelsea?
He's been sinking his teeth into the role since the moment he arrived back. His side showed tremendous spirit to roar back against Spurs on Sunday and grab a vital point, before dismissing Steaua Bucharest on the road in Romania during the week.
A lot was said about Mourinho abruptly leaving a pre-match press conference this week, but I have sympathy with his situation. He'd just spent the best part of three weeks dealing with constant questions about Juan Mata and why he wasn't playing regularly in the Chelsea starting XI. Mata was on the trip to Romania, so one journalist started digging into why Kevin De Bruyne wasn't on the plane. I thought Mourinho gave a very honest answer.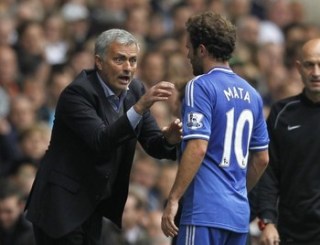 I understand why he left the press conference at that point, and also his general exasperation with questions about who is not playing in his side rather than who is.
As the uninitiated in the United States may have noticed, the media build-up to big games in the Premier League is dominated by a cycle of personality clashes amongst managers, perceived slights and apparently disgruntled players. Those clashes fill endless column inches in the sports sections of the national newspapers in England.
It's all part of the Premier League's appeal to some, but who can blame Mourinho for giving a straight answer then deciding not to stick around and field endless questions on the same subject?
As we enter October, Juan Mata is playing well, working hard, smiling and being praised by his manager. So maybe Jose knows best on this one.
Have Manchester United reached crisis point already? And what is the answer for David Moyes to turn things around at Old Trafford? Many believe a splurge in the January transfer window is the answer. Surely they will beat Sunderland on Saturday…
I think 'crisis' is a word too often used in Football, but there is certainly concern about Manchester United's start to the season.
I was fascinated watching the former United defender Gary Neville analyse the United v West Brom game on English TV earlier this week. He couldn't believe how passive and deep United's players were once Wayne Rooney had equalised at 1-1. He expected United to then "get after" West Brom, "chase the ball down", "create loads of chances", and that they would "inevitably" run out winners. But they didn't. The stats revealed that in the 10 minutes between Rooney's equaliser and Berahino's winner, West Brom enjoyed 69% possession and had five attempts at goal to United's none. Those are incredible numbers for a game played at Old Trafford against a side not expected to challenge for the top 4 positions.
Now, Sir Alex Ferguson lost Football matches when he was in charge at Manchester United, but his sides rarely turned in meek performances. Steve Clarke quite rightly demanded that people talk about how good West Brom were rather than how bad United were, but what Neville pointed out is clearly an area that David Moyes has to address.
Are we seeing good players take their foot off the gas because the great man is no longer around to inspire and/or strike fear into them? Or are we seeing something far more worrying, an ageing side that needs to be re-built?
Moyes will be handed cash in January, and I'm sure he and Ed Woodward will perform better in the transfer market than they did in the summer. The club can handle not winning the Championship in the short term as there was always going to be a period of transition. But if United's current form continues and they're presence in the Champions League is threatened, then the current media pressure will become a feeding frenzy.
And after Paolo Di Canio's departure and all the unrest at Sunderland, do you fear for Jozy Altidore's success in the Premier League?
It's a shame that Jozy's re-introduction to the Premier League has come in such turbulent circumstances. I thought he gave the Liverpool center backs a decent test on Sunday, and was unlucky not to win more free kicks for his side. This is definitely a period of uncertainty for him. He was signed under the Paolo Di Canio regime. Director of Football Roberto Di Fanti will have been a prominent figure in the move, and he remains at the club. Steven Fletcher is currently out injured, so Jozy may get a run of games under interim manager Kevin Ball, but it's his relationship with the next permanent manager that will define his future at Sunderland. It's a tough situation for him, particularly in a World Cup season, but he's a good player who has the confidence to back himself.
There's a big London Derby on Sunday between Tottenham and West Ham, have you been impressed with Spurs' start to the season?
Absolutely. I think they left two points on the table against Chelsea after a very good first half performance. That would have been a real statement victory for Spurs, who have now failed to win either of their 'big' games against Arsenal and the Blues. But the general trend at White Hart Lane is upwards. AVB has built a very powerful side capable of playing excellent Football. My fear for them is their participation in the Europa League. I'm just not a fan of the competition's format. I think the sheer volume of travel and games hampers teams ability to make an impact in their domestic leagues. Spurs will have to travel to Dagestan in Russia during the week. It's just north of Iran! How AVB rotates his squad will be crucial, so I'm sure he'll draw on last year's experience for that.
Elsewhere on Sunday, Chelsea and Arsenal both face tricky away trips to Norwich and West Brom respectively. Can the two capital clubs keep up their good form following big midweek wins in the Champions League?
I was at the Liberty Stadium last Saturday and at the Emirates on Tuesday night, and I thought Arsenal were magnificent in both games. The Gunners first goal against Napoli was sensational. The ball from Giroud to Ramsey down the right hand side. Ramsey's assertiveness to get to the byline and then his vision to pull the ball back for Ozil.  But the finish by Ozil, with the side of his left foot with the ball rising, was other-worldly.
They are playing with such confidence at the moment and there was a genuine belief around the Emirates that this team is for real and that they can do something special this season. West Brom will be brimming with confidence after their exploits at Old Trafford, but they have a very difficult game against Arsenal, who are chasing a 9th consecutive road win in the Premier League, which would be a new club record.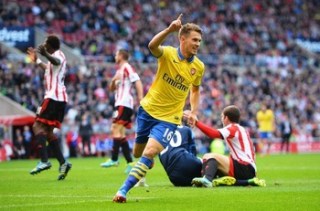 Finally, heading into the second international break, who has been your player of the season so far?
Aaron Ramsey. Considering the horrific injury he suffered just over three years ago, and the criticism he faced last season, his early season form has been wonderful. In addition to scoring goals, he is demanding the ball all the time and is putting in some great challenges all over the field. His energy, desire and conviction are impressive. There have been major doubts about his ability to raise his game to a level demanded at a club like Arsenal, but not only does he look comfortable in the that company, he is actually excelling.
Enjoy the Premier League weekend everyone.