SOUTHAMPTON — When previewing Southampton's game against Swansea at St. Mary's this Sunday, Saints manager Mauricio Pochettino took everyone by surprise.
On Friday I was at his press conference on the South Coast, and when the Argentine manager was asked about Swansea's recent success and if his side wanted to emulate the Swans by playing in the Europa League, nobody expected this response.
"To be honest I'm not really keen on the Europa League," Pochettino said. "I think we are all attracted more to the Champions League."
Wow, talk about setting the bar high. After a great start to the season for Saints, three wins and two draws from six games sees them in sixth spot, many are starting to tout them as a side that can break into the top eight.
But all this talk of Champions League soccer arriving in Southampton isn't new.
Polish international goalkeeper Artur Boruc has been spouting his UCL aspirations with Saints since the start of the season, before and after they beat Liverpool at Anfield.
Pochettino's okay with that.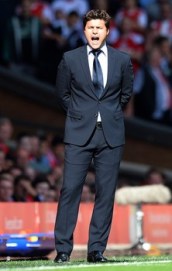 "I like it when my players are ambitious," the 41-year-old Argentine said. "And that way of thinking makes them have to work even harder to actually achieve those things. That's also very good because if you want big results and you want to be ambitious, that also forces you to be very self-demanding of your own work. I'm happy that they think that way."
So can Southampton really break into the top four of England's top-flight?
Many would laugh in your face if you quoted Pochettino's ambitious plans, but with the signings of Dejan Lovren, Victor Wanyama and Daniel Osvaldo over the summer for $54 million, they mean business. Wanyama and Lovren have previous Champions League experience, as does Boruc.
They also have a whole raft of internationals with Osvaldo playing for Italy, Gaston Ramirez for Uruguay, Rickie Lambert for England, Maya Yoshida for Japan, and the likes of Luke Shaw and James Ward-Prowse start for England's U-21s. So if you look at it that way, he may not seem that crazy. Year on year Southampton have splashed more and more cash to bolster their squad, and with the wealthy Liebherr family bankrolling their success from League One in 2010 to Champions League dreams in 2013, why not?
If you would have said to any Southampton fan in 2011 that the likes of Wanyama, Osvaldo and Ramirez would be playing for them within two years in the Premier League, they would've asked what medication you were on. The club was on the brink of liquidation and going out of business, now it's challenging for PL success.
So maybe now everything is going smoothly, Pochettinho should be able to dream big.
"But just to be clear about the Europa League it's not a competition that I look forward to," Pochettino said. "It means that you haven't been good enough to make it to the Champions League. So I think all manager's are aiming to go that one step higher to actually play and compete in the Champions League."
He admitted he doesn't know how long it will take and that making the Europa League is fine. For a club that has started the Premier League season incredibly well, many neutrals wouldn't rule out a top ten finish in just their second season back in the top-flight.
But the former Espanyol manager wants more.
"The work that's been happening for the last four years, started with the Chairman," Pochettino said. "His vision for the club and the way he started building the future of the club, the ideas, the philosophy. The basic idea is to take the club to the top of the league and Europe. That's our ambition."