Picking Premier League matches is hard work and frankly, I'm crap at it. But I enjoy the banter and figure at the very least I can provide you all with some fodder to tear me up with in the comments, or just make predictions of your own. Let's get it on.
UPSET SPECIALS
Manchester City vs. Everton (Sat 7:45am ET on NBCSN; Etihad Stadium)
Having lost to Aston Villa last week and gotten pounded by Bayern Munich 3-1 in midweek Champions League action, you can bet the Citizens will be rearing to go on Saturday. But this isn't your father's Everton side. Rejuvenated by the attacking approach of Roberto Martinez, the Toffees are a footballing side with conviction. And with their impressive history of beating up on City (winning 9 of their last 12 meetings), this match is shaping up to be a real cracker.
City are heavy favorites (22/33) but if Kevin Mirallas (ankle) is healthy enough to play, I think Everton get a result.
Cardiff City vs. Newcastle United (Sat 10:00am ET on NBC Live Extra; Cardiff City Stadium)
Gut-check match for Newcastle, here. The Premier League's most inconsistent club could just as easily win this match 4-0 as lose it by the same score. Come Saturday, the Magpies will have no excuses but to perform as Yohan Cabaye should be healthy enough to start and Jonas Gutierrez returns from injury. What's more, Newcastle have won their last six successive meetings with Cardiff City in all competitions. Who knows, maybe The Real Papiss Cisse will finally stand up and score a goal after 12 straight league contests without a strike? Wouldn't that be something!
Cardiff (27/20) are slight favorites in this match but I think those unpredictable Magpies take this one.
Fulham vs. Stoke City (Sat 10:00am ET on NBC Live Extra; Craven Cottage)
The yuck match of the weekend pits a goal-starved Fulham against rough-and-tumble Stoke City, looking to make amends for last week's home loss to Norwich City. Fulham have won four of their five Barclays Premier League home games against Stoke, including the last three in a row at Craven Cottage. But having averaged 426 passes per game under Mark Hughes, this is a new Stoke side and one that desperately needs to return to their winning ways.
Fulham are heavy favorites but I think Stoke (11/5) win and Martin Jol gets sacked. You heard it here, peeps.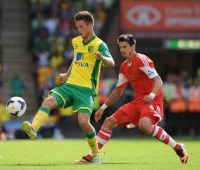 Norwich City vs. Chelsea (Sun 8:30am ET on NBCSN; Carrow Road)
Chelsea come into this match as heavy favorites (5/9) following their 4-0 drubbing of Steaua Bucharest in mid-week Champions League action. The victory left Jose Mourinho a happy man but his side will need to be careful at Carrow Road where Norwich have conceded only 23 goals in 22 home league games under Chris Hughton, keeping nine clean sheets during the run.
Yeah, I'm saying it – The Ricky van Wolfswinkel's get a result in this match.
Southampton vs. Swansea City (Sun 8:30am ET on NBC Live Extra; St Mary's Stadium)
I've gone back and forth on this game so many times I'm dizzy. The most important thing to know is that this could very well be the match of the week – two quality footballing sides, both playing well and looking to make a name for themselves in the Premier League.
All signs seem to point to Southampton. The Saints are enjoying a three match unbeaten streak, they're healthy and they're playing at St. Mary's, which can be fortress. What's more, Swansea played a grueling Europa League match against St. Gallen on Thursday night.
But I just feel that Swansea is the slightly more talented side at the moment. They've got this hunger about them, the squad rotation seems to be working and they're scoring goals. As 11/4 dogs to win, the Swans are a longshot here but as long as Michu plays (head injury) I think they win it.
SQUEAKY BUM TIME – TOUGH CALLS
Hull City vs. Aston Villa (Sat 10:00am ET on NBC Live Extra; KC Stadium)
As the great Ron Burgundy once said, "Don't act like your not impressed!" That's exactly the mentality Hull City should have right now. Coming into the season they were hands-down favorites (along with Crystal Palace) to be relegated. But the additions of Tom Huddlestone and Jack Livermore have gelled brilliantly and, combined with a tough defense, a chippy Robbie Brady and an underrated Sone Aluko, the Tigers are deservedly a Top 10 squad.
It'd be a different story if Christian Benteke was healthy but that's not the case. This is your atypical let-down game following a big win.
All-in on Hull City (13/10) to take all three points.
West Bromwich Albion vs. Arsenal (Sun 11:00am ET on NBCSN; The Hawthorns)
Give them credit, West Brom have won two successive matches in the Premier League and if they win this weekend it will be the first time in a year they've gone three straight. But the Baggies will be up against on Sunday when Arsenal, winners of their last eight Premier League away matches in a row, are 10/13 favorites to win.
Wins rarely come easy at The Hawthorns but Arsenal's form is too strong to be denied.
LOCK IT DOWN!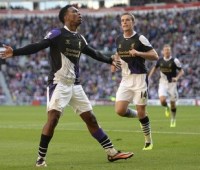 Liverpool vs. Crystal Palace (Sat 10:00am ET on NBCSN; Anfield)
The Survivor Pool layup of the week, this match has all the looks of a Liverpool steamroll. Luis Suarez is back, Daniel Sturridge has either scored or assisted 15 goals in his last 11 Premier League appearances and Crystal Palace have now gone 270 minutes without a Barclays Premier League goal.
There's a reason Liverpool are 2/11 favorites. Domination.
Sunderland vs. Manchester United (Sat 12:30pm ET on NBCSN; Stadium of Light)
If Sunderland lose on Saturday it will be their fifth consecutive Premier League loss, which hasn't happened since March 2006 (when the lost six in a row). The Black Cats will do their best to avoid this streak and reverse the darkness Paolo Di Canio put over the club, but it won't be easy. United, however, will be hard pressed for a win to put an end to their two match league losing streak. With Wayne Rooney expected to be available after sitting out the Champions League draw with Shakhtar Donetsk with a shin injury, there will be no excuses at the Stadium of Light.
No shock here. United, as 4/7 favorites to win, get back on track.
Tottenham Hotspur vs. West Ham United (Sun 11:00am ET on NBC Live Extra; White Hart Lane)
Having not won since opening day, West Ham United need some help. They need a boost. They need… a striker!!! With Andy Carroll sidelined with injury, I just don't see how this side can win. Modibo Maiga isn't scaring anyone, especially the staunch Tottenham defense. What's more – Spurs have won 15 and lost just two of their last 25 London derbies at home in the Premier League.
Tottenham at 5/12, won't be denied.
Enjoy the matches!!!