Andre Villas-Boas looked like he'd been slapped.
Shock would be the only appropriate feeling for the Tottenham squad after seeing West Ham come to White Hart Lane and run away with all three points on a 3-0 win on Sunday.
Winston Reid gave Spurs the initial jolt and strikes from Ricardo Vaz Te and Ravel Morrison finished it off as the visitors grabbed a huge win to bring them out of the relegation zone.
The win is a massive one for Sam Allardyce, whose lineup and tactics stifled a Spurs squad that feasts on space and width.
The 5-man West Ham midfield started the match rotating throughout the middle, which confused the Spurs build-up and delayed their play as they looked to break down the visitors.
Both sides began with caution, but Tottenham slowly established themselves as the aggressor, and it provided them a few basic chances.  Andros Townsend provided Spurs with their first blazing shot in the 23rd minute, getting space and shooting from way beyond the box.
Spurs continued to dominate, but couldn't produce the final ball in the first half.
The second half Spurs came out with a sense of urgency and more cutting edge, and it produced some results.
In the 52nd minute, Jermain Defoe found himself with space and launched a howitzer on goal but it was directly at Jaaskelainen who parried over the net.
Neither team looked very comfortable in their own skin in the second half, which played into West Ham's favor as the clock continued to tick.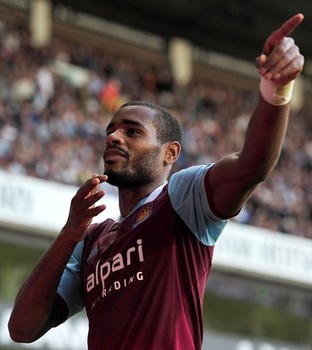 The away side finally broke an increasingly nervy Spurs squad in the 66th minute on a set-piece – a common place to concede for favored sides who don't look comfortable.
West Ham swung in a corner, and Winston Reid got his head to it.  The header crashed into his teammate James Tompkins on the line, but Reid caught his own rebound and smashed it home.
West Ham's target man doubled the score a few minutes later and assured the visitors that their upset would be complete.  Kevin Nolan slotted through Vaz Te on the break, and he got behind Michael Dawson with the ball.  His original shot was easily saved by Lloris, but it jumped right back to Vaz Te who completed the sliding finish for the 2-0 lead.
It continued to spiral out of control as Spurs fell apart on the break again and conceded a third.  Manchester United reject Ravel Morrison settled Reid's clearance and took it over half of the pitch, making Vertonghen look silly and chipping Lloris for the finish.
The three goals allowed by Spurs were one more than they had conceded all season so far.  They miss their chance to break back into the top 5 after being knocked down by Chelsea's win earlier in the day.
For a club with obvious Champions League aspirations, the loss comes as a serious deterrent to their hopes. Despite being just three points back of the top level, they remain mired in sixth position.  Luckily, they have a weaker stretch before having to face both Manchester teams back-to-back in late November.
GOALS:
West Ham – Reid 66′, Vaz Te 72′, Morrison 79′
LINEUPS:
Tottenham: Lloris; Walker, Vertonghen, Naughton (Holtby, 81′), Dawson; Townsend, Dembele; Paulinho, Sigurdsson (Lamela, 63′), Eriksen (Soldado, 74′); Defoe.
West Ham: Jaaskelainen; Reid, Tompkins, Rat, Demel; Nolan, Morrison, Noble, Diame (Collins, 85′), Downing; Vaz Te (Cole, 86′).