On Sunday at White Hart Lane, West Ham United midfielder Ravel Morrison picked the ball up inside his own half and just kept running, and running, and running, before lifting the ball over Hugo Lloris and into Tottenham's goal to make it 3-0.
West Ham's fans were in heaven, and Morrison's heroics have been a reoccurring theme this season.
Aftwerwards Hammers manager Sam Allardyce called Morrison's goal against Spurs "genius" and the "goal of the year" so far. Big Sam also revealed it was a big gamble to bring Morrison to Upton Park, but the young English midfielder has blossomed into a fine talent.
"Sir Alex Ferguson told me 'I hope you sort him out because you will have a top-class player,'" Allardyce said. "I'm not sure I've sorted him out, he's sorted himself out. He's begun to enjoy his football which he loves so much. He enjoys being with the lads and listens to what the experienced players say, and can do something that nobody else can do in our side."
(MORE: Tottenham 0-3 West Ham, Delight for visitors as they shock Spurs – Video)
If Sir Alex is a big fan, then you have to be a pretty decent player.
But the fact is, Morrison had to get away from his hometown of Manchester after being involved in plenty of trouble off the pitch. Moving South to England's capital is obviously helping him out, but last season Morrison spent the year on loan at Birmingham City in the Championship and was almost sent back after training ground bust ups.
Allardyce credits Morrison for digging in and focusing on the task ahead.
"He's learnt so much in a short period of time," Allardyce said. "That's the beauty. The penny has dropped."
When the Manchester United academy product switched Old Trafford for Upton Park in January 2013, this is what Sir Alex had to say: "In the case of Ravel, it's been quite well documented. I think he's better out of Manchester. He's got a great talent, but it's how to deal with it that is important."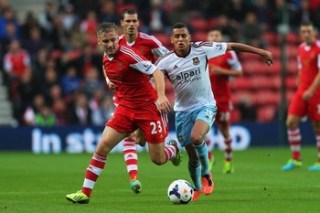 The 20-year-old midfielder has scored four goals in eight games so far this season, his first full campaign in England's top-flight. And if he continues to blossom the former England Under-18 international, who was called up the Three Lions U-21 squad earlier this week, won't be far off making the full international team.
But how has Morrison been able to leave his trouble past behind so quickly?
His older teammates have been key, as Kevin Nolan and Mark Noble have taken their central midfielder partner under their wing.
"Ravel has been fantastic since he came back," Nolan said. "Last year, we had a lot of problems with his lifestyle off the pitch as well as on it, but he went to Birmingham, worked really hard and got back in the team at the end of last season. It was like he was a new man. He is one now. He needs to stand up."
Nolan, West Ham's captain, revealed everyone is working together to help Morrison overcome his off-field issues, so he can produce more moments of brilliance like he did against Tottenham on Sunday.
"Me and Mark Noble speak to him and have had big long chats with him all last season. We try to protect him and take him under our wing," Nolan said. "We will continue to do that. Obviously we are going to be excited by his talent – it's frightening – and if you ask anyone at Manchester United they will tell you the same. But it's about nurturing him and making sure he does the right things on and off the field."