Arsenal midfielder Jack Wilshere was the hero on Sunday, as he scored the equalized for the Gunners to nick a 1-1 draw at West Brom.
But much of the talk this week has been about Wilshere's action off the pitch.
The 21-year-old midfielder was pictured smoking in public following Arsenal's midweek Champions League win over Napoli, and despite his agent originally dismissing the reports despite clear evidence, Wilshere admitted he was in the wrong.
"I made a mistake," Wilshere said. "Players make mistakes, I'm not a smoker. I spoke with the boss [Wenger] he asked me what happened and I explained it and we sorted it out. He put me in the team today and hopefully I repaid him."
Wilshere's honesty, in the end, is refreshing but it took a while. Many will argue he shouldn't have apologized and believe the youngster was well within his right to have a quick cigarette. As a top athlete, it's probably not the most advisable habit.
(MORE: Wilshere pictured smoking, Arsene Wenger not happy)
Nobody is doubting Wilshere's technical ability, but he has certainly got a fiery temperament on the pitch and unsavory incidents like this, even at the age of 21, could spell trouble for the future. Many have compared Wilshere to Paul Gascoigne. The way he plays, with his diminutive size yet gigantic stature and surging runs from midfield, certainly remindw me of Gascoigne in his pomp. Let's hope all of Gazza's problems off the field don't start to creep into Wilshere's life too.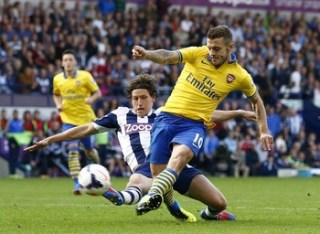 Luckily, I don't think it will.
He has the right mentor in Wenger to succeed for many years at the highest level, and keep his feet grounded. But he mustn't get too distracted off the pitch, he knows that. But as a 21-year-old professional soccer player living amongst the bright lights of London, there are bound to be plenty of distractions heading his way. Hopefully Wilshere can handle them better than he did earlier this week.
And if he does, both Wenger and England manager Roy Hodgson believe he will captain Arsenal and the Three Lions very soon, as the supremely talented midfielder from Stevenage has the potential to become one of the world's best midfielders.
"Wilshere has got the personality, the ­character and the quality to accept ­responsibility, to accept the pressure," Hodgson said. "I foresee a fantastic England career for him. I would agree with Arsène Wenger and say Jack has got the ­qualities [to be England captain], there's no doubt about that."
Maybe it's too soon for that, but if Wilshere shows the same admirable honesty and responsibility he did this week, then maybe the youngster has just turned the corner.