Instead of taking an extended look at any particular team based on match play, this week's Football Focus looks at some of the top goals of the week. Taking three of the more tactically inclined goals from the top five this weekend, let's take a closer look at strikes from Willian, Luis Suárez and Adnan Januzaj:
No. 5: Willian's first goal for Chelsea
Willian curled a shot inside the far post for his first Chelsea goal, against Norwich City on Sunday, sealing the Blues' 3-1 win. He took advantage of poor defensive pressure followed by a small window of opportunity to score his opener.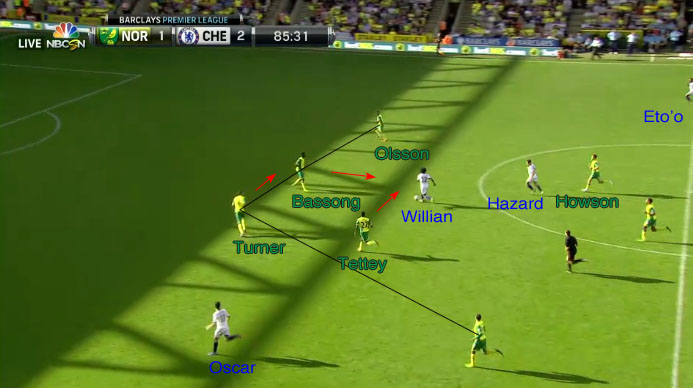 As Willian dribbles at the Norwich defense, he is under no immediate pressure. Sébastien Bassong could step up to him, or Alexander Tettey could track back further to apply pressure. Either way, the defenders would still have plenty of time to track passes to Oscar on the left or Samuel Eto'o on the right.
Essentially, the Canaries have four defenders back, and nobody pressures the ball.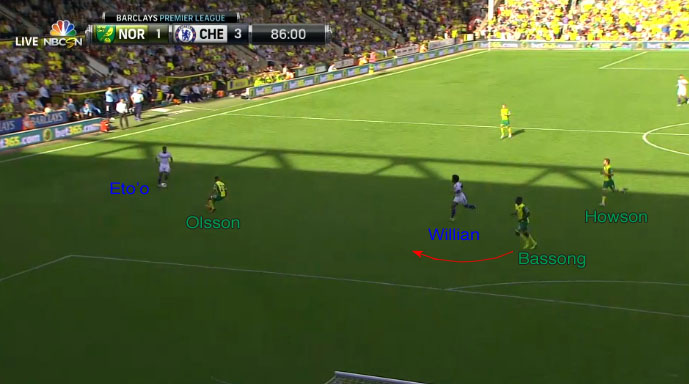 That allows Willian to dribble to the top of the penalty area before deciding to dish the ball wide for Eto'o. Bassong should track Willian's run, as the closest defender, which he does. However, he could be farther goal-side and ball-side to keep the play in front of him.
Bassong correctly stops tracking Willian when the Chelsea attacker strays outside of the center back's zone of responsibility. At this point, his task is to provide cover for Martin Olsson, in case Eto'o cuts in.
Eto'o does just that, but Bassong is barely too far away to step up and win the ball cleanly. When Bassong steps up, Olsson should be able to release and mind Willian on the wing. Instead, three players reach into the tackle, as Jonny Howson also tracks back.
The ball pops free to Willian, who really only has time to take one touch. He makes it count.
No. 3: Luis Suárez scrambles to score
Since returning from his 10-game suspension, Luis Suárez has scored three goals for Liverpool. His goal on Saturday against Crystal Palace sparked a 3-1 win and showed his determination inside the penalty area.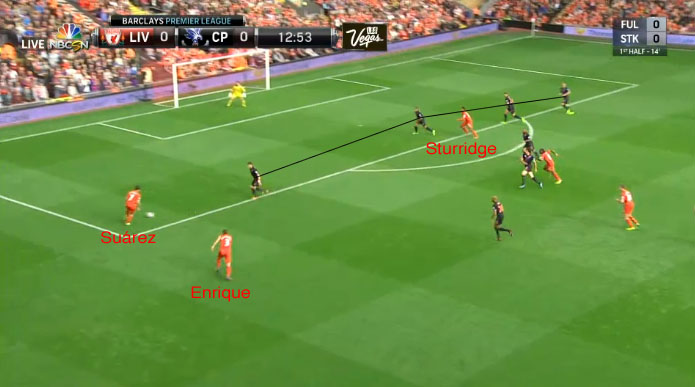 As Suárez receives the ball wide, José Enrique is in position to provide a two-on-one isolation, especially since Palace's defense is slow to shift. Daniel Sturridge is the only other Liverpool attacker in a dangerous position right now, and he can easily be passed off among defenders so they can slide to cover the immediate danger, which is the ball.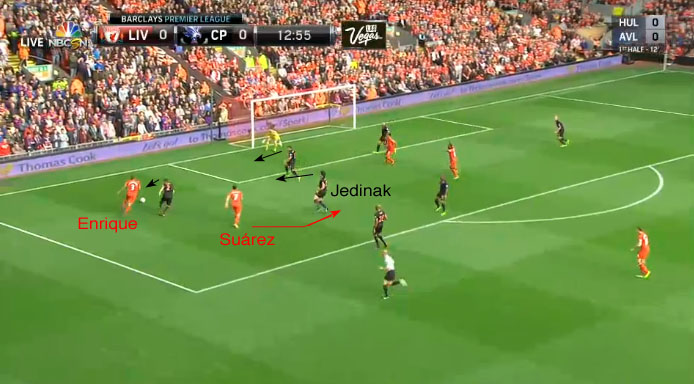 Suárez plays the ball for Enrique, and the Palace defenders' eyes stay glued to the ball. That allows Suárez to run behind Mile Jedinak, staying on the midfielder's back shoulder and virtually invisible. That puts Suárez in great position to receive a cutback from the endline, which is one of the most dangerous attacking passes.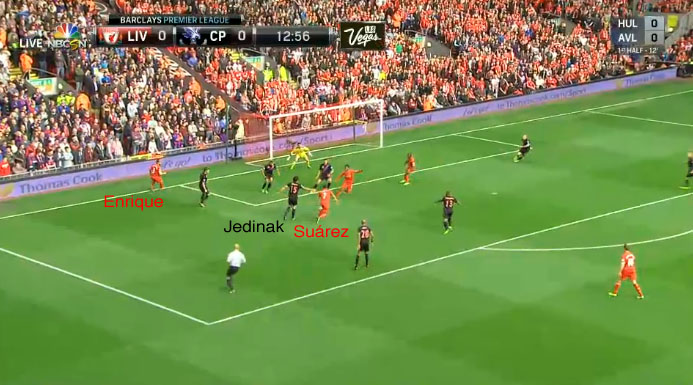 When Enrique plays the ball back toward Suárez, Jedinak allows the ball to run because he doesn't Suárez behind him. By the time Jedinak and his teammates' focus shifts, Suárez is in position to score a scrappy goal, even after taking an extra touch and falling over.
No. 2: Adnan Januzaj caps dream first start with volley
Manchester United wunderkind Adnan Januzaj scored both of his team's goals in a comeback 2-1 victory at Sunderland on Saturday, making manager David Moyes look like a genius for playing the 18-year-old. Januzaj's second goal, a side volley, was particularly masterful.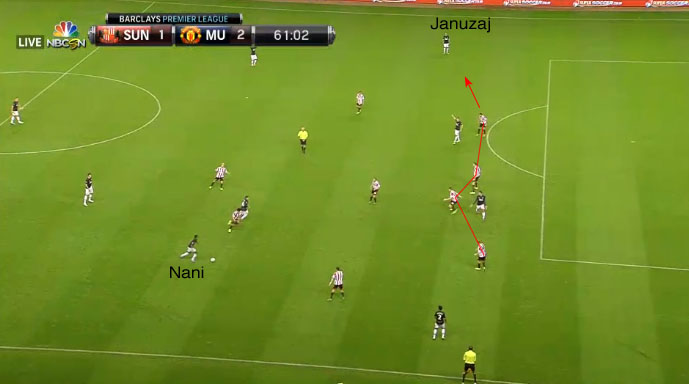 As Nani has the ball on the right wing, Januzaj is wide on the left. Sunderland's back four is in fine shape, staying compact but prepared to spring wide if necessary. If Nani switches the ball to the left, Sunderland has plenty of time to shift while the ball travels.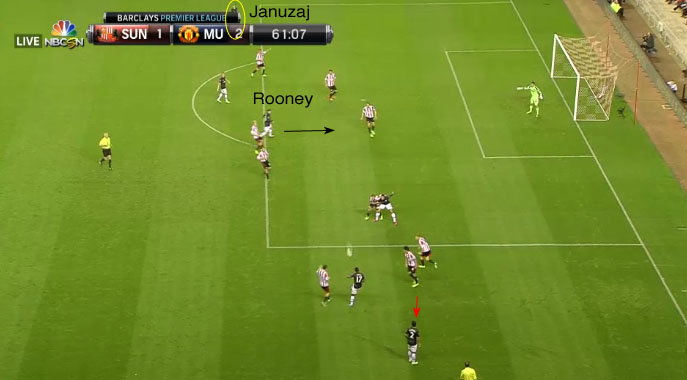 Januzaj starts to make his run toward goal as Nani prepares his cross. Wayne Rooney is the target, and he will draw most of the defenders' attention. In this situation, the back-post run might be the biggest area of missed opportunity; most players simply choose not to make it, or they mistime it.
Still, as long as the Sunderland defenders have their heads on a swivel and recognize the run, it shouldn't be dangerous. The cross isn't great, as Nani decides to hit it with the outside of his right foot.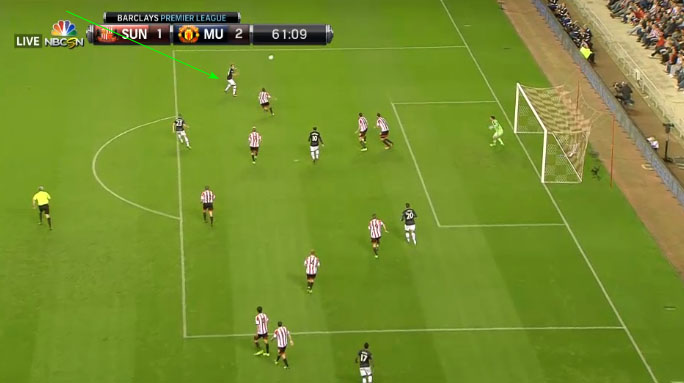 Sunderland makes no real defensive errors on this play, aside from the weak clearance on Nani's cross. Even so, as the ball heads toward Januzaj, the nearest defender provides immediate pressure on the ball. Just as Willian did in the above example, Januzaj only has one touch.
He also makes it count, emphatically scoring his second goal of the game — and the winner.