Two games, nine goals allowed, and a sea of doubts is all Seattle has to show for their last week's games, with a hat trick from rookie Kekuta Manneh sending the Sounders to an embarrassing 4-1 loss to the visiting Vancouver Whitecaps. Combined with their 5-1 defeat on Saturday in Colorado, the Sounders have entered a free fall.
Consider some numbers. Ahead of their trip to Commerce, the Sounders had only allowed 29 goals this season, tied for lowest total in Major League Soccer. They're now seventh in goals allowed, Vancouver's four-goal onslaught ending Seattle's 12-game home unbeaten run.
Manneh opened the scoring in the 12th minute when John Kennedy Hurtado's poor clearance allowed Daigo Kobayashi to put the 18-year-old in on goal. Three minutes before half, the Gambian striker — making only his fourth career start — teamed with Camilo to double the lead as well as his career goal total. Coming into the night, he's scored twice in Major League Soccer, but thanks to a lead-footed Seattle defense, he was up to four by intermission.
It didn't take long for the first round pick to complete his hat trick, with Kobayashi feeding Manneh through the right side of the Sounder defense for an all-too-easy third goal, going five-hole on Michael Gspurning.
That was the story on each of Vancouver's first three goals: Send Manneh through; watch him score – a plan make possible by some uncharacteristically terrible defending. Not only were the Sounders unable to match the Whitecap attacker's speed, but they were poorly positioned to try and mitigate it. And cutting of Vancouver's access to their focal point? No chance. Throw in a lack luster and error-prone effort from the players and Seattle had laid the tracks for a second-straight rout.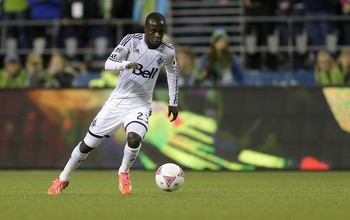 For a brief period in the second half, though, it appeared the Sounders would fight back, with Mauro Rosales pulling his team within two half-way through the period. But caught on a break in the 82nd minute, Seattle saw goalkeeper Michael Gspurning let them down, allowing a Nigel Reo-Coker shot from right of goal to go off his hands, through his legs (again), and into the net – a goal that sent Seattle's normally patient crowd streaming toward the exits.
Among the epidemic of lopsided results Seattle's suffered over the last two years, this one may have been the most disappointing. It came after another rout, on that should have put the team on high alert. But instead of fighting to regain their form, Seattle allowed Vancouver to run through them. A fortnight away from season's end, this team has real problems, and although they were without two key pieces (Brad Evans, Eddie Johnson), it's unclear how either of them would have been decisive tonight.
If, as we mentioned in yesterday's preview, this match was going to shine light on either Martin Rennie or Sigi Schmid's plight, we couldn't have gotten a clearly clue. Martin Rennie had his team prepared for a must-win game and saw his players respond. In contrast, it was one of Seattle's worst games of the year, right up there with their performances in Carson and Commerce.
But remember: Seattle controls their Supporters' Shield fate – a needed piece of perspective. Without a doubt, the team is playing poorly, but they haven't lost anything yet. They could still with the Shield. They could still claim Cascadia Cup (which they would have with a win tonight). And tonight's loss does almost nothing to damage their MLS Cup hopes. They just need to get their act together. Desperately.
Vancouver, on the other hand, finally gets their breakthrough win in Seattle. Without it, their postseason dreams were toast. Now they're within three points of Colorado and Los Angeles ahead of a season-ending home-and-home with the Rapids. They also lead the Cascadia Cup standings. If Seattle doesn't get three points in Portland on Sunday, the coveted regional trophy is theirs.
Oh, how quickly things change for Martin Rennie, who suddenly has a landmark result to use in his defense. For Sigi Schmid, however, the prosecution was just handed a damning piece of evidence.