With the current international break disrupting Premier League play for two weeks, now is a good time to take stock on the season so far.
So, that's exactly what we're doing at ProSoccerTalk.
On Wednesday, we gave each team grade on their start to the 2013-14 campaign, and now it's time to put the managers under the microscope.
PREMIER LEAGUE STANDINGS & TOP PL GOALSCORERS
Plenty of new managers are at the helm of PL clubs across England, so what kind of start have they made? And will they be around for much longer? Find out, here?
ARSENE WENGER (Arsenal) – A
Before the season began, Wenger was under huge pressure to deliver the goods at the Emirates, so far, so good as they sit in top spot in the international break. After delivering Champions League soccer for 16 straight seasons, the Gunners haven't won a trophy for eight years, but the addition of Mesut Ozil and the terrific form of Aaron Ramsey and Olivier Giroud proves that Wenger was right to put faith in his young squad. Bringing in Mathieu Flamini to do the dirty work in the engine room was an inspired stroke, and now Wenger has a perfect balance between defense and attack that was missing in recent years. The Frenchman has reinvented his side time and time again, it seems like he's done it again after a sensational start to the campaign. Record – (5-1-1)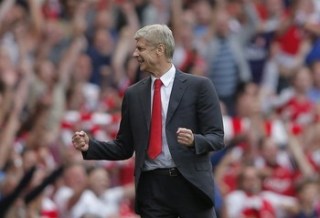 BRENDAN RODGERS (Liverpool) – A
Can the Northern Irish manager really bring back the glory days to Anfield? He's certainly giving it a real good go, with the new 3-5-2 formation working a treat as Daniel Sturridge and Luis Suarez spearhead the Reds charge for the top four. Rodgers has spent moderately and been creative in the transfer market, with Mamadou Sakho the only big money addition. Loan arrivals of Victor Moses and Aly Sisokho from Chelsea and Valencia respectively, have bolstered the squad and with Suarez back with a bang, the Reds will be battling for the top four if injuries and lady luck is on their side. Rodgers' philosophy of passing teams into submission hasn't wavered, but the Reds have definitely been more direct when they need to be. Record – (5-1-1)
MAURICIO POCHETTINO (Southampton) – A
Well, if you didn't know much about the Argentine manager before the season, now you do. After catapulting the Saints into the top four by October, the former Argentinian international defender has seen his high-pressure approach take the Premier League by storm. He's shrewdly added three top players in Daniel Osvaldo, Victor Wanyama and Dejan Lovren, and his man management and ability to integrate Southampton's talented academy crop has seen the squad become extremely strong. They can challenge for the top eight, make no mistake about it. Although you have to say, apart from beating Liverpool away, they haven't faced too many top teams, yet. Record – (4-1-2)

STEVE BRUCE (Hull City) – B+

Using all his experience from his playing days and managerial stints with Birmingham, Sunderland, Wigan and Huddersfield, Bruce has put together a team of no-nonsense players at the KC Stadium. Strong, physical players who make it hard for the opposition and scrap for every ball, that's how Bruce played the game and his team reflect his mentality. He's been in this situation before, and he knows his team have to be hard to beat at home and pick up the odd win or point on the road. 11 points from their first seven matches is a tremendous return, as the Tigers have proved they shouldn't be taken lightly. Bruce is an old hand at this, expect Hull to carry on the good start. Record – (3-2-2)
ROBERTO MARTINEZ (Everton) – B+
The Spaniard has injected all of his Southern European flair and attacking panache on the Toffees in just a few months in charge, and the Goodison Park faithful are loving life. It's true that David Moyes left him with an extremely solid group of players to work with, but with Romelu Lukaku, Gareth Barry, Antonin Alcaraz, Arouna Kone and James McCarthy, Martinez has been able to stamp his own mark on Everton very quickly. Just one defeat from seven, a rather unlucky reverse at the hands of Man City, has seen the Blues aiming for at least a top six finish. Martinez' transition from Wigan to Everton has been smoother than perhaps anyone expected. Record – (3-1-3)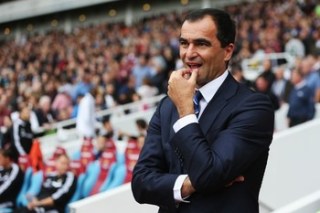 ANDRE VILLAS-BOAS (Tottenham Hotspur) – B+
Losing your best player, and one of the most exciting talents in Europe, is never easy but Spurs have moved on superbly without Gareth Bale. AVB, alongside Director of Football Franco Baldini, has masterminded one of the most extensive overhauls in Premier League history, with eight quality internationals replacing Bale. Marvelous stuff, and so far they've lost just twice and have won four of their opening seven games. After finishing fifth, just, last season, Villas-Boas will be itching to bring Champions League soccer back to White Hart Lane. Can it be done? With Christian Eriksen, Erik Lamela, Roberto Soldado and Paulinho all on board and eager to impress, Spurs will use their terrific start to catapult them into the title race. Dark horse. Record – (4-2-1)
JOSE MOURINHO (Chelsea) – B
The Special One is trying to work his magic with Chelsea, but he's used an incredible amount of players already as he tries to get his best XI on the pitch at the same time. It seems as though he's getting their, and after seeing the fight and hunger from Chelsea in their second half comeback draw at Spurs, that spark and glint was back in the Portuguese managers eyes. The way he's handled Juan Mata has been ridiculed by many, but it seems as though Mourinho isn't budging on his 'team first' mentality, no matter how good these top internationals are individually. He is trying to reignite Fernando Torres and get goals from the Spaniard, if he can do that successfully then Chelsea will be a force to be reckoned with. Record – (4-1-2)
MANUEL PELLEGRINI (Manchester City) – B
Welcome to English soccer, Senor Pellegrini. It's okay winning every single home game, which City have done impressively so far, but what separates a place in the top six from winning the title is how you grind out wins on the road. And City ain't getting it done. Pellergini has rotated his squad, and although they got hammered by Bayern Munich in the UEFA Champions League, two bizarre 3-2 defeats on the road at Cardiff City and Aston Villa are the only blots on the coffee book so far. Finding the right mix of defense and offense has been a struggle for the Chilean manager, but he will learn more about his new team as the season goes on. Plus, a 4-1 pounding of fiercest rivals Manchester United is always a good way to endear yourself to City's fans. Full steam ahead between now and January. Record – (4-2-1)
SAM ALLARDYCE (West Ham) – B-
It's been a tricky start for Big Sam, but his side have continued to be difficult to beat, as always, and that massive 3-0 win away at Spurs will breed massive amounts of confidence. Losing both Andy Carroll and Stewart Downing through injury hasn't helped, but with both expected to come back after the international break, West Ham will look to kick on. What you see is what you get with Allardyce, direct and abrasive soccer is what West Ham does best. With Ravel Morrison complementing grafters Kevin Nolan and Mark Noble in midfield, the Hammers look quite good going forward but haven't had anyone to finish off the chances. Allardyce has set up the team around Carroll, and when the big Geordie returns the Hammers could challenge for a spot in the top 10. Record – (2-3-2)
MICHAEL LAUDRUP (Swansea) – B-
A completely new situation for the Swans, and Danish legend Laudrup is having a difficult time trying to juggle the Europa League with the Premier League. In Europe, Swansea have excelled by winning their first two games. But in the league defeats to Manchester United, Tottenham, Arsenal and Southampton have seen them make a shaky start. However, as you can probably see, they've played a lot of top teams already, so expect the Swans to rise back up when the schedule evens out. Laudrup has put plenty of faith in Jonjo Shelvey and the partnership between Wilfired Bony and Michu is still developing. Laudrup has unearthed some gems in Pozuelo and Canas, but he will feel that his squad is still a little small. Big few months if Swansea are going to emulate last years top ten finish, this season. Record – (2-4-1)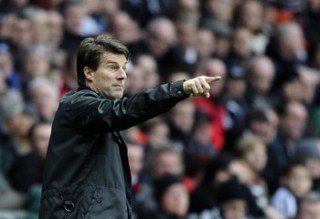 PAUL LAMBERT – C+
Aston Villa have had a mixed start to the season, but it seems as though the new additions Lambert brought in over the summer, on the cheap, have added strength in-depth to the Villans. You can't fault the Scots passion, but without the injured Christian Benteke and Gabriel Agbonlahor, they're a totally different team. With a young core, Lambert has definitely worked on defensive aspects over the summer, and you can see that in his side so far. Solid and steady, Villa should do just fine this campaign. But is Lambert content with that? I think he wants more, but he's already close to squeezing every last ounce of talent out of this young side. Record – (3-3-1)
ALAN PARDEW (Newcastle United) – C+
Another team that's had a tumultuous start, the Magpies are finally getting up to speed as they get all of their star names back fit and healthy. Pardew has added Loic Remy to the mix and with his five goals, Newcastle's fans have a new hero. With Yohan Cabaye having his head turned by Arsenal, you have to salute Pardew's disciplining of the player, proving that one person isn't bigger than the club. If Papiss Demba Cisse can return to form, expect St. James' Park to turn into a fortress once again. Better start than last season, and no Europa League to worry about will give Pardew a boost. Record – (3-1-3)
MALKAY MACKAY – C+
Things were going reasonably steady for the Scottish manager in charge at the Welsh capital, but rumors of unrest behind the scenes and having his head of recruitment replaced by a friend of the chairman's son doesn't bode well. On the pitch, the Bluebirds have been great at home, and you can see how sound they are defensively. That, in part, is down to Mackay's playing days as a no-nonsense central defender, but going forward he needs more cutting edge from Bellamy, Odemwingie and Campbell. The bookies have slashed his odds to become the next manager to lost his job, and with Cardiff's owner known to be an uncompromising character, his time could be up. That would be harsh. Record – (2-3-2)
MARK HUGHES (Stoke City) – C
The Welshman has his hands full at Stoke, with an entire squad of players bought by Tony Pulis to work with. But he has got on with his job reasonably well, and the Potters are trying to get the ball down on the deck and play attractive soccer. That will take some time to develop after years of kick and rush, but it will be worth it. Solid defensively, as always, the only problem for Stoke is that they, like many other mid-table sides, are struggling to find the back of the net. Just five goals in seven games says it all. Will the ex-Manchester United and Barcelona forward get his cleats on and show them how it's done!? Record – (2-4-1)
STEVE CLARKE (West Brom) – C
A poor start to the season was down to some bad calls over the summer. Clarke seemed to rest on his laurels slightly, after West Brom's best-ever PL finish of eight last term. However after bringing in several recruits before the January window slammed shut – Scott Sinclair, Victor Anichebe and Stephan Seesegnon to name a few – the Baggies look much stronger and a great win at Manchester United was followed by a draw with Arsenal. On their day they can hang with the big boys, but West Brom need to get more consistent if they're going to succeed. Record – (2-2-2)
CHRIS HUGHTON (Norwich City) – D
Maybe this grade is a little harsh on Hughton, but you know what, they should be doing better after the money the Canaries stumped up over the summer. Yes, they are solid and difficult to beat, but they haven't solved their problem of scoring goals. The former Birmingham and Newcastle manager has been unlucky with injuries as striker Gary Hooper missed the first five PL games, but Ricky van Wolfswinkel hasn't set the world alight and a tough stretch for Norwich may see Hughton's position come under threat between now and the end of the season. File them under the 'must do better' category. Record – (2-4-1)
DAVID MOYES (Manchester United) – D-
Yeah, we all know Manchester United have had a poor start to the season, but how much of it is down to poor management from Mr. Moyes? Turns out, quite a bit. Look, he has the impossible task to follow Sir Alex Ferguson as United boss, we all know that. But some of the decisions have been pretty abysmal. The decision to only bring in Marouane Fellaini in the transfer window was laughable, playing Rio Ferdinand and Patrice Evra when they're clearly over the hill is worrying and being too conservative has cost United from picking up easy points. The only saving grace for Moyes and United, is that after all this they're not far behind. And youngster Adnan Januzaj has come form nowhere to be a new hero. Work to do to turn the ship around, but Moyes' boys better get a shift on. Record – (3-3-1)
MARTIN JOL (Fulham) – D –
Another manager under-fire, despite a much needed win over Stoke before the international break that made everyone around Craven Cottage breathe a huge sigh of relief. Fulham bought wisely, and shrewdly over the summer yet the likes of Darren Bent, Scott Parker, Patjim Kasami and others haven't gelled for one reason or another. The Cottagers are looking like a beleaguered outfit short on confidence, and with new American owner Shadid Khan quite on Jol's future, you have to worry for the likeable Dutchman. That said, Jol knows his side are lacking in belief after a poor start, so maybe that narrow win against Stoke was a turning point? Record – (2-4-1)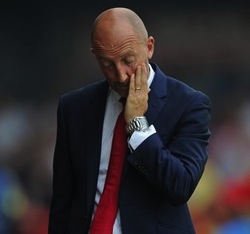 IAN HOLLOWAY (Crystal Palace) – F
Bit harsh to give Holloway a failing grade here, but it needs to be done. I love watching his interviews and think he's a great character and ambassador for the game, but the lack of continuity and tactical nous shown by the Englishman has really let the Eagles down. Okay, staying in the PL was liking winning the damn thing for Palace, but the tepid displays they've put out there so far has been a real let down. With a solitary win against lowly Sunderland the only points they've picked up this season, you would expect more fight and determination from the newly-promoted outfit. But I'm seeing players duck out of headers, tackles and turning their backs in the wall, and it seems as though they're holding back. Instead of taking games by the scruff of the neck like Holloway's Blackpool side did, it seems as though Palace will make little impact on the PL unless they change their ways fast. Record – (1-6-0)
PAOLO DI CANIO (Ex-Sunderland) – F
What can we say about the fiery Italian? You have to love his passion and commitment to the cause, but his antics proved too much for the Sunderland board and now he's left the Black Cats in one heck of a pickle after being fired. A squad full of players who are either out of their depth, low in confidence or a mixture of the two, Di Canio's reign was blasted by many as being completely totalitarian and squeezing any life or character of his players. Tactically he was too gun-ho, but he can probably hold his head high knowing that he gave it 100 percent. However, it went horribly wrong and now new manager Gus Poyet has the difficult task of picking up the pieces and trying to galvanize the squad for a winter-long battle against relegation in the frigid North East. Record – (0-6-1)