KANSAS CITY – What a stinging irony, wonderful and just a little bit damaging all at once. By achieving something with flying colors, the United States has removed a little bit of valuable opportunity factor.
Here's the deal:
The United States has qualified for the World Cup with two full games to spare. So that rings the bell of accomplishment, and pretty loudly. (Don't think so? Look at Mexico, still fighting Friday for its World Cup life!)
On the other hand, qualifying for a World Cup was never the main mission for Jurgen Klinsmann and his team; it was always more of a weigh station along the road to Brazil, if we're being honest. Getting to a World Cup was mostly a starting point for this group.
So any chance to improve as a group is a grand opportunity, right? Of course, but by qualifying 8 games into the 10-game final round, the United States has significantly diminished one of the few opportunities between now and next summer to assemble and test itself under pressure.
Ironic, eh?
But as Klinsmann likes to say, "It is what it is." So the United States faces Jamaica at Sporting Park on Friday (6:30 p.m. ET on ESPN and on Spanish language UniMas), there's virtually nothing on the line. Yes, the United States might possibly improve its chances of getting a more favorable draw in December when 32 qualifiers are placed into groups. But it's a big "might," and no one around the team seems to be talking or thinking about FIFA and its unpredictable, idiosyncratic seeding methodologies.
From the moment the United States clinched qualification – into a seventh consecutive World Cup – Klinsmann has been adamant that opportunities to fine tune would not be wasted, that his best players would be summoned.
There certainly are some opportunities here; 15-16 players probably have locks on roster spots for next summer in Brazil, which means seven or eight spots may still be there for the taking, with perhaps 14-15 players eyeballing those spots.
Friday represents one of five official FIFA dates between now at the opening of training camp for World Cup 2014, so if a Sacha Kljestan or a Brad Davis or an Aron Johannsson (just to name a few) wants to be noticed, he has to "say something" to the coaches on Friday against the Jamaicans, and he had better says it loud and say it strong.
Still, the mood at training on a brilliant fall Thursday afternoon at Sporting Kansas City's Swope Park seemed jovial and quite loose. Again, that's about a match that doesn't mean anything. (By the way, there isn't much on the line for the Jamaicans, either. The Raggae Bozy are in last place and have virtually no chance of getting that fourth-place playoff spot.) Is there a different feel to this U.S. camp compared to others?
"There's not as much anxiety coming up the game," American midfielder Kyle Beckerman said. "If we were in a different situation, like Mexico or Panama, you could feel the pressure mounting. Here it's all about just putting in the work, becoming a better team and getting ready for Brazil."
Beckerman did mention those opportunities. There are more of them due to injuries or other concerns for front line men like Michael Bradley, Clint Dempsey, Eddie Johnson and Omar Gonzalez. They are all in good shape in terms of getting to Brazil, but they aren't in Kansas City today.
There is even some opportunity factor, although a different kind, for guys already in good shape to make the roster. (Yes, so much of the talk for the next six months is going be "roster chatter," so we'll go back to this topic again and again.)
For instance, the injury to Gonzalez means Matt Besler will require a central partner. Klinsmann said on Thursday that Geoff Cameron's best spot is at center back, even if he plays right back for Stoke City and proved he could hold his own this summer as a holding midfielder. That versatility will help get former Houston Dynamo man to Brazil, but if he gets a shot at center back Friday alongside Besler, Cameron could possibly improve his positioning in the depth chart at that position.
It's another chance for DaMarcus Beasley to show that he can hold down the left back spot, that he's more than just a stop-gap there. (Remember, Beasley was an emergency option just a few months ago at left back.)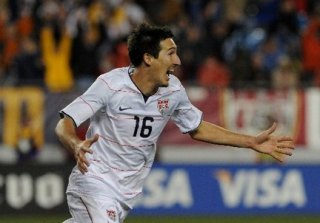 Brad Evans may find himself at right back Friday, but veteran Steve Cherundolo remains in the conversation. So any chance for Evans to demonstrate his abilities cannot be wasted.
Between Sacha Kljestan (pictured left) and Mix Diskerud, there's probably only room for one versatile, hybrid midfielder. Diskerud seems to have pulled ahead, so Kljestan may need to think more along the lines of "making up ground" on Friday.
"For all of us, it's another audition," said Landon Donovan, who is probably a little past the "audition stage" of his career, even if he is taking nothing for granted. "So at this point of the game, you really cannot take a step backward if you want to be on the World Cup roster. I think we all see it that way."
Following Friday's match at Sporting Park, the United States will close out final round qualifying four days later at Panama, inside Estadio Rommel Fernandez.