There are just two matches left to play in South American World Cup qualifying, yet just one team has qualified thus far — Argentina. Peru, Bolivia and Paraguay will be at home watching the matches in Brazil, preparing for 2018. But for Colombia, Chile, Ecuador, Uruguay and even Venezuela, there's still all to play for. And with most of those sides eager to attack and not afraid to show some trickery, CONMEBOL just might be the confederation to be watching on Friday night.
(MORE: An overview of World Cup qualifying)
CONMEBOL Matches (Friday, October 11)
Colombia vs. Chile (6 p.m. ET)
This match has to be counted as one of the highlights of this round of qualification — not just in South America, but throughout the world. Colombia and Chile are separated by just two points, and between them, they've scored 46 goals thus far. Chile, currently in third place, go all out in attack and refuse to back down, producing a side that's yet to record a draw. La Roja must stick to their score-and-score-again philosophy, as their defense is rather suspect, having conceded 21 goals thus far. That's in marked contrast to Colombia, who've conceded just nine in fourteen matches (the lowest in CONMEBOL) and haven't given up a goal at home in their last five games.
The winner in Barranquilla, should there be one, gets their ticket punched to Brazil. Colombia has the advantage in that even if they draw, they're through to the World Cup — and even a loss is good enough if Ecuador or Uruguay manage a win.
Ecuador vs. Uruguay (6 p.m. ET)
You have to feel a bit sorry for Ecuador. With Uruguay performing so poorly in the first half of qualification, La Tricolor looked to be on the verge of booking their spot at Brazil. Now, they're just barely hanging on to fourth place, sitting above Uruguay by virtue of a positive goal difference. But it's La Celeste that have the advantage going into this game in Quito. Having finally turned themselves around, Uruguay have picked up three straight wins, a marked contrast to Ecuador, who haven't won in their last four matches. But Ecuador can console themselves with the fact that they're unbeaten at home and, should that not work, the knowledge that it's practically impossible for Venezuela to creep in to fifth place.

Should this match produce a winner, and should Chile lose to Colombia, that winner is rewarded with a trip to the World Cup.
Venezuela vs. Paraguay (6 p.m. ET)
Venezuela's hopes may be dim, but the point is, they're still there, flickering dimly like a candle amidst a hurricane. This is Venezuela's last qualifier, so not only must they beat already-eliminated Paraguay, La Vinotinto must hope that luck falls in their favor. Either Uruguay or Ecuador must lose both of their final two matches to allow Venezuela to slip into fifth place…and they'll also have to make up a lot of goals, seeing as right now they have a -6 goal difference. Start lighting those candles, Venezuela!
Argentina vs. Peru (8 p.m. ET)
Ah, the meaningless match. Yes, yes, no matches are meaningless when there's a World Cup to be prepared for, but let's face it, this one is about as meaningless as it gets. Argentina have qualified. Peru are out. Thank goodness it's the late game and everyone can tune in!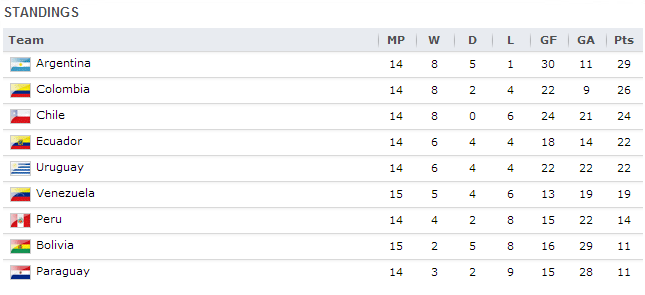 Follow @KDS_Football