Brad Guzan's terrific start to the Premier League season has seen him linked with plenty of big teams, including league leaders Arsenal.
However, the U.S. national team 'keeper revealed to Jeff Carlisle that he's happy to remain with Aston Villa, as he establishes himself as one of the most consistent goalkeepers in the PL.
"Aston Villa, they've stuck by me, especially the manager, [Paul Lambert]," Guzan said. "He's given me a chance to play consistent football in Europe. It's always nice when you're linked with other teams, but for me, I'm very happy at Aston Villa."
And why wouldn't he be?
In 2012  it seemed as though Guzan's career at Villa and his European adventure could've been over, after former manager Alex McLeish decided against offering the former Chivas USA star a new contract and Guzan released by the Midlands outfit. But when McLeish left and Paul Lambert arrived as gaffer, one of the first thing's he did was hand Guzan a new deal and the rest is history.
(MORE: Report – Arsenal interested in Brad Guzan)
Guzan, 29, has grabbed his chance with both hands and is pushing USMNT number one Tim Howard all the way for a starting spot with the Yanks. But is he right to turn down a move to some of England's top teams? It all depends, because at Villa he's the reigning Player of the Year, has confidence and belief in what he's doing and is loved by the staff, his teammates and the fans. Sometimes all of that is worth much more than a big money move to a team challenging for titles and playing in Europe. No matter how crazy it sounds, for a 'keeper to play on a side struggling near the bottom, sometimes it almost better for his profile and reputation that he's busy week in, week out, as Guzan has been able to showcase plenty of his talents following Villa's shaky defensive displays last season.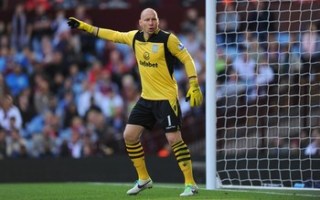 Plus, if the move to Arsenal did come off, would Guzan be No. 1 over Wojciech Szczęsny? That could be a gamble for Guzan, as dazzling while playing regular soccer in the PL is the only way he can expect to become Jurgen Klinsmann's head honcho between now and Brazil 2014. So, he should probably stay at Villa.
For now.
And it's certainly been a more promising start to this campaign for the Villans, who have been much better at the back. Guzan has impressed with his distribution (grabbing an assist on the game-winner against Manchester City), as well as his shot-stopping, with a man of the match display against Norwich City standing out amongst many other terrific displays. And the Chicago native believes the project Lambert is undertaking — taking a plethora of young homegrown players and molding them into a unit — is one he wants to stick around for.
"It's a club that I think is definitely on the rise," Guzan said. "And it's something I want to be a part of."