On Friday evening England's offense finally exploded into life, finally.
During the 4-1 win against Montenegro in a crucial World Cup qualifier, manager Roy Hodgson named an ultra-attacking lineup and it produced a scintillating display of forward play with the Three Lions putting in one of their best performances in the Hodgson era.
But, hang on a minute, if you look at the stats England are the second highest goalscorers in UEFA World Cup qualifying after scoring 29 goals in nine games so far. But most of those strikes have come against minnows Moldova and San Marino. When it has come to the more established European teams, England's approach has been defense first.
That all changed in Friday's crunch match at Wembley.
Hodgson handed Tottenham winger Andros Townsend a surprise start on the right flank, and with Danny Welbeck out on the left and Wayne Rooney playing just behind Daniel Sturridge, England had four extremely dangerous players running at Montenegro during every attack. Hodgson got his tactics spot on from the get-go, as the pace of Townsend and Welbeck put the visitors on the back foot as Montenegro's goal lead a charmed life in the first half. After numerous chances went begging, somehow it was 0-0 at the interval, but Wayne Rooney's scrappy 48th minute goal opened the floodgates, and if England would've won by five or six, there would've been no complaints from Montenegro.
(MORE: Updated list of World Cup qualifiers – Friday night edition)
Playing all-out attack in a crucial World Cup qualifier where defeat would have seen England eliminated, was a bold move by Hodgson and his coaching staff. And it paid off. We always knew England is stacked with a vast bevvy of attacking delights, the one question in my mind, is how come they've been so reluctant to use this approach so far?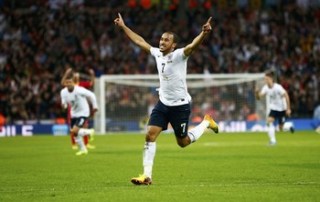 Well, it's a case of horses for courses, and grabbing that vital point away in Ukraine last month could be the deciding factor on the route to Brazil 2014. That night in Kiev, England played one lone forward in Rickie Lambert, packed the midfield and relied on brief forays forward from wingers Theo Walcott and James Milner. I get it, a draw away from home is a great result in many UEFA nations, but England have so many top attacking talents that the way forward must be to utilize them as much as possible.
On Tuesday night, England know a win will secure qualification to the 2014 FIFA World Cup in Brazil. All they have to do is defeat a Poland side playing for pride and aiming to scupper England's chances of an automatic berth and forcing them into the playoffs.
All-out attack is the answer to seal England's qualification, and it should be that way for years to come with the likes of Rooney, Sturridge, Welbeck, Townsend, Walcott, Alex Oxlade-Chamberlain and around to turn the Three Lions into a team capable of scoring plenty of goals every single game.
The penny has dropped for Hodgson, attack, attack, attack.