Seattle's in free fall. We know that. We talked about that here. But if they can't stop that free fall before the final whistle Sunday at JELD-WEN Field, they may feel the edge of Sunday's double-edged sword.
That's because in addition to losing the Cascadia Cup (Vancouver claims it with a Portland result), a loss in Portland makes a playoff match with the Timbers far more likely. Be that by creating more two-versus-three scenarios in the West or paving Portland's path to the top seed (while bringing fourth into play for themselves), a loss tomorrow makes it more likely Sunday's game at JELD-WEN won't be Seattle's last this season.
[MORE: Seattle routed as Manneh posts first career hat trick.]
Currently one point behind Real Salt Lake, Seattle's been holding out hope that once they make up their games in hand (as they have over the past couple of months) the Supporters' Shield will be theirs. But if they lose at JELD-WEN, their games in hand will be gone, and they'll have fallen to fifth in the Supporter's Shield race. They'll be two behind New York and Portland, one behind Real Salt Lake and Sporting Kansas City.
They'll also be within reach of Los Angeles, currently three points behind Seattle. Come Monday morning, LA will have a game in hand on the Sounders with the teams scheduled to end their regular seasons against each other at CenturyLink. That match could be the difference between playing in the four-five game and going straight into the conference semifinals.
That's Seattle's slippery slope, one that could see a team positioned for the Shield playing in the four-five game in a couple of weeks, and while that scenario does involve a lot of ifs aligning, the hypotheticals gain traction in the face of two huge losses and a schedule that includes Portland and Los Angeles. If Seattle can get a result tomorrow, they staunch the bleeding and continue their Supporters' Shield push. If they can't, this run goes from bad to worse oh my God what's going on, we so needed to get a result-bad.
(Incidentally, even a draw would see Seattle lose control of their Supporters' Shield destiny, as well as their path to the West's No. 1 seed.)
So where does the "far more likely" to meet the Timbers comes into play? Consider the Timbers' half of the equation, though stay with me. This is where the ifs really start flying around: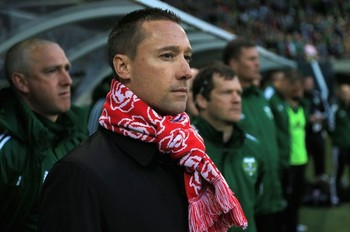 With a Portland win, they go top of the West with 53 points but still have a game with Real Salt Lake, who have two wins and a draw from their three 2013 meetings with the Timbers this year. All-time, Portland's won one of eight meetings with RSL. With Jason Kreis's team capable of out-Portering Caleb Porter, Portland could find themselves back in second before their season-ender with Chivas USA, making a two-three playoff meeting with Seattle more likely.
And if Portland beats both Seattle and Real Salt Lake? Then only Seattle can keep them from first in the West, though that would involve the free-falling Sounders to reverse a three-game losing streak and beat both Dallas and Los Angeles. With that momentum, though, Seattle may be headed toward the four-five game.
If Seattle and Portland draw, the teams remain second and third in the West, and while RSL and LA will have a lot to say about whether that order stays the same, sharing points will make a conference semifinal meeting more likely.
But let's not forget one very important, very possible if: If, Seattle wins, they go first in the West, and although that increases the chance Portland will fall to fourth (and potentially meet Seattle in the semifinals' one-four match), the Timbers' game with Chivas and Seattle's finale with LA could still leave Portland third, meaning the Cascadia rivals wouldn't meet until the conference finals (if at all).
And if that meeting happens, Seattle's confidence will be better for having won at JELD-WEN. Their run-in's been littered with enough doubts already. Might as well not cede any advantage (mental or otherwise) to their rivals.
Basically, given the nature of the West, anything's still possible, but if Seattle loses, a lot of these once-remote scenarios come much closer to fruition. Hence the importance of a result tomorrow.