It's not often you hear an inferior talk about their current superior in any sort of negative light, especially in a career field as fickle as sports coaching.
However, Newcastle United manager Alan Pardew went that route when describing the club's owner Mike Ashley, and the resulting consequences have yet to be determined.
"Mike is a strong character who has been a success in his whole business life and is a genius in that world" said Pardew, "But when you come to football the logic doesn't quite fit."
Not a good start when your boss happens to be a football club owner.
"He loves football but he sometimes can't understand how it works and it confuses and upsets him, and when he is upset he does things that aren't brilliant for the football club."
Finally, Pardew declared of his businessman superior, "This is not his world, but he loves football."
Paraphrase: "My boss needs to shut up and let me do my job because he's clueless and when he makes decisions on things regarding my job it hurts the club."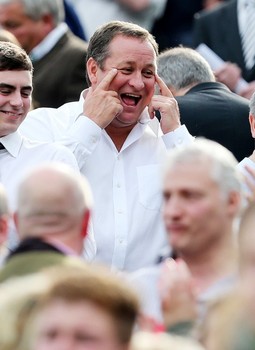 While this may or may not be true, yikes.  Those are not exactly the kind of public comments Ashley will want to see when he wakes up and reads the newspaper.  He may need to purchase a new bathrobe after the coffee stains prove impossible to wash out.
Pardew is most likely referring to Ashley's declaration following last season's relegation battle that Pardew must deliver a top-10 finish this season.
The manager tried to play down expectations of challenging clubs near the top, saying, "That's just Mike and he has funded the club, made sure we have no debt — other than to himself — and supported me, but unless we get a billionaire from deepest Russia we are probably not going to be able to compete with the likes of Man United, Man City and Chelsea."
The club has held a strained relationship with its manager ever since handing him a baffling 10-year contract on the heels of a 7th place finish in the 2011/2012 season.
Pardew also thought it was a good idea to hit out at fan expectations for the club, saying, "It's a city that loves [the club] so much that it hurts itself, because of that love. If there was perhaps less pressure on our results, and the effect on the city, it would probably be a better club, but that's what it is — it's never going to change."
While all said with what seem to be good intentions, he may want to pick his words for the public a bit wiser in the future, for his own good.