Start to life at Real Madrid has not been easy for Gareth Bale, and rumors suggest things are about to get worse before they get better.
Over the weekend, the Spanish giants were forced to release a statement after reports in Marca (Spain's favorite Real rumor-mongers) suggested that the $132 million man needed back surgery after slipping a disc.
"It is completely false that the player has a discal hernia between vertebrae L5-S1 as reported by Marca," Real Madrid said. "The player has a small chronic protrusion in a spinal disc that will not affect him playing."
And Bale's agent Jonathan Barnett has dismissed reports that the injury was detected by Real Madrid's medical staff before he signed as "complete rubbish." With Bale suffering a slight tear in his thigh before the international break and using the past week or so to try and nurse himself back to full fitness, the Welsh attacker needs to shake off injuries that are stacking up at the start of his Real career.
(MORE: Real Madrid deny reports that Gareth Bale has slipped a disc)
As has been mentioned many times before, Bale didn't have a full preseason under his belt after his protracted transfer from Tottenham to Real Madrid took much longer than expected. Hence why the 24-year-old keeps picking up all of these small problems that are affecting each other. So really, Real need to be patient, let him build up his fitness, and maybe by the middle of November they will see the real Bale.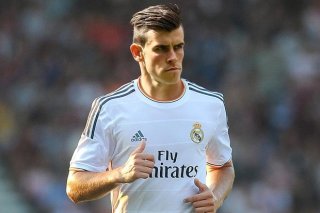 It is thought that the "small chronic protrusion" in a spinal disc could be linked to tightness in his upper leg and thigh area, which if they saw this problem when Bale was having his medical with Madrid back in August, it would make sense to be slightly concerned about picking up plenty of related injuries. And it also calls into question exactly why Real keep rushing Bale back into games, like the half time arrival against Atletico Madrid, the late cameo versus Galatasaray and his full debut against Villarreal, if they know he's carrying this injury, then they should just give him time to rest.
Madrid have stated this problem is "extremely frequent among professional footballers" and that "these findings [in Bale's back] are not important as the player is not in pain. He is playing and training normally."
(MORE: Gareth Bale's ruled out of Champions League game)
With Real so desperate to nurse their superstar summer signing to full fitness, he even missed international duty with Wales to take part in what some are calling a 'mini preseason' to try and help increase his fitness levels and get back to his best.
Bale is a 100 percenter, by that I mean if he isn't quite at full-fitness, you see a marketed drop in his performance levels. With no injuries, he can run at people all day long, burn defenders for pace and crunch through tackles and win balls in the air. But even if he's at 90 percent, his performances, although still fantastic, drop off alarmingly.
As of yet, Bale is nowhere near 100 percent fit. So Real Madrid's fans will have a long wait to see Bale at his best. But it will be worth it, just be patient.