When it comes to repairing torn meniscuses, the sooner a player has surgery, the sooner he will be back on the field. It's a relatively minor procedure with a short convalescence.
To wit: had United States and Schalke midfielder Jermaine Jones gone under the knife two weeks ago, when reports of his inevitable surgery surfaced in German media, he would already be one-third of the way back to 100 percent. Depending how extensive the necessary surgery is, he could only miss 10 days before returning to training.
The meniscus stabilizes the knee joint and acts as a cushioning pad between bones in the leg. Depending on the location and severity of the tear, arthroscopic surgery is performed to either suture the cartilage back together or remove the affected piece.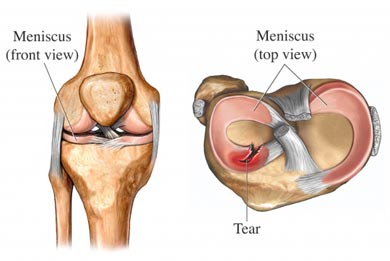 Snipping reduces recovery time, but it doesn't provide the long-term pain relief that stitching usually does because it completely removes that cushion between bones. That's the biggest concern with a meniscus tear: pain. Many athletes, soccer players in particular, play through meniscus tears for years, as long as they can handle the dull, constant pain.
U.S. Soccer refuted the reports of Jones' surgery at the time, quoting Jones in a press release as saying that "the plan is to take care of it during the winter break." But when he went down after a tackle in the 2-0 win over Jamaica on Friday, he was slow to get up on a couple occasions.
What started as a minor irritant a couple weeks ago could have morphed into a more painful injury by now. Schalke's last match before the four-week Bundesliga winter break is Dec. 21 — nearly 10 possibly excruciating weeks away. And if Jones already missed time because of the knee injury, his minutes will have to be seriously managed in the upcoming weeks.
"His knee was bothering him all night [against Jamaica], but he battled through," U.S. head coach Jürgen Klinsmann said in a U.S. Soccer release explaining why Jones won't be in Panama on Tuesday for the team's final (meaningless) World Cup qualifier. "It's clear that the issue with his knee is something that should be taken care of right away so he can be 100 percent for Schalke and the national team as soon as possible."
The longer Jones tries to soldier through the injury, the worse it could be for his form. Besides having to shuffle his minutes around and likely change training habits until he finally goes under the knife, the injury could cause him to get frustrated and lose focus on the actual soccer part of his game.
This isn't the first time in recent memory that Jones has tried to play through pain. When he picked up a concussion in June during the U.S.'s 2-1 win at Jamaica, he told anybody who asked that he felt fine ahead of the next game against Panama one trans-continental flight and just four days later.
It might be time to save the player from himself and force him to take some time off to recover. With the World Cup still eight months away, Jones has plenty of time to recover from the minor surgery and ramp himself back up to speed, using the Bundesliga winter break as a catching-up point.
Not only would having surgery as soon as possible help the player manage his pain, but it would help his club and national teams by getting Jones back in top form earlier.