19. D.C. United – The long, slow slog toward historic depths continues: a late Philly goal kept Ben Olsen's team from winning its fourth this year. If the Black and Red cannot beat Kansas City in the Midwest or Houston at home, they'll set some very black marks.
18. Chivas USA – The goal for Chivas over the final two matches should be to score a doggone goal. The Goats have just three in their last six matches and have not put two goals on the board in a game since Sept. 1.
17. Toronto FC – It's all about playing spoiler in two contests against teams still scrapping for playoff spots: matches remain at Chicago (this week) and then at home against Montreal.
16. FC Dallas – Dallas led the league in points in early June; since then 2013 has been an absolute disaster. The team is 2-9-7 since then, collecting 13 of a possible 54 points, which is simply abysmal. The team became the fourth officially eliminated from playoff contention with a weekend loss at home to Chicago.
15. Columbus – Good results from other Eastern Conference mid-pack side means any last, lingering vestiges of playoff hope around Crew Stadium have fallen off into the nearby Olentangy River. Left to sort out now: is Brian Bliss the guy or (far more likely) will Crew management pick a higher profile candidate?
14. New England Revolution – What a huge, gutsy win for the Revs on Saturday in Montreal, where Jose Goncalves (pictured above) cleaned up a little mess along the Impact's back line for the game-winner that keeps New England's post-season dreams alive. The bummers were Saer Sene's injury and Lee Nguyen's impending suspension due to accumulation of cautions.
13. Montreal Impact – On the one hand, Montreal has three matches remaining, whereas 17 other clubs have just two. But how much faith can fans have that Marco Schallibaum's club can exploit this advantage? His Impact is just 1-4-2 lately in MLS matches, having lost three in a row at home. That's just not something a playoff team does. The Impact finishes at LA, at home against Philadelphia and then at Toronto.
12. Chicago Fire – Mike Magee had a goal and an assist, climbing back alongside Marco Di Vaio for league scoring leadership. (And possibly restoring some league MVP talk for Magee?) More importantly to the club, his contributions were huge in a 3-2 road win at Dallas that greatly boosts the Fire's playoff chances.
11. Philadelphia Union – Jack is back! Kind of. Jack McInerney's 90th minute equalizer at D.C. United earned a pretty useful point for the Union – one that might be needed to squeeze into the post-season.  It was certainly a big moment for the young striker, who had not scored since June 1.
(MORE: MLS Round 30 week in review)
10. Seattle Sounders – What happened? A three-game losing streak? Major changes around the starting lineup? The team's best player – ironically, not one of its three high-salaried Designated Players – loses his cool and gets tossed from a huge match? Suddenly we're all talking about Sigi Schmid's job security again? The Sounders have enough talent to rally, but they are in a very bad way right now.
9. Vancouver Whitecaps – Young striker Kekuta Manneh recorded the league's seventh hat trick of 2013 in a stunning 4-1 at Seattle. A signature win for Martin Rennie's day in Vancouver? Probably – but it won't matter unless the Whitecaps can come up with at least four points from its home-and-away series against Colorado. (More goofy MLS scheduling … who finishes the season with back-to-back matches against the same team.)
8. Houston Dynamo – History has taught us that games against Kansas City are a 1-0 result or a scoreless draw waiting to. We had another one last week at BBVA Compass Stadium (0-0) Keeping that third spot in the East is the goal; a home match against New York and an away contest at hapless D.C. United gives Houston a good chance.
7. Sporting Kansas City – Kansas City is into the playoffs for a third consecutive year, the second team (after New York) to officially clinch. They did so backing in, so to speak, clinching the spot when Philadelphia played to a tie at D.C. United. Oh, about last week's 0-0 draw at Houston? Peter Vermes' team took four of a possible six points out of BBVA Compass Stadium this year – and anybody with a brain would take that for their club.
6. Colorado Rapids – A loss at home last week to San Jose did significant damage to the Rapids' playoff chances, but it's not fatal. Pick up enough points in two matches against the Whitecaps (we referenced that goofy MLS scheduling before, you know) and Oscar Pareja's young team will arrive into the post-season.
5. San Jose Earthquakes – The Earthquakes have been one of Major League Soccer's best teams over the last six weeks. Since a loss to L.A. in late August, interim manager Mark Watson and his bunch from the Bay is 5-0-1 with just one goal allowed. One! That's ridiculous, even if the team's style remains a bit hard on the eyes. Matches remaining: at L.A. and home to Dallas.
4. Real Salt Lake – How big will this week's match at Portland be? There is a reasonable chance that it will decide the Western Conference champion. Expect to hear a lot about this one, but for now we'll leave you with this: RSL has been the West's best and the second-best in MLS in picking up road points. Then again, Portland is a terrific 11-1-4 at home. What a match!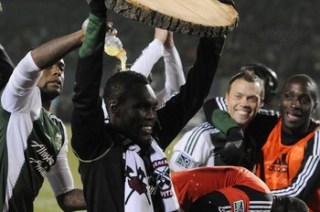 3. LA Galaxy – Does it come down to Landon Donovan's fragile ankle? If the league's all-time leading scorer, who has returned early from national team duty, can play and be effective Wednesday at home against fading Montreal, they'll probably win that one get into the post-season again. If not … it starts getting pretty dicey for the two-time defending champs.
2. Portland Timbers – Goals-by-committee (four Timbers have either 8 or 9 hits this year) keeps working for Caleb Porter's team. Sunday's scoring hero was Kalif Alhassan (pictured left), whose third strike of 2013 was the valuable game-winner in a deliciously tight 1-0 result late Sunday over Seattle. Goalkeeper Donovan Ricketts was big once again.
1. New York Red Bulls – A playoff berth in pocket, the goal now for first-year pro head coach Mike Petke and his bunch is a Supporters Shield. Portland, Real Salt Lake and Kansas City are the biggest threats, but this week's test at Houston is the real obstacle. The Red Bulls were off for Week 33, like a bunch of teams, so Thierry Henry, Tim Cahill and the others should be well-rested.